by Tom Gaylord
Writing as B.B. Pelletier
This report covers:
Background
A powerful breakbarrel rifle
A new multi-pumpA hunting pellet
Youth target pellet rifle
You're cookin'
What's this?
Seen it all before
Summary
How about a weekend of fun? I have a game for everyone. It came to me yesterday as I was writing the report about the Norma S-Target Match pellet. It occurred to me that was a long name for a pellet. So, what name would be better?
Background
There is a back story to today's report. When I went to Fort Lewis, Washington, for ROTC Summer Camp in 1968, I spent several days in Vancouver, British Columbia, before reporting to camp. I was traveling with a buddy and we just wanted to see the sights up there. I remember seeing my first Canadian car — an Acadian Invader! It looked like a Pontiac to me, and when we saw a Beaumont, which was an upscale model, we knew that's what it was. I have since learned that GM Canada used both Pontiac and Chevrolet platforms for what they made and sold to our northern cousins — eh!
That experience started me on a lifetime of pondering product names, and today I'd like us to generate some product names for airguns and related products. I'll get you started.
A powerful breakbarrel rifle
Let's pretend that we are the marketing team responsible to come up with a name for a new .25-caliber breakbarrel hunting rifle our company is about to bring out. It's large, very powerful and extremely hard to cock. Here are the names the team has come up with so far.
Harvester 30 (for 30 foot-pounds in .25 caliber — from the president of the company)
Super Schuetzen (from old Dan the engineer, who's been with the company 35 years)
YZP25 (from Carl, who thinks letters and numbers are better than words)
Ulysses 25 (from Donna, who thinks the rifle is too hard to cock)
Can you do better?
A new multi-pump
We have just sourced a new multi-pump air pistol from Taiwan. It's .177 only and very accurate. It has a good 3-pound trigger and crisp adjustable sights. The manufacturer calls it the Brilliant Light. What should we call it?
A hunting pellet
We just struck a deal with a Brazilian pellet manufacturer. They have a high-tech .22-caliber hollowpoint hunting pellet that expands to twice its diameter at just 500 f.p.s. We have seen it demonstrated and it does work, so we will be selling it in the U.S. It is a domed pellet that has cuts in the hollow dome that open immediately when meeting resistance. It flies like a dome and opens like a hollowpoint. In Brazil they call it the Mako Shark. Here are the team's suggestions.
Donna wants to call it the Lotus22 because it opens like a flower.
Carl wants to call it the DQP22
The president wants to call it the Meg22
Dan wants to call it the 22 Expander
Oh, on this one the art department is limiting the number of characters in the name to 12, including spaces. That's because the name has to fit on a label on the tin and be recognizable on a storeroom shelf.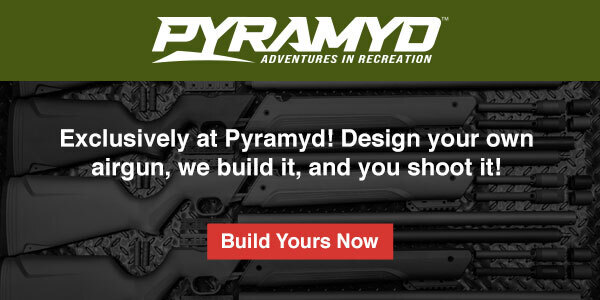 Youth target pellet rifle
The company has just struck a deal to purchase the rights to the Air Venturi Bronco from Mendoza. We want to make the rifle easier to cock (by lengthening the barrel jacket), to slim down the stock considerably and install target-style sights — with a peep sight in the rear and a hooded front sight that takes replaceable inserts. The president of the company likes the Bronco's two-blade trigger for both its safety and for its smooth release. The straight Bronco would sell to us for $95 if we commit to purchase 1,000. With a Mendoza peep sight, a hooded front sight and an adjustable trigger stop (just a screw through the triggerguard) that we will install until the Mendoza factory gets up to speed, our cost rises to $119.00. We have to add $40 to that cost for modifying the trigger stops in-house on the first 100 rifles, to give Mendoza time to gear up for it, but the decision has been made to amortize that expense across the first 1,000 sales.
The president has told our team that he sees this rifle as an upscale youth target rifle that can compete in the Student Air Rifle program (SAR). He plans on charging $175 to SAR competitors and clubs and $225 to the general public.
He wants a name that conveys quality, excellence and value. What do we call it?
The president also wants a name for the trigger.
You're cookin'
Okay, that should get your creative juices flowing. Now, name the following products.
A 10-40X60 scope with a 34mm tube that has a mil-dot reticle with illuminated dots that the shooter controls. The shooter determines which dot gets illuminated. This scope is no longer than a 4-16, and just as bright at 40X as the 4-16 is at 16X.
A precharged pneumatic that has a huge air reservoir and a max fill pressure of 1,800 psi. In .177 caliber it fires JSB 10.34-grain domes at 950 f.p.s. and gets 60 shots per fill. The rifle weighs 8 lbs. without a scope, due to a type IV carbon fiber reservoir. There is no regulator but the balanced valve gives all 60 shots with a maximum 18 f.p.s. spread. Twenty-two and twenty-five calibers will follow if the .177 is successful. The projected price will be $1,200.
A new wadcutter pellet with a thin ring of lead around the edge of the nose. Testing has shown it to be hyper accurate in target air rifles that need pellets with heads sized 4.49mm to 4.52mm. It costs about double to produce, so they will be sold in trays of 200.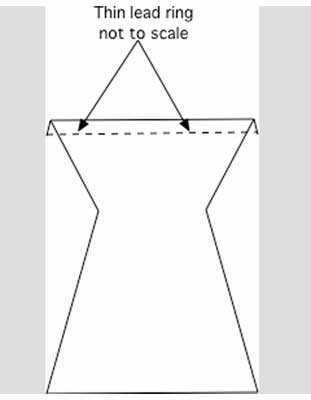 The new pellet with adaptable head sizes.
A bipod whose left leg holds up to 30 pellets and whose right leg detaches and contains a folding knife, Torx wrenches in sizes T6, T7 and T8, a ballpoint pen and scissors.
What's this?
Now tell us what the following product names apply to.
Eagle Claw
Civet
Torque release
Restraint
Bombard
Momentum
Hyperion
Seen it all before
In the late 1990s I became incensed when Crosman applied the name Blue Streak to a breakbarrel rifle in the Benjamin line. In fact today the name is so confused there are people selling Benjamin-Sheridan 397 rifles on eBay. Tell me that isn't wrong!
Dennis Quackenbush called his kit to make an outside lock air rifle the Amaranth. That one fooled everyone.
And Walther used the name LGV for their new line of breakbarrel sporting rifles a few years ago when most of us silverbacks knew it as a breakbarrel target rifle from the '70s.
Summary
I know some of you will enjoy doing this exercise, the point of which is to demonstrate that it isn't easy coming up with product names that convey a sense of the product. Let's see what you can do.