This report covers:
A short message
BB's one gun
Crosman Mark I
What's yours?
Today we are talking about that one airgun you own. You know the one — the one that you always go back to.
A short message
Today will be a short message because you readers are really the ones who need to talk. You need to tell the tens of thousands of other readers who haven't registered and can't leave comments what they are missing. You need to tell them about that one gun.
BB's one gun
I have had a lot of one guns. I have owned three Sheridan Supergrades at one time or another, and I owned them at times when $400 was a lot to pay for one. But all three were special. One I sold to a friend who really wanted a Supergrade, and he wanted it so much that I wanted him to have it, too. As far as I know, he still owns it. He is a registered reader who almost never comments, but it sure would be good to hear from him again.
The second Supergrade I had was one I planned to keep. It was a beaut, as far as I was concerned, and probably a 60 percent gun to anyone else. I remember how accurate that rifle was! But The Airgun Letter folded and we owed a lot of people the unused portion of their subscription, so that rifle had to be sold. As I recall I bought it for around $400 and sold it for $550 at an airgun show.
Then, about five years ago, a third Supergrade came into my life. It came at a time when they were commanding $1,200-1,500 in working condition. The seller sent me pictures of the rifle and I could see that it was an early one (long bolt handle) and that it had a crack in the butt on the right side. As best I recall, he asked me to evaluate the rifle for him so he could sell it. I told him the value I just told you guys. Based on the crack in the stock I said it was probably closer to $1,200 than $1,500. I said I would give him $900 for it, plus shipping. If he would accept that I felt it was the best I could offer because I was buying the rifle without holding it or shooting it. He agreed and we made the deal.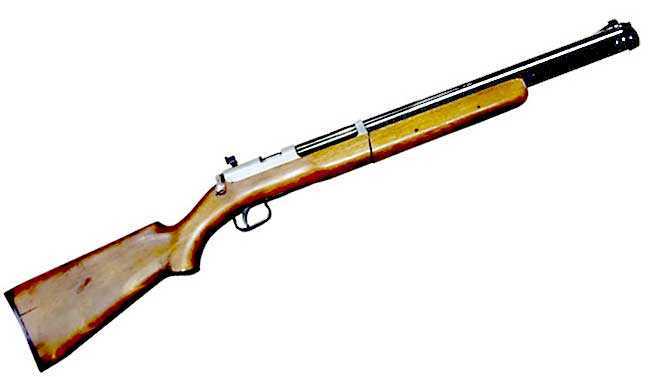 My current Sheridan Supergrade. It's not perfect, but after a treatment with ATF stop leak it is quite powerful.
If you are interested in the Supergrade, here is a 5-part report on it.
But you long-time readers know that the Supergrade is not BB's one gun. That would be my .22-caliber Diana 27.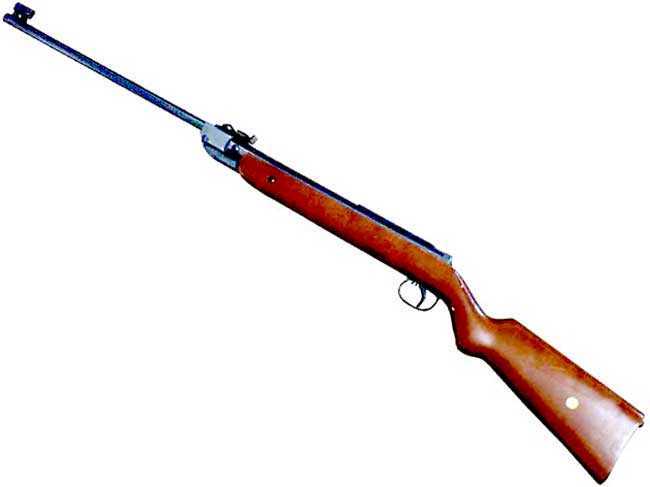 My Diana 27 is a Hy Score 807.
My first Diana 27 was a Hy Score 807 that I bought in a pawn shop in Radcliff, Kentucky. I was stationed at Fort Knox and Radcliff is a neighboring community.
This rifle was rusty and had a wood stock that was almost devoid of finish. It was a tetanus shooter. If you ever handled it you probably needed a tetanus shot.
I bought it because of the price. I think they were asking $20 and I got out the door for $18. I was an Army captain with a wife and two kids, so spare money was hard to come by. I can't even remember why I had twenty dollars in my wallet that day, but it certainly was not common.
That airgun was so sick looking. But I owned a Webley straight grip senior (that RidgeRunner now has), so I had a small supply of .22 caliber pellets. I oiled the gun, knowing the piston seal needed it and then I shot a few RWS Superpoints. To my utter surprise, the rifle was very accurate!
When I left the Army and moved to Denver in 1981 I gave that rifle to my best friend Doug Johns. He may still have it, but we are out of touch, and I have no way of knowing.
In Denver I met and married Edith, and then we moved to Maryland for my job with the BDM Corporation. We discussed starting a newsletter about airguns and I went to my first airgun show in Winston Salem, North Carolina, in 1993. There I met Richard Schmidt and bought the Hy Score 807 that I own now. That gun was much prettier than the first one and I have taken it apart and tuned it for you many times in this blog — most recently in 2019 in a three-part report titled Tuning BB's Diana 27. Read that one and you'll discover a lot about the Diana 27.
That is my one gun. But it's not my only one gun. There is another!
Crosman Mark I
Among my air pistols I guess I like the Crosman Mark I the best. And, like the two rifles I have already discussed, there have been several Mark Is. There have even been a few Mark IIs — the BB and pellet-shooting version. I used to think the Mark II could not be as accurate as the Mark I because it had what I referred to as a "compromise" barrel. It had to — to accommodate both steel BBs and lead pellets. Yes it is rifled and no, the BBs don't seem to wear it out.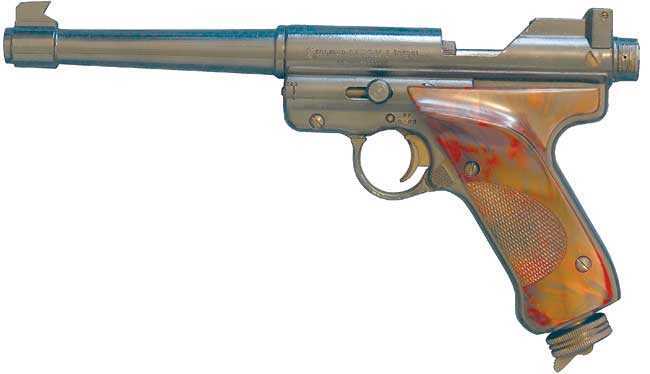 Crosman Mark 1.
I would have linked you to my report on the Mark II but what to my wondering eyes should appear but NADA! I guess I have never reported on that airgun! Well then, I gotta fix that! At any rate you might watch the following that is backed with a song by Weird Al Yankovic and titled Trigger Happy. I listened just for the song.
What's yours?
Okay, I told you mine. Now you tell us about yer'n. And, watch the spelling, please!