by Tom Gaylord
Writing as B.B. Pelletier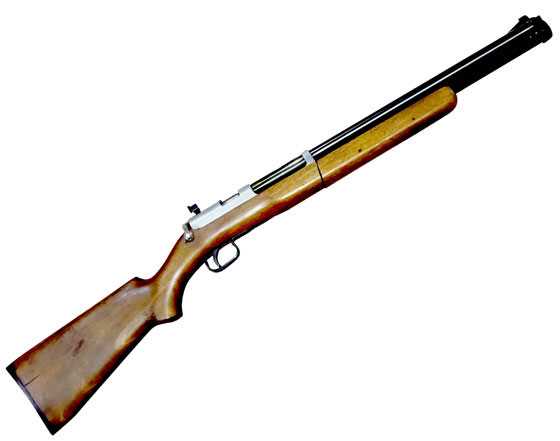 My new Sheridan Supergrade is in fantastic condition, despite the wood check at the butt.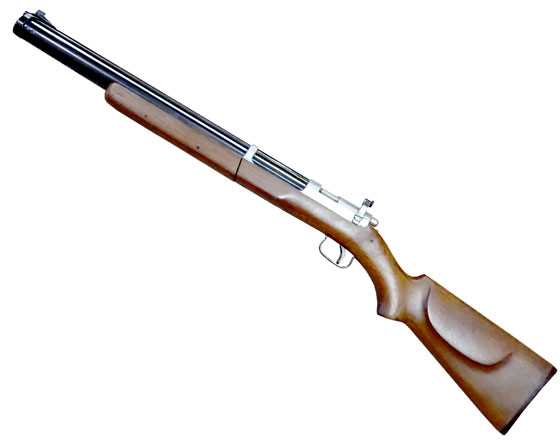 The cheekpiece makes the Supergrade stand out!
This report covers:
The test
JSB Exact
Crosman Premier
Sheridan Cylindricals
Predator Polymag
Crosman Premiers
H&N Baracuda
H&N Field Target Trophy
Evaluation so far
10-shot group
Summary
22 caliber club
Today I moved back to 25 yards to test the Sheridan Supergrade. There were also a couple extra tests readers asked me to do and they are included in this report.
The test
I shot with the rifle rested on a sandbag. I pumped the rifle 5 times for every shot in today's report. I also wore my reading glasses to make the front sight as sharp as possible. The bullseye became a little fuzzier than usual, but I think you are going to see that it didn't matter.
JSB Exact
The first pellet I shot was the one I expected to be the best — the JSB Exact. The first shot went into the top of the bull, so I settled down and did not look again until I went down to change the target. Five shots went into 0.889-inches. Four of those shots are in a much tighter 0.415-inches. I won't call the first shot a flier, but when you see the other targets I think you will agree there was probably a small sighting error for that shot.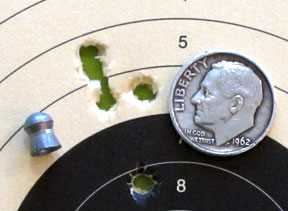 Five JSB Exact pellets went into 0.889-inches at 25 yards, with the last 4 going into 0.415-inches. I think the first shot in the black was a small sighting error.
Crosman Premier
Next up were the now-vintage Crosman Premiers I have saved. After confirming the first shot was on paper I settled down again and shot the other 4. Once again I didn't look at the group until I went to the pellet trap to change targets. I was stunned to see 5 pellets had grouped in 0.397-inches at 25 yards! This group is a little more to the left of center than the first one, but I'll take it!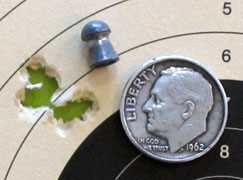 Five Crosman Premiers made this 0.397-inch group at 25 yards!
Sheridan Cylindricals
Now it was time to address a reader request. 1stblue asked me this.
I wonder if the cylindrical ammo would do better if it were sorted by weight and pellet gauged? Maybe just do 20 or so. Also, pure lead might be a better material choice now, considering advances in manufacturing tech. They might do better at longer ranges? It would be nice if there were more choices in non diablo style. I haven't fired my Sheridan co2 pistol since the 80's or or 90's. I may just get some new .20 cal. pellets. Have a nice day folks! R
So I pulled out my .20 caliber Pelletgage that reader JerryC was kind enough to give me and I started sorting. However, there was a snag. The largest hole in the .20 caliber gage I have is 5.11mm and every pellet refused to pass through. So I couldn't gage the pellets.
But I did sort them by weight. The vintage Sheridan Cylindricals I have range from 14.8 grains to 15.2 grains. I sorted until I had 7 that weighed exactly 15 grains. So, I did some sorting, but not everything that was requested.
The results were what I expected. Though I conducted this test exactly like the first two, when it was over 5 pellets had landed in a scattered group that measures 1.432-inches between centers. These vintage pellets simply do not measure up to today's premium pellets.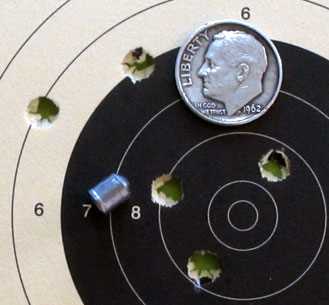 Even when sorted by weight, five Sheridan Cylindrical pellets went into 1.432-inches at 25 yards.
Predator Polymag
Here is the second thing I promised a reader. I forgot to include the Predator Polymag pellet in the previous test at 10 meters. It was just an oversight. But today we will see how they do at 25 yards.
They do very well! In fact, they were the most accurate pellet in the 5-shot test. Five pellets made a group that measures 0.316-inches between centers at 25 yards. Almost time for the trime!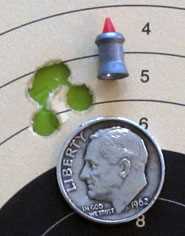 Five Predator Polymag pellets went into 0.316-inches at 25 yards. This is the best 5-shot group of the test.
H&N Baracuda
The next pellet I tested was the H&N Baracuda. Five went into 0.603-inches at 25 yards. While that's very good, it isn't up to the standards of the Premiers and Predators.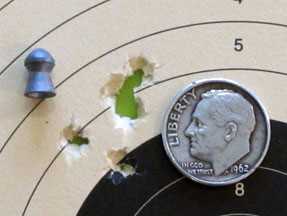 Five H&N Baracuda pellets went into 0.602-inches at 25 yards.
H&N Field Target Trophy
The final pellet I tested with 5 shots groups was the H&N Field Target Trophy. They gave a strange J-shaped group that measures 0.611-inches between centers.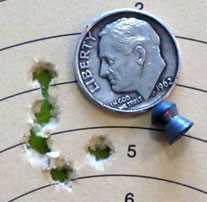 The Supergrade put 5 H&N Field Target Trophy pellets into a 0.611-inch group at 25 yards.
Evaluation so far
This Supergrade is rocking! A 0.316-inch group at 25 yards is nothing to sneeze at. And Premiers are nearly as small. Now it's time to see what can be done with 10 shots.
10-shot group
I chose the Predator Polymag for the 10-shot group. The Crosman Premier would have been good, as well. Every shot got the same five pumps.
Ten shots went into 0.898-inches at 25 yards, with 9 in 0.547-inches. Not bad for a multi-pump.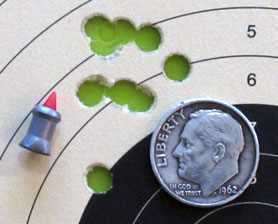 Ten Predator Polymags went into 0.898-inches at 25 yards.
Summary
This will be the final report on this Sheridan Supergrade. In it I have shown you how to boost velocity, adjust the trigger and maintain the valve. We have looked into the owner's manual that everyone agrees is much better than the manuals of today.
With each passing year the Supergrade reveals more of its original glory, as time exposes the genius of its design. It was too expensive for its day and it's still too expensive today, which is how all the fine classic airguns mature.
22-caliber club
I see that Pyramyd Air has a new program they are calling the .22 caliber club, where designated products will ship out in 22 hours from the order or you will get $5 in Bullseye Bucks. I shop online a lot and this is the first program I've seen like this. Am I missing something, or is this new?