Crosman Fire breakbarrel air rifle.
This report covers:
Nitro Piston
Description
Safety
Silencer
Trigger
Barrel
1,200 fp.s.?
Scope
Summary
I have something different for you today, and since it's a weekend you get to talk a lot! Today we're looking at the Crosman Fire breakbarrel air rifle.
This is different because it's an inexpensive spring-piston rifle. You know darn good and well that for a retail of $140 with a scope this one has to be made in China, which it is. The question we all want answered is — how good is it? How good can it be? Well, that's what we are about to find out.
Nitro Piston
The Fire has a Nitro Piston which is Crosman's name for a gas spring. So the rifle is light, at just 7 pounds and I'm assuming that is with the 4X32 scope mounted.
Description
The rifle is 46-inches long with a 14-inch length of pull. Given the size, the weight of 7 pounds seems all the lighter.
The buttstock is cut out and shaped to resemble a modern sniper rifle I guess. There is a benefit to that because there is no large hollow void to fill. So there is no sense of hollowness or cheapness.
The pistol grip is reasonably vertical and the distance to the trigger seems about right for my hand. The safety is a Gamo-esque lever in front of the trigger blade. It pulls back for safe and forward to fire.
The Fire also has a slim forearm that I really like because it allows the rifle to sink into my hands. The forearm is contoured ahead of the triggerguard for a perfect hold. I have to like that!
Safety
Glory be — the safety on the Fire is 100 percent manual! In other words, Crosman trusts the shooter to know when to apply it. That's a feature I really like.
Silencer
There is a built-in silencer that Crosman calls QuietFire technology, and the claim is a 70 percent reduction over a comparable spring-piston rifle with a coiled steel mainspring. Well, I don't know about all that. I'll just let the sound meter speak for itself.
I did fire the Fire (pun intended) a couple times, just to see what it was like. I could give you a whole report on the results of that right now, but I'm not a-gonna. I will just say that I was actually surprised by how quiet it sounded. Of course we know that most of a spring-piston's noise comes not from the muzzle but from the powerplant. I have to say I think Crosman has done a good job on this one. More in Part 2.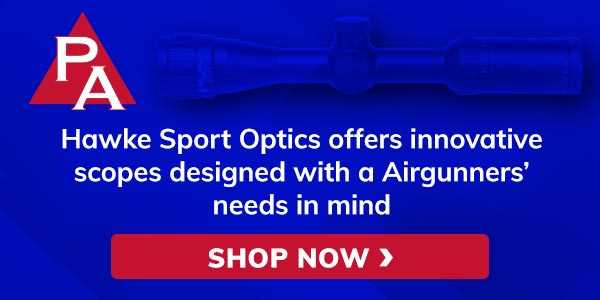 Trigger
The trigger is two-stage and adjustable. In the instructions Crosman says that the LENGTH of the stage two pull can be increased and decreased by the one adjustment screw. Excuse me — the length of stage two??? Stage two is not supposed to have any length. Stage one has length and stage two is supposed to break crisply like a glass rod. Well, apparently this trigger moves in stage two like a single stage trigger. I will report on that in Part 2.
Barrel
The barrel is encased in a synthetic shroud that houses the baffled silencer at the front. The entire outside of the barrel measures 20-3/4-inches overall, with the rifled steel barrel stopping 5-inches short of what looks like the muzzle.
Yogi, here is a picture of the barrel broken open. I will guess the barrel breaks past 120 degrees when it's all the way down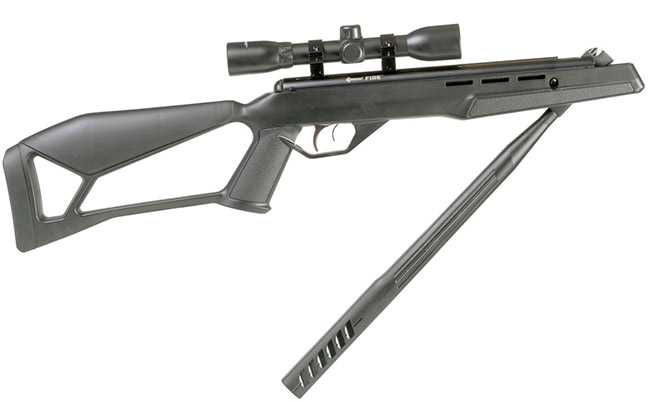 Fire with the barrel broken open.
What a long cocking stroke like this, coupled with a long barrel does, is reduce the effort to cock. As long as you grab the barrel out at the muzzle I think you will find that the Fire cocks easily for the stated power. The specs say that it cocks at around 35 pounds, which seems light for the stated velocity of 1,200 f.p.s.
You only get a long cocking stroke like this with an articulated cocking link. That keeps the slot in the forearm to a minimum and that, in turn, helps cancel vibration.
1,200 fp.s.?
Yes, that's the stated velocity. It's in the online description, and all over the lithographed box. We know that speed still sells, so this is probably a wise choice, especially at this price point. But 1,200 f.p.s. with what? I'm guessing with lightweight pellets that are not lead but tin. I'm thinking we will see 10-grain pellets down in the low to mid 900s. Naturally we'll find out in the velocity test, but before we get there I have something to say. Given that the Fire is a fast-y, I will start out with heavier pellets, because I don't want that kind of velocity. Pellets going that fast will break the sound barrier, negating all the good work done by the QuietFire silencer.
Supersonic velocities do not destroy accuracy as we once thought and as I probably wrote many times. I proved that in the 11-part Pellet velocity versus accuracy test. Read Part 10 to see accuracy at supersonic velocity.
Scope
The Fire comes packaged with a 4X32 scope and mounts. There is a recoil stop pin hole at the top rear of the receiver tube, so I'm hoping the mounts will have the right pin for it. I know this is a budget optic, but I'm testing a budget rifle and the scope fits right into the package. Should the Fire prove to be a tackdriver I might mount a higher quality optic, but let's get there before making that decision.
Summary
I am testing the sort of air rifle a first time buyer might purchase. I'll try to set her up right and we shall see what $140 buys these days. Stay tuned.