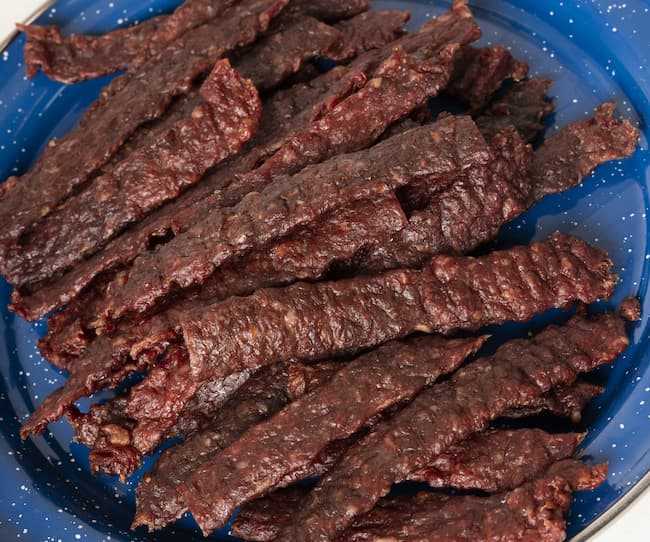 After your rig, a solid supply of energy-boosting snacks is one of the most important things you can take with you to the treestand. Especially on all-day sits during extreme conditions, a good balance of protein, carbs, and healthy fat can keep you feeling full and energized for hours. 
Snacks that aren't too messy, super smelly, or packaged in noisy wrappers are a must. Fresh foods can be a great addition, but it's always smart to keep some non-perishables in your daypack throughout the season.
For treestand snacks that hit all the marks and are still satisfying, these are some of the best choices:
Venison
Whether it's jerky, snack sticks, or bologna, last year's deer makes a great choice for loading up on protein while waiting for more venison to walk into your life. If your freezer is empty, beef isn't a bad backup.
Protein Bars
Look for bars with a good macro profile so you can still get a balanced meal 20 feet up. If your favorite comes in one of those loud, crinkly wrappers, stick it in a Ziploc bag instead before you throw it in with your gear.
Trail Mix
GORP, trail mix, whatever you call it — a mix of nuts, dried fruit, granola, and chocolate is perfect for picking and a deer camp staple. Buy a bulk bag, and you'll be set for the season.
Candy
Reese's peanut butter cups and Snickers were always on the pre-hunt shopping list when I was growing up. Candy can be great for getting that sugar fix when you're tired and hungry.
Hot Food
If pre-packaged snacks that end up half-frozen don't hit the spot when you're hunting in the cold, heat up some real food for the long day ahead and keep it warm in a thermos or YETI. I've seen bowhunters load them up with everything from tomato soup to biscuits and gravy. It could get messy and weigh down your pack, but sometimes you just need a warm meal to keep you going.