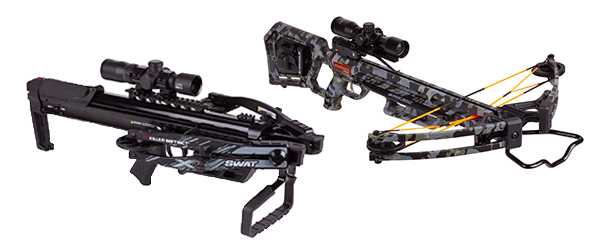 I pitted Wicked Ridge's best-selling model against the buzzworthy Killer Instinct SWAT X1 on the range. Here's how they stacked up.
Size & Weight
The Invader 400 tips the scales at just 6 pounds at 35.5 inches long and an axle-to-axle width of 15 inches when cocked.
Slightly heavier at 7.2 pounds, the compact SWAT X1 measures only 24.75 inches long and 6.25 inches between the axles when fully cocked.
They both fall on the lighter end of crossbows, but the difference in size is pretty substantial in favor of the SWAT X1.
Look & Feel
Although it has a larger footprint, the Invader 400 feels better balanced and easier to maneuver — although I was shooting at a target in the open air, not inside a cramped ground blind.
But the grip on the SWAT X1 has a much more ergonomic shape and feel for my smaller-than-average hands, and its bullpup design is comfortable to shoulder. This crossbow just has an overall higher-quality look and feel.
The Invader 400 is finished in Peak camo, while the SWAT X1 sports a sleek black look — I prefer the solid finish, but this is really just personal preference.
Features & Components
The Invader 400 boasts one-bolt assembly, and the SWAT X1 comes pretty much ready to hunt. So neither of these rigs will be hard for even beginners to get set up.
You can choose your cocking device for the Invader 400, but the easy-to-operate ACUdraw crank is definitely the right choice here. But SWAT X1's Compact Silent Crank is stealthier and simple to use too.
The SWAT X1 comes equipped with a 3-pound zero-creep trigger which is crisp and great for longer-range shooting, while the Invader 400's trigger is nothing exceptional. The SWAT X1's Lumix 1.5-5 x 32 IR-E Speed Ring Scope also edges out the competition.
Speed & Performance
These two crossbows are pretty close in terms of speed, with the SWAT X1 coming in at 400 fps and the Invader 400 at 400 fps. They both have plenty of power to take down your target buck so no need to nitpick over a few fps.
Both shot accurately up to 50 yards — although some rigs advertise accuracy at 100 yards, no way I'm taking that shot at an animal.
Smooth and relatively quiet thanks to Killer Instinct's X Cam, the SWAT X1 won out for its shooting performance. And it just feels better with less vibration and more fun to shoot.
Value
With some crossbow packages now hovering around $5,000, both the SWAT X1 and Invader 400 are more affordable options.
The SWAT X1 Elite Package comes with a Compact Silent Crank, Quick-Draw Rope Cocker, three HYPR bolts with field points, a three-bolt quiver, Lumix 1.5-5 x 32 IR-E Speed Ring Scope, and rail lube for $999.99 from Pyramyd Air.
The Invader 400 comes with either the ACUdraw or ACUdraw 50 SLED, three aluminum bolts with with field points, a three-bolt quiver, and a lighted 3x Pro-View Scope for $549.99-$649.99 from Pyramyd Air.
Both come with lifetime limited warranties, but Wicked Ridge bows are manufactured 100% in the United States — Killer Instinct crossbows are not. If American-made is a dealbreaker for you, go with the Wicked Ridge Invader 400.
Overall, the SWAT X1 checked more boxes for me, but it was close and largely based on personal preference. You can't go wrong with either of these rigs.