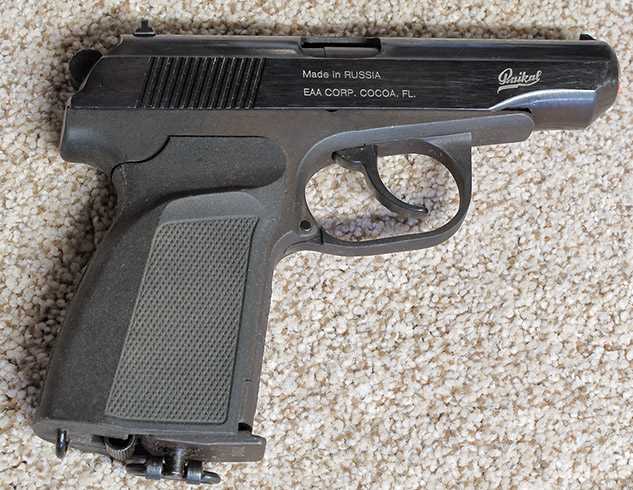 Makarov BB gun made from a Makarov firearm.
Makarov non-blowback Part 1
Makarov non-blowback Part 2
Makarov non-blowback Part 3
Makarov with blowback Part 4
Makarov with blowback Part 5
Makarov CO2 BB pistol made from a firearm Part 6
Makarov CO2 BB pistol made from a firearm Part 7
This report covers:
The test
Fresh CO2
Crosman Black Widows
Discussion
H&N Smart Shot
Air Venturi Dust Devil Mark 2
Summary
I've got a strange one for you today. This is the day we shoot the Makarov BB pistol for accuracy. This is the one that was made from firearm parts.
The test
I shot from 5 meters at 5-meter BB gun targets. I used the same BBs that I used in the velocity test and therein lies the strangeness of the day.
I rested the pistol on the UTG Monopod and used what I would call a modified two-hand hold. My non-shooting hand steadied the slide from wobbling by pushing against it from the left. Since the pistol doesn't blow back this is safe. I cocked the hammer for every shot because the double action trigger pull is so heavy. Okay, let's get started.
Fresh CO2
Because I had exhausted the CO2 cartridge used in the velocity test to save the face seal from compression, I installed a new cartridge. Given that this pistol is at least 20 years old, I want to give those old seals every chance for a long life. I used automatic transmission sealant last time, so this time I lubricated the cartridge with Crosman Pellgunoil.
Crosman Black Widows
The first BB I tested was the Crosman Black Widow. This is a premium BB that often performs best in many guns. I counted ten BBs in the magazine, but when I shot the final shot it was a blank. I checked the mag and no BBs remained, so on one of the first nine shots two BBs must have gone out. So I loaded one more BB and shot it.
When I saw the target I was surprised. While this isn't the best BB pistol group I have seen it is very good. I expected this pistol to spray BBs everywhere, but ten of them landed in 1.61-inches at 5 meters. Now that I see the number it doesn't seem so good, but compared to my expectations, it's a great group.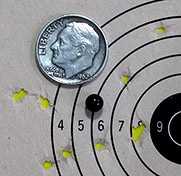 Ten Crosman Black Widow BBs made a 1.61-inch group at 5 meters.
Notice that all the BBs hit to the left of center. They are about on for elevation. This is the best possible situation if the pistol isn't spot-on, because the rear sight is in a genuine dovetail and can be drifted right. It wouldn't need much. I won't do it because I doubt I'll shoot this gun much after this test, but it's sure nice to know.
Discussion
Well, this first target sort of changed my opinion of this BB pistol. Later on I am going to show you a Makarov firearm and I think you'll find it pretty darned accurate, too. Makarovs shoot "mouse gun" cartridges that Europeans seem to prefer in sidearms. Heck, even James Bond carried a Beretta .25 automatic for awhile before he upgraded to the .32 ACP! With modern anti-personnel bullets these smaller cartridges can do the job (not the .25 ACP but the Makarov round), but Americans have traditionally relied on larger more powerful cartridges like the .40 S&W, the 10mm and the .45 ACP. Still, I would not like to ever get hit by a 9mm Makarov bullet!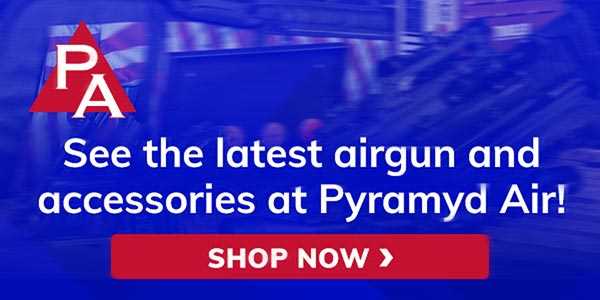 H&N Smart Shot
Next to be tested were 10 Smart Shot lead BBs from H&N. Knowing that this BB gun has a rifled steel barrel and also that in the velocity test these were the most consistent, I expected wonders from them. Alas, no joy! Ten of them went into 2.308-inches between centers at 5 meters. They hit the target in roughly the same place as the Black Widows though the group is so large that it's difficult to say where the center is.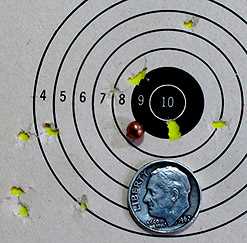 The Makarov BB gun put 10 Smart Shot into a 2.308-inch group at 5 meters.
Air Venturi Dust Devil Mark 2
Now for the strange one. The next BB was the Dust Devil. They are so much smaller than the bore that I didn't expect much from them and they certainly delivered. The first shot missed the target, the rubber mulch box trap it was taped to and hit my garage door behind them. Ooops!
I shot the target seven more times for a total of 8 shots. Those seven shots did hit the target paper in a group that's about 5 inches between centers. Then the 8th shot was a blank. Not again!
I removed the magazine and found the spring-loaded follower had frozen in its slot about an inch below where it should be. Inside the mag I saw a deformed BB that I dumped out. It was a Dust Devil with one side sheared off. But the follower was still jammed, so I figured there was another Dust Devil behind it. And there was. By pushing the follower down I cleared the jam and dumped that mangled BB out as well.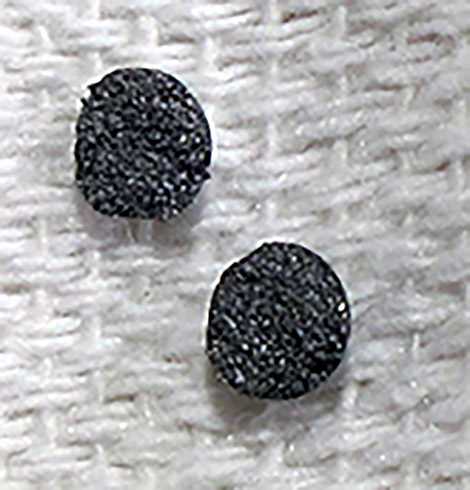 These are the two Dust Devils that got mangled in the Makarov magazine.
There will be no photo of the "group" I shot with Dust Devils because I don't know how large it was with just 8 shots and only 7 on paper. The Dust Devil is DEFINITELY NOT for this BB pistol!
I think the problem is the strong follower spring in the magazine. It overpowered the Dust Devils and made two of them start to turn to dust.
Summary
At this point we have looked at three different Makarov BB pistols. The most accurate one is the one that's still available, so that's good.
Next we look at the 9 mm Makarov firearm. Yes I will do both a velocity test and an accuracy test for you. This series will be a complete look at the Soviet Makarov pistol — both the firearm and the several BB pistols.