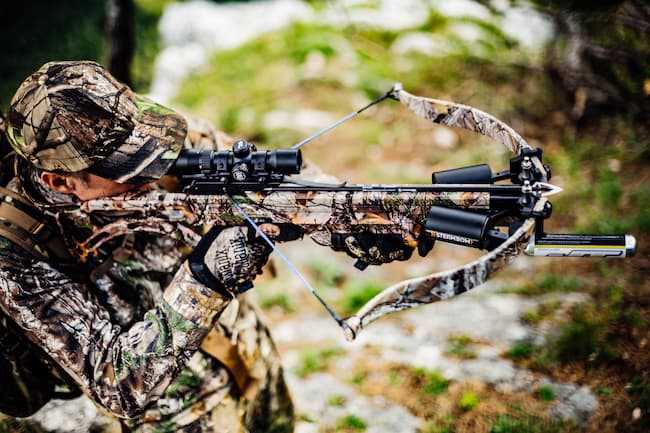 For the best bowhunting experience, let's take a look at 2022 Best Selling Crossbows. What are their features and what made them so popular? 
AR-6 Stinger
Up first is the Steambow AR-6 Stinger II Tactical Repeating Crossbow. This Tactical Repeating Crossbow is lightweight, easy to carry, and shoots 6 bolts in rapid succession. It is excellent for target shooting or small game hunting. The target kit shoots 180 fps with 10 ft/lbs of energy, while the hunting kit shoots 220 fps with 15 ft/lbs of energy.
The AR-style handles are easy to hold, and the top-loading magazine lets you preload the crossbow while you find game and a good position to take it from. The bolts are fully enclosed in the magazine, so they won't fall out and the crossbow is ready and waiting for you to cock and fire it when you're ready. No fumbling. Just aim and fire. No wonder it's at the top of our best sellers list.
Wrath 430X
Next up is the CenterPoint Wrath 430X Compound Crossbow. It shoots 430fps, making it one of the fastest crossbows. The 185lb draw weight gives it mean take-down power and paired with a good broadhead should pass through game easily. You get portability, extra stability, and power all in one package with the folding stock and three-stage adjustable stirrup that acts as a bipod. And the silent crank cocking device increases your stealth while decreasing cocking effort. Additionally, the 4x32mm illuminated scope with red/green illumination ensures you have an optimal view of your target. All these features add up to a crossbow that is sure to be a great choice for your next hunting trip.
Viper SS
Following that is the PSE Archery Viper SS Handheld Crossbow. This crossbow is compact and easy to hold in one hand. Weighing in at 1.6 lbs, it's one of the lightest crossbows on the market. The viper focuses on safety. It has an anti-dryfire mechanism, auto safety, finger guard, and integrated cocking mechanism with a safety lock for added protection. With the 50 lb draw weight it's perfect for hours of target shooting fun.
Heat 425
Then we have the CenterPoint Heat 425 Compound Crossbow. This crossbow will stop your prey in its tracks with the impressive 425 fps and powerful 153 foot-pounds of energy. Customize your fit with the adjustable forestock, cheekpiece, and buttstock. And with the upgraded cocking system and vibration dampeners, you'll remain agile and stealthy in the field. This peak performance hunting package is only sold at select distributors and sells out fast. Check it out quickly before they're all gone.
SWAT X1
And finally, we have the Killer Instinct SWAT X1 Crossbow Elite Package. This crossbow is set on a compact frame to make it lightweight and maneuverable. It has an elite package that includes a silent cocking system, an accutac barrel system for 360 bolt guidance, a zero-creep trigger, and a lifetime warranty. If you're looking for a crossbow with high accuracy and power, this one is worth considering.
That wraps up the best selling crossbows from 2022. While they each have unique features, it's easy to see how useful they could be in your bowhunting arsenal.