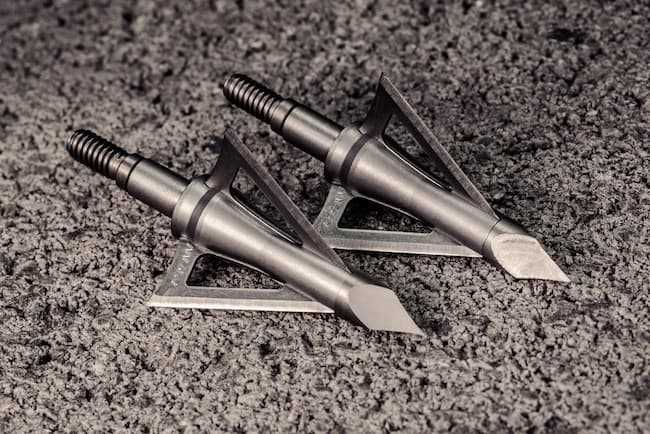 When it comes to choosing broadheads for hunting, there are two main types: fixed and mechanical. While both have their advantages and disadvantages, fixed broadheads offer more reliable performance, a larger wound channel, and deeper penetration power with fewer chances of failure.
Fixed Broadheads
Fixed broadheads have been around for a long time. You could say the original stone arrowheads were the first fixed broadheads, but we'll stick to modern times.
With a fixed broadhead, you make sure the edge is sharp, attach it to your arrows or bolts, keep them covered till ready to use, and head out to the field. The biggest decision you have with them is how many blades and bevels should it have. Since the number of blades affects the flight pattern of your arrows, that might be a concern. But overall, you know that if your aim is true and you hit your target, that broadhead will tear through it easily and cause fatal damage. That's its job.
The fixed blades are easy to sharpen, can cut into bone with little trouble, and is less impacted by the movement of the animal it hits, allowing for a fast and full pass-through, leaving a wide double-ended wound channel for an easy-to-follow blood trail. With heavier blades and a greater pass-through rate, they are more recoverable to be sharpened and used again at a later date.
Mechanical Broadheads
Mechanical broadheads have been around for several years and took the archery world by storm. They look wicked cool, and when they operate properly, cut through a target animal hard and fast.
However, mechanical broadheads have a few things to consider. The blades are thin so they fit inside the head. This makes it hard to hold a sharp edge, and if it hits bone will often damage the blade to the point of not cutting. And when they don't deploy properly, they rarely produce a fatal wound, but instead, fall out of the target animal when it runs away.
If they deploy mid-flight, it could carry your arrow off course and either hit the animal in the wrong place or miss entirely. If they deploy on contact but fold backward, they could get stuck in the animal and not provide a blood trail which could cause you to not recover the animal or the arrow. Or, if they deploy on contact but one of the blades gets hung up on something, they could cut a path that wounds the animal but not enough to kill it quickly, making it unrecoverable. But, when they do deploy correctly, they cut deep, wide channels that produce lots of blood and the animal falls within just a few dozen feet.
When mechanical broadheads work, they work fantastically. But when they fail, they fail miserably. If you can find a reliable broadhead that works 8 times out of 10, you've found yourself a winner.
Which Should You Choose?
When it comes to deciding between fixed and mechanical broadheads, the answer isn't that simple. Ultimately it comes down to personal preference and your hunting style.
If you're a hunter who primarily values reliability and consistency, fixed broadheads may be better for you. They aren't prone to failure, cut a wide wound channel, have high incidents of pass-through, and can be used repeatedly.
On the other hand, mechanical broadheads have a flatter trajectory and are often more accurately aimed. As long as they deploy correctly and have enough power to pass through the target, they could cause fatal damage. But they are usually a one-time-use product, too damaged by bone or ground to ever be used again.
It's important to remember that both types of broadheads have their uses and the type you choose is totally up to you. See our Best Crossbow Broadheads guide for more information.