Home
Best Crossbow Broadheads of 2023
Getting the best crossbow performance in the field demands reliable, high-quality broadheads built to penetrate your chosen target and stand up to the speeds of today's lightning-fast rigs. Whether you'll be firing from 20 feet up in the whitetail woods or arrowing a spring gobbler that struts past your blind, Pyramyd AIR offers a wide variety of crossbow broadheads and other archery supplies to meet your individual needs.
We carry mechanical and fixed-blade broadheads as well as replacement blades from the crossbow industry's leading manufacturers, including Excalibur, Ravin, TenPoint, Bloodsport, and CenterPoint - all backed by our 60-day money-back guarantee. Whether you're looking for hard-hitting heads or ultra-sharp blades, Pyramyd AIR has a wide selection of crossbow broadheads.
Best Crossbow Broadheads
Best Broadhead for Hunting: Ravin Titanium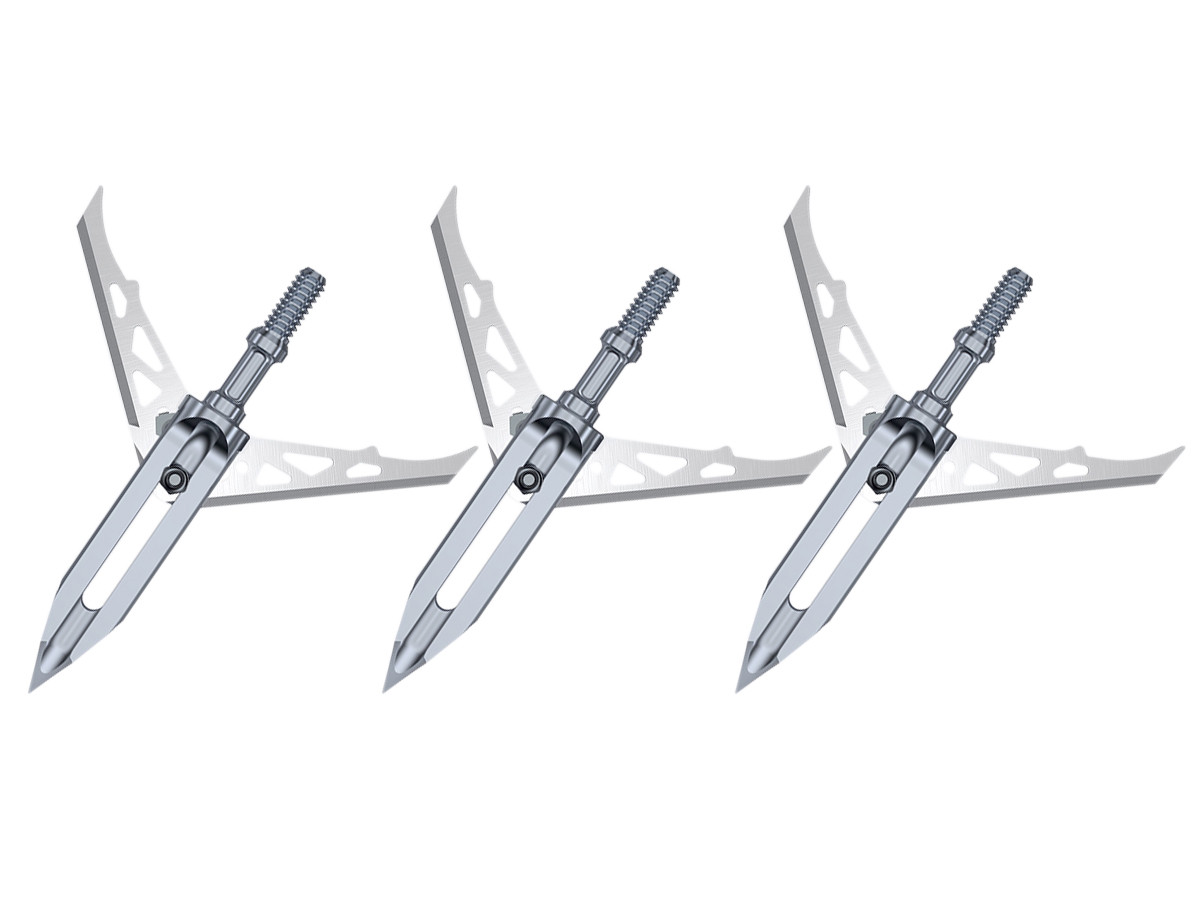 Product Details
Ravin is known for its innovative crossbows featuring compact footprints and industry-leading speeds. The company expanded its offerings to include a line of dedicated crossbow broadheads with aluminum and steel options as well as a lightweight yet ultra durable titanium model. This 100-grain mechanical broadhead boasts the best of both worlds for ultimate penetration and incredible accuracy.
Why we like it
Strong and dependable, the Ravin Titanium Broadhead features single-piece construction with no O-rings or added parts required. The blades deploy on contact for a 2-inch cutting diameter, and the Ti6AL4V grade 5 titanium design can withstand crossbow speeds of up to 500 fps.
Things to consider before purchasing
While the Ravin Titanium Broadhead boasts impressive performance, the mechanical broadhead may not provide the same level of durability and penetration as a fixed broadhead. Its high-quality construction makes it more expensive than many other broadheads, and it's only available in a 100-grain option.
Best Fixed Blade Broadhead: EVO-X Montec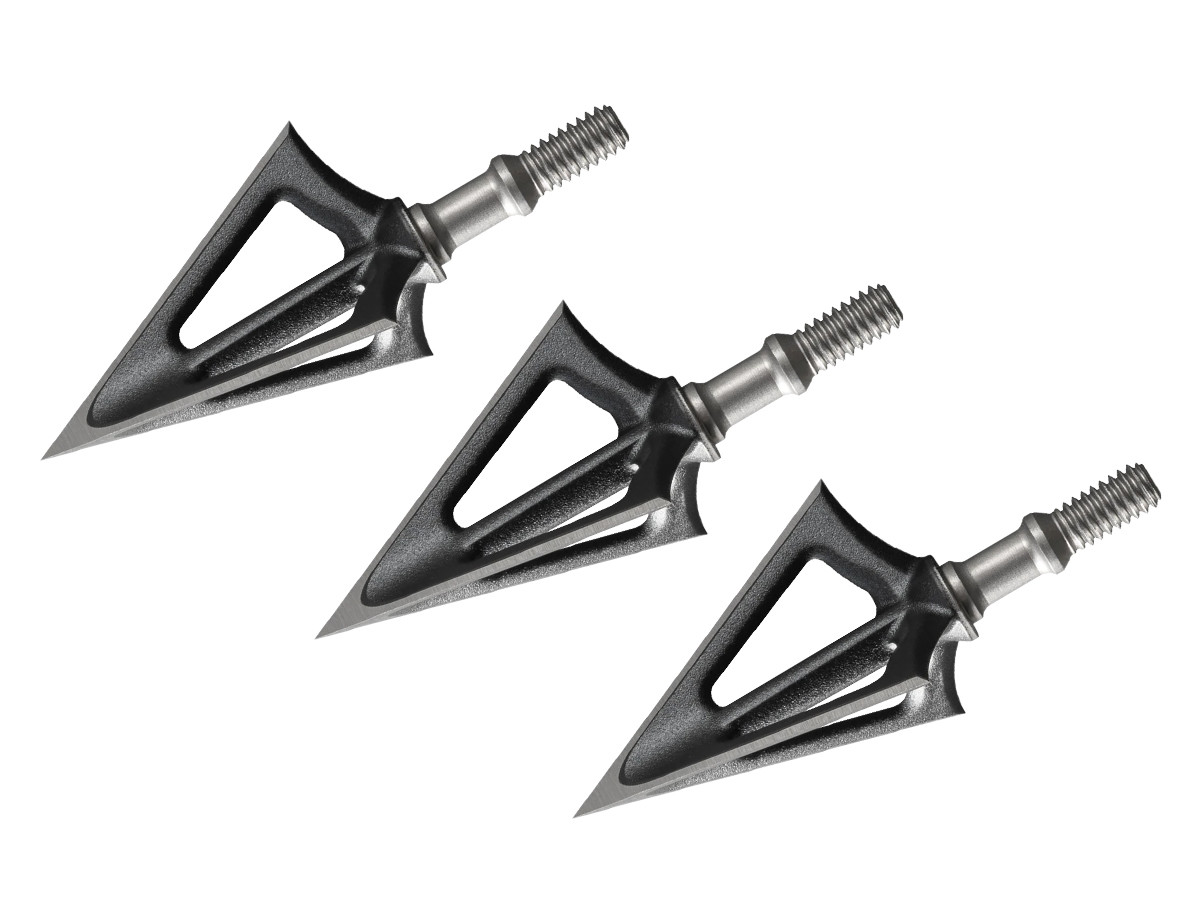 Product Details
Exclusively engineered for TenPoint by G5, the EVO-X Montec Fixed Blade Broadhead is extremely sharp, strong, and accurate. The three-blade design cuts on contact for a devastating 1 1/8-inch cutting diameter, and the durable one-piece construction makes it incredibly easy to use. The 100% steel broadhead is compatible with high-speed crossbows.
Why we like it
With no moving parts to worry about, the TenPoint EVO-X Montec is hassle-free and reliable. Its diamond cut sharpness along with the dependable penetration of a fixed blade broadhead guarantee deadly performance in the field.
Things to consider before purchasing
For hunters who are shooting longer distances, a mechanical broadhead may be a better option than the fixed EVO-X Montec. While a 1 1/8 inch is more than enough for an ethical kill, some broadheads offer a more generous cutting diameter.
Most Accurate Broadhead: Excalibur Boltcutter B.A.T.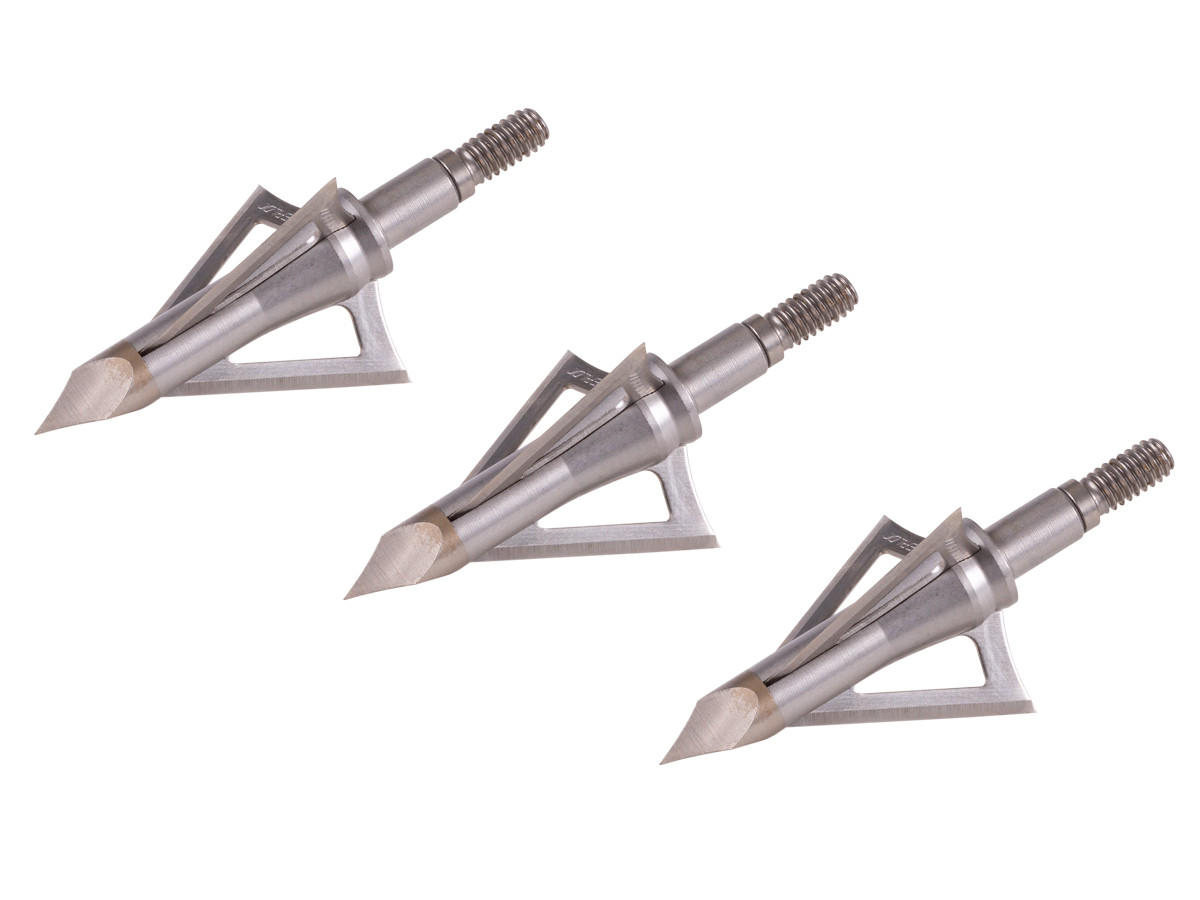 Product Details
These Excalibur broadheads come equipped with the Broadhead Alignment Technology (B.A.T.), Boltcutter B.A.T. Broadheads feature a blade tuning system for the most consistently accurate performance. With a simple wrench and hex key, you can ensure each broadhead in your quiver will fly identically. Excalibur's Center Locking System secures replaceable blades for a durable, dependable assembly.
Why we like it
The Boltcutter B.A.T. design allows you to optimize arrow flight and swap out blades without removing the broadhead body from the arrow. The high-strength stainless steel blades and a chisel tip that cuts on contact guarantee dependable performance.
Things to consider before purchasing
While the ability to tinker with your broadhead and replace worn-down blades make Boltcutter B.A.T. Broadheads reliable and long-lasting, this design may be too complicated for some crossbow shooters. At 1 1/16 inches, the cutting diameter is also not as large as other options.
Common Questions
What does broadhead mean?
The term broadhead refers to the razor-sharp tip or end of an arrow or bolt that shooters will use for hunting situations to better penetrate their target by butting on contact. They're typically constructed of aluminum, steel, or titanium and can either have a fixed or mechanical design. Broadheads come in different weights to suit a variety of crossbow setups, usually 100, 125, or 150 grains.
Shooters swap out dull field points and attach a broadhead to a crossbow arrow or bolt, and some allow for replacing blades when they become dull or damaged. Because crossbows fire at much higher speeds than vertical bows and broadheads penetrate much better than field points, be sure any practice target you use is rated for crossbow broadhead use before firing test shots.
What are fixed broadheads?
Unlike mechanical broadheads which remain low-profile in flight and open up on contact with a target, fixed broadheads feature a static design that remains the same throughout the entire shot cycle. Because of this construction, fixed broadheads typically offer better durability and penetration than mechanical broadheads - especially for big game such as moose or elk.
However, this also makes them slightly less accurate than mechanical broadheads, especially for longer distance shots. While most mechanical broadheads sport two blades, the majority of fixed broadheads feature three blades. It's important to test broadheads - fixed in particular - to see how they fly on your crossbow bolts or arrows before hunting.
What is the most effective broadhead?
The most effective broadhead will vary depending on your crossbow setup, hunting style, and quarry. For longer distance shots at big game, mechanical broadheads are a great option. For hunting whitetail-size game at closer range, fixed broadheads may be your best choice. Keep in mind that some broadheads are only compatible with specific crossbow models, and many are available in 100-, 125- or 150-grain models to best suit your individual setup.
Some broadhead designs allow for switching out old, worn blades with ultra-sharp replacement blades to ensure the most effective performance.
Shop for Crossbow Broadheads