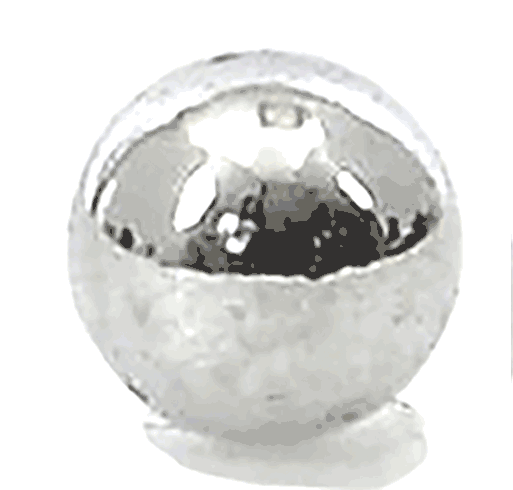 The steel air rifle shot is commonly called a BB.
This report covers:
Happened before
And BBs?
Daisy 499
Marksman BBs
Smart Shot
Dust Devils
The Diana Oktoberfest
Summary
Today we finish the saga of the ubiquitous BB. When we left off last time the BB had become a precisely round steel ball. It was so uniform that at close range it was unbelievably accurate. The BB gun of 30 years ago had suddenly (over the course of about 5 years) become accurate. Or at least some had, and it was known how to make them accurate.
Happened before
This isn't the first time ammunition has leaped ahead and revealed accuracy previously unknown in an airgun. When the Crosman Premier pellet came out airgunners all around the world awoke to find their Crosman 160 pellet rifles were actually hyper-accurate.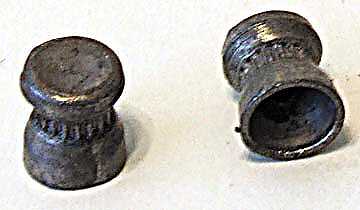 Crosman "ashcan" pellets were made of dead soft lead and resembled garbage cans. These are the pellets Crosman sold to the Air Force for the 160.
When the 160 first came out in 1955 the pellets Crosman sold were the old "ashcans". They were so-named for their resemblance to a garbage can.
In the 1960s the U.S. Air Force bought a large number of Crosman 160 rifles built to a target specification. They came with adjustable leather slings and precision target peep sights. I suppose the Air Force wanted them for their safety, because when you consider the fact that they use two CO2 cartridges that at the time got about 25 good shots per fill, the cost per shot was roughly equivalent to that of a .22 long rifle cartridge.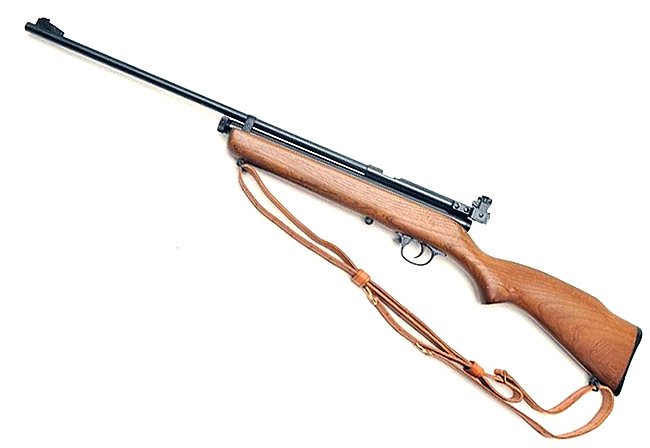 The Crosman 160 was a pellet rifle that blossomed when the pellets it shot became better. When the Air Force used it in the 1960s it wasn't that accurate.
For whatever reason, the Air Force didn't use as many of these as they ordered and in the 1990s hundreds of them were found in a warehouse unissued and still in the box. BB bought one and found it still had the Crosman "bottlecap" CO2 cartridges that the factory used to test the guns after manufacture.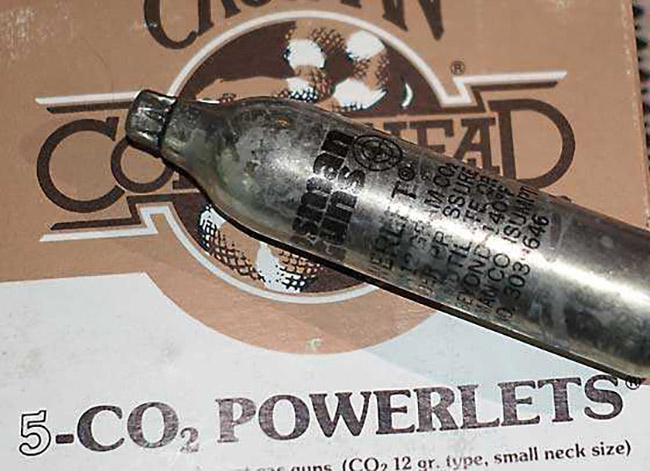 The Air Force used CO2 cartridges supplied by Crosman that were sealed with "bottlecaps."
I'm taking a long time to make a point. In the 1990s when these new/old 160s hit the market shooters had  accurate pellets like the Crosman Premier dome to shoot, along with a whole world of other accurate pellets, suddenly an air rifle that had shot five pellets into one inch at 25 feet was capable of putting five pellets into one-tenth-inch at 33 feet.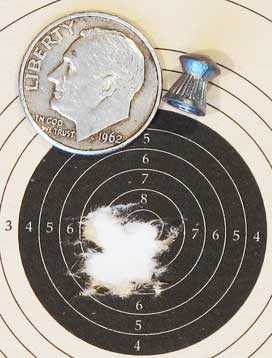 A Crosman 160 put five RWS Superdomes into 0.107-inches at 10 meters. It's not the Crosman Premier dome mentioned in the text but those pellets performed similarly.
And BBs?
I spent a lot of time explaining how improvements in lead pellets transformed the accuracy of a pellet rifle. A similar thing happened with BBs when they became more uniform. It began with the Daisy 499 that I call the world's most accurate BB gun. It came with target sights and it was built for business.
Daisy 499
There were BB guns prior to the 499 that had target sights and slings. The Daisy model 99 and model 299 are two examples of such guns. But sights and slings do not make an accurate BB gun. However, occasionally, when one of those "better" BB guns came with a tighter barrel by happenstance, they shot phenomenally well. Coaches around the U.S. would order BB gun shot tubes (the barrels of BB guns are in the shot tube assembly) by the dozens, test each one and keep the most accurate ones.
But the Daisy 499 was developed for just one reason — accuracy. No need to test for a tight barrel because Daisy engineers designed the 499 to have one from the start. They made it a muzzle-loading single shot with an intentionally tight barrel. They also specified BBs that were and still are precision ground to fit that barrel.
What I'm about to say I cannot prove but it seems too coincidental not to have been done on purpose. As the reputation of the 499 grew, every company that sells BBs started selling an upgraded BB that was slightly larger and more uniform. That's EVERY manufacturer! You have seen those BBs in this blog. Two of them are the Hornady Black Diamond and the Crosman Black Widow. I have measured them and they are both on the large side, plus both are plated (?) with a black compound. Are they the same BB made in the same plant? Well, in tests they have performed differently enough for me to believe they are not exactly the same. Whether they are made in the same plant I have no idea, but both are made in China.
Marksman BBs
Then there are the BBs that Marksman just brought out. They are sized 0.176-inches in diameter and before a week ago I would have said they don't shoot well in anything, but reader Cloud9 brought a well-worn Daisy Number 40 military-style BB gun over to my house to see if I had some lead BBs that would fit it. It was made for 0.175-inch lead Air Rifle Shot (1905 to 1925?). But when I saw the shot tube I knew that someone had been shooting steel BBs in the gun for a long time. The shot tube in those BB guns made for lead shot has a swage (a dent) in the breech of the shot tube instead of a wire spring to hold the BB. It stops the soft lead BB very well, but when steel shot is used it irons out the swage. The test is to drop a 4.4mm lead shot down the muzzle. If it falls out the rear of the shot tube the swage is gone and the tube is ruined. Until now.

Modern BB shot tube (left) has a spring to hold the BB before firing. Antique shot tube on the right has a swage to hold the lead Air Rifle Shot.
I had a thought. Would the Marksman BB be large enough to work in this ancient BB gun? It was. They fed through the magazine and shot fine. Of course in time they will remove more metal and not work, either. But at least they let the owner shoot his father's BB gun a few more times.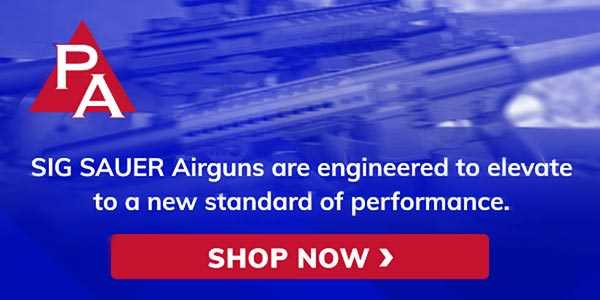 Smart Shot
If lead BB shot was safer than steel, why not bring it back? So H&N did just that and called it Smart Shot. Of course it costs a lot more because lead is more expensive than steel, but it does allow the safe shooting of modern BB guns because lead doesn't rebound nearly as much as steel. You still need to wear safety glasses, but with lead you can shoot hard targets more safely.
Dust Devils
And finally there is the frangible BB — the Dust Devil from Air Venturi. These are great for shooting hard targets safely. Pyramyd Air has high speed photos of Dust Devils coming apart when they hit metal targets. They are not made from lead so they aren't toxic.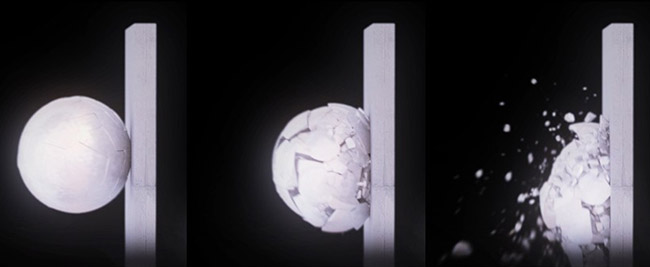 When the Dust Devil hits a hard target it disintegrates.
Dust Devils are lighter than solid steel BBs, so they go a little faster. In my testing I have found that they range from almost as accurate in some BB guns to less accurate in others. But there are always new developments going on.
There was an upgrade several years ago and the Dust Devil Mark II is the current product. They are a little larger and have a less pronounced ring where they are joined.
The Diana Oktoberfest
I was going to address the Diana Oktoberfest but it really isn't a BB gun. It's a ball-shooting rifle. It has a rifled barrel and even though you can shoot steel BBs in it, I recommend you find some 4.4mm lead balls, because they make the Oktoberfest shine.
Summary
That's all I have for you on BBs at this time, but the good news is things are in motion. We may see more developments and improvements in this area of our hobby as time passes.