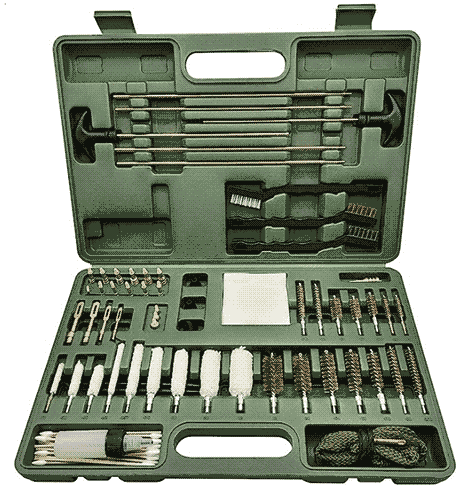 GuardTech Plus Universal gun cleaning kit.
This report covers:
The start
Cleaning kits?
Swedish kit
US Army cleaning kits
Dewey rods
|Impressed
What's different?
The jags
Second opinion
Everything fits
The rods swivel
We don't clean airguns
Firearms
Price?
Summary
Today we being to look at the GuardTech Plus Universal gun cleaning kit. Believe me, friends, this is a product you need to be aware of.
The start
I was contacted by Jim Toshack, the owner of GuardTech Plus, at the end of June. He asked me if I would care to review his cleaning kit. I responded by telling him that I don't normally recommend cleaning airgun barrels, and I thought that would be the end of it. Let me share his reply.
"Tom,
I appreciate the insight – and I see you addressed this issue way back in 2005 with an entry on your site!
You're the FIRST person I've communicated with, who has given me specific detailed info on airguns… I very much appreciate that…Lifelong learner, right? Never can know everything and I'm a bit surprised that nobody has mentioned this in the past to anyone here… which now leads me to believe there's a set of air gun owners happily cleaning away month after month…!
I think there may be something we can do…
First – as an air gun professional, if your recommendation to folks is 'don't clean unless necessary'….then I would LOVE to have GuardTech Plus in that spot that says "If you have to, then here's a great kit from a great company…etc…"
I would first want you to know (test/etc) our kit and get behind it before ever recommending it.
Second – do you think your reader base, if they own air guns, would possibly own firearms as well? I ask because most of the folks I know use this for air guns, use this for their firearms as well."
Okay, folks — first of all, he took the time and energy to read the blog! That's impressive by itself. I hear from a lot of manufacturers who want to be reviewed on this blog, but most of them never take the time to find out what we're all about. Jim did. And second, this guy thinks like me! Not that those who don't think the way I do are bad or anything — they're just wrong!
Kidding aside, Jim Toshack is the sort of guy we like doing business with, because he thinks about what he's doing. He thinks about his products. He thinks about the end user, which is you and me.
After some pondering I agreed to review his kit and he sent me one. I purposely did not open it until this morning, just to have a genuine first reaction to what I saw. And now, before we get to that reaction you need to know something about BB Pelletier and gun cleaning kits. I have been in the shooting sports for about 65 years, man and boy. In that time I have shot and cleaned many airguns and firearms. You know that very well because in the 4,800+ blogs I've written since 2005, I've talked about cleaning — a LOT!
Cleaning kits?
Let me tell you — I have gun cleaning kits galore! They are everywhere! You know those plastic one-step-up-from-a-clamshell-cases filled with aluminum jointed rods, plastic patch holders and jags and a bottle or two of some nondescript gun cleaner that you will never use? I have them scattered all around my house. I have lost some of the rods, the plastic and aluminum rod-to-tool adaptors, the jags and the plastic patch holders — that is except for the rods I have bent and thrown away and the patch holders and jags whose plastic threads I have cross-threaded until they are useless. And Lord forbid that any parts from one kit will ever fit parts from another kit!
What about those bottles of nondescript gun cleaners? I have some that are older than many of you readers, I haven't even taken some of those bottles out of the cardboard boxes they came in! I don't use that stuff. I use Hoppes Number 9, or Butch's Bore Shine or some other product that real shooters have heard of. In fact, my late wife, Edith, use to say she liked to dab a little Hoppe's behind each ear — it worked better than perfume!
Swedish kit
Allow me to share my gun cleaning kit experience with you. About 20 years ago I bought a surplus Swedish military gun cleaning kit to carry in my range bag. I don't use it for cleaning. I use the jointed steel rods to poke out cartridge cases when somebody's extractor either fails, or tears out the rim of a cartridge.
0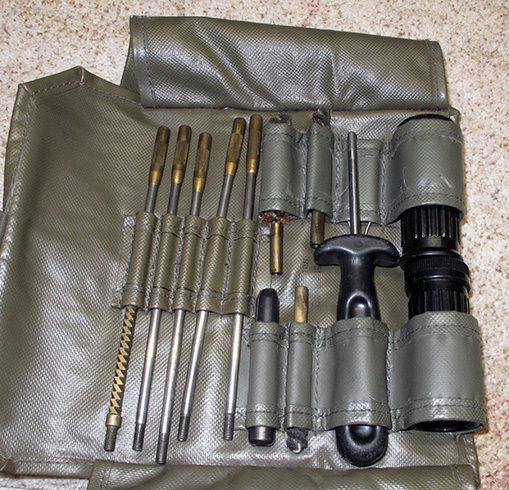 I bought this Swedish military gun cleaning kit just for the steel rods. I use them to poke out cartridge cases that get stuck in the chamber.
This kit seldom gets used, but when it's needed nothing else will do. I have gotten many a rifleman back in action with it! The one drawback is it's too large to fit in the bore of a 5.56/.223 Rem barrel, and 75 percent of the guns that stop on the range are .22-calibers built on the AR platform. That's not because that model is bad but because they comprise the majority of the rifles found on gun ranges.
US Army cleaning kits
When I left the Army a number of gun cleaning kits walked out with me. Imagine that! The steel jointed rods for the M14 and Garand (yes — I am THAT old!) are great, but the thin jointed rods for the M16 are as prone to bend and break as the aluminum jointed rods. I had a kit for the .50 cal. M2 and M85 machineguns, but those puppies belonged to the guns and had to remain in place. I have seen them for sale at gun shows but I never bought one.
And of course the M1 Garand and the M1903A3 battle rifles each have their own dedicated cleaning kits in their butts. I find those kits to be almost useless, except for the oilers that will keep the Garands running when you don't have a dipstick handy.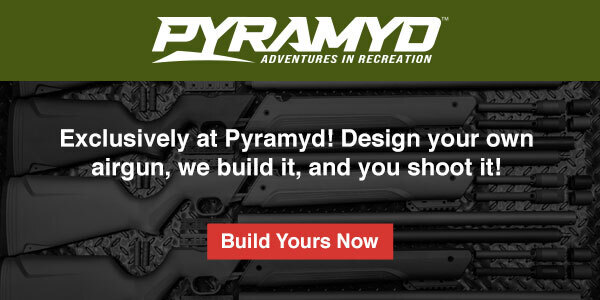 Dewey rods
Then there are the Dewey cleaning rods. Yes, they cost too much and yes, I own several. I own them because, when a pellet gets stuck in a .177 barrel, who you gonna call?
Bottom line
The bottom line is — BB Pelletier knows gun cleaning kits. So, okay, GuardTech Plus — impress me!
Impressed
The remainder of this report will be about how impressed I am by the GuardTech Plus Universal kit.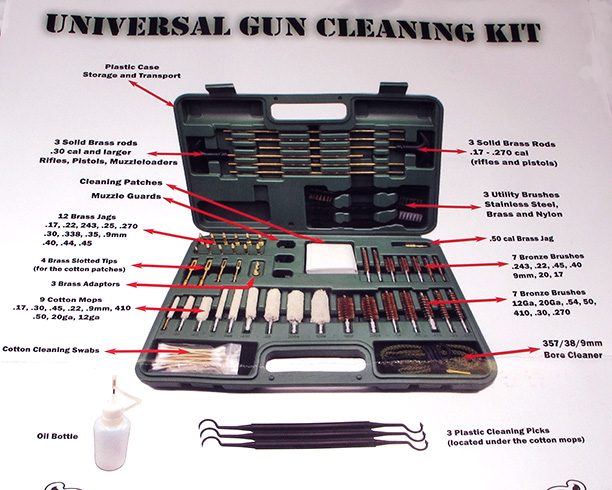 The contents of the Guard Tech Plus Universal gun cleaning kit.
I thought I would just open the box, clean a couple guns for you and report on that. Then I opened the box! This is a gun cleaning KIT! To say anything less is like saying the Arc of the Covenant is a pretty box.
What's different?
What's different is that in the GuardTech Plus kit they don't include any bottles of nondescript gun cleaning solvents that I won't open for decades. Instead of plastic patch holders and jags they provide brass patch holders and jags. More on the jags in a moment.
The jointed rods are brass and have brass adaptors to connect the larger jags, patch holders, bore mops and brass brushes to the rods.
Everything snaps into the case with minimal effort. You know those plastic cases that come with kits these days? You know how hard it is to snap the tools back into their places, and even to get them out sometimes? I have drill bits in such a kit that I have to pry out with screwdrivers. And when they have to go back I'm afraid of breaking the smaller bits. These tools in the Guard Tech Plus kit ALL come out and go back into the case easily. And I do mean all!
The jags
Each brass jag has a sharp pointed tip to hold the patch. Okay, but other cleaning kits have brass jags with sharp tips, BB. What's so special about these? Well, these tips are STRONG! I have bent the tiny brass jag tips on other cleaning kits, but I don't think I'll be bending these. Not easily anyhow.


Yes, this .177 jag is enlarged in this photo, but just look at that tip. This puppy won't bend easily!
Second opinion
Denny was working in his garage this morning, so I asked him come over and look at the kit for a second opinion. When I opened the box and he looked inside the first time he said, and I quote, "Oh, WOW!"
Everything fits
I checked the fit of many of the tools into the rods and each other and everything fit perfectly. It was almost as though the pieces were made to go together! I'm joking, but not that much.
The rods swivel
One reason the Dewey rods cost so much is because of their ball bearing swivel handles. The brass brushes and cleaning patches can twist while following the rifling and leave the handles stable. Both the rods in the Guard Tech Plus cleaning kit also have rods that swivel, yet the entire kit costs less than two Dewey rods.
We don't clean airguns
But BB you tell us airguns don't need to be cleaned. That's right, most of the time they don't. However if you have a rough barrel it will scrape some lead off and eventually there will be a buildup that affects accuracy. Then we clean.
Or some new barrels — especially those in less expensive airguns and many that are made in China — will need to either be cleaned or about 500 pellets will need to be shot through the barrel to get rid of the metal bits left during manufacture. When I worked at AirForce Airguns one of my jobs was to clean all the barrels after they had been fully processed (ground to size on the outside, blued, location holes and screw holes drilled [and tapped] and bushings installed). There were hundreds of barrels at a time and each one was cleaned. Not all manufacturers do that, though, and it's one more reason to clean your new barrel.
Firearms
Many of you shoot firearms, as well as airguns. I do. This kit was made to clean firearms. In fact, I plan on cleaning one for you to test the use of this kit. Of course I will also clean an airgun, just so we know. Hey, guys, brass brushes are brass brushes. I don't expect these brushes to be any better than the rest. I will be evaluating the entire kit for you.
Price?
When I looked at a list of what comes in the kit I said to myself, "This can't cost less than $20 and I hope it doesn't retail for too much above $50. Then I opened the box and said, "Okay, $50 may be a little light. I hope it costs under $80.
The price? $48.95 on Amazon. Not Pyramyd Air? Not at present. It seems GuardTech Plus has decided to sell direct to the public. I wish they would sell to distributors because this is a product you guys should really consider.
Summary
That's our look after opening the box. Next time we get serious and clean some guns.