This report covers:
Item 1 — the tissue paper test
Why this test for the two forty?
Item 2 — soapy water
Item 3 — the audible leak
Item 4 — the bent barrel
Item 5 — "fixing" a single stroke pneumatic (SSP)
Item 6 — miracle ATF sealant oil
Item 7 — Tune in a Tube
Over to you
Today I will present seven things I think an airgunner should know. I wanted to call this seven simple tests, but it's more than just tests.
Reader Yogi gets the credit for this report. His comment on the Diana two forty report went:
"B.B., How about the tissue test to see if that breech seal really makes a difference?"
I should have done that test, or suggested it, but I forgot. Yogi reminded me, but it was the other blog comments that caught my eye. Apparently some of you don't know what this test is. Several of you do know about it and you agreed with Yogi, but I thought if anybody doesn't know this one, they need to.
Item 1 — the tissue paper test
The tissue paper test is to determine whether or not a breakbarrel spring-piston pellet rifle or pistol leaks air at the breech when it fires. By placing a small piece of tissue paper over the breech when the gun fires you can detect the smallest air leak. The tissue paper will be blown by the air.
You don't have to use tissue paper. Flour placed above the breech joint will also give a good indication of a leak. It's just a messier way to test.
Why this test for the two forty?
So, if I plan to shim the breech seal anyway, and yes, I do plan to show you how I remove the seal and also how I shim it, then why do the test? I do it for two good reasons. First, I do it to see if I can detect any leaking at the breech and secondly, I do it so that if I do find leakage and fix it with the breech seal shim, we will know whether or not that "fix" worked and even perhaps to what extent, if it didn't fix it completely. Yes, a chronograph is a good instrument to have, and in the test and shim fix of the two forty rifle you are hopefully going to see that, but if you are on a budget, tissue paper is cheaper.
Item 2 — soapy water
Soapy water is good for testing for and locating leaks in pneumatics and CO2 guns. Mix dishwashing detergent (Dawn, if you can get it) with tap water. If you get the mixture of dishwashing detergent and water correct, any leaks will form bubbles that tell right where the leak is.
But there is more to this. The more soap that's in the water, the bigger will be the bubbles that form. Less soap produces smaller bubbles and more of them. Smaller bubbles form and break faster and can help you pinpoint that leak better than the big bubble. The big bubble shows how fast the air or CO2 is leaking by how fast the bubble inflates.
Item 3 — the audible leak
You're at an airgun show and there's no good way to use soapy water. Depending on where the leak is, you may be able to hear it. If the firing valve is leaking you may be able to hear it at the muzzle. But don't put the muzzle up to your ear! Instead, put your ear alongside the muzzle and use a hand to direct the sound over to your ear. This works surprisingly well and I have done it many times at airgun shows.
The show floor will generally be too noisy to hear anything less than a full-blown rapid leak. So find a place where it's quiet enough to perform this test. You might have to step outside.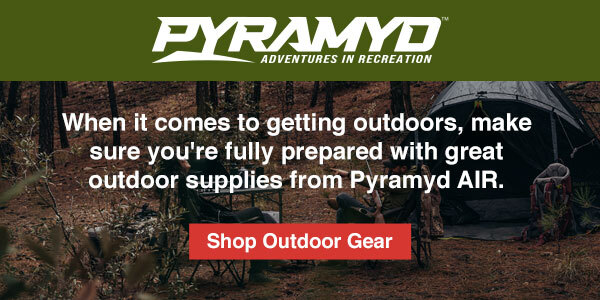 Item 4 — the bent barrel
This is so easy to see and yet yours truly has failed to do it and gotten stuck with a lemon. This is for breakbarrel springers only, I think. I mean, I hope!
Simply hold the airgun almost as if you were going to shoot it, but not quite high enough for that. You want your head to be to the left or right side of the barrel, looking from the breech towards the muzzle. I prefer doing this on the left side of the airgun. Look down the outside of the barrel and fix your eyes on the muzzle end that is farthest from you. You aren't looking down the sights when you do this. You are looking down the top of the outside of the barrel. If there is a bend you should be able to see it clearly this way.


They won't all be this obvious, but this is what a bent barrel can look like.
Most barrels bend right after they emerge from the base block. They are the result of the barrel closing too rapidly. The owner will tell you that the barrel slipped when he was cocking it, and I suppose in one case out of a hundred that's the truth. Let's give him the benefit of the doubt. The other 99 times he cocked the rifle and then pulled the trigger to see how fast the mainspring would close the barrel. Think of a switchblade knife. No one has ever confessed to me that they did this, yet I can tell by looking at their airgun that's what happened. In many cases the stock will also have cracked from the sudden force.
For more information on this one, read Bending airgun barrels.
Reader Rick Klages also did a guest blog on this one.
Item 5 — "fixing" a single stroke pneumatic (SSP)
I put quotation marks around the word fixing in the title of this one, because what we are doing does not actually fix anything. What it does do is make your SSP work longer when the seals are old and hardened. It will also boost the power of an SSP considerably. On the first season of American Airgunner I demonstrated a 30 to 35 f.p.s. boost for the IZH 46 (not the M) target pistol. The pistol was clocking 425 f.p.s., and with the method I'm about to share I boosted that to 460 f.p.s.
What you do is work the pump handle almost all the way and then relax it. Do this 10 times and then complete the pump and shoot. By going almost all the way you will flex the pump cup which softens it. That makes it accept more air when you pump and that makes the airgun shoot harder. I have demonstrated this many times in this blog. Read about it here.
Now for the bad news. While this trick does extend the life of an SSP's seals, eventually they do have to be replaced. They get hard over time and need to be addressed.
Item 6 — miracle ATF sealant oil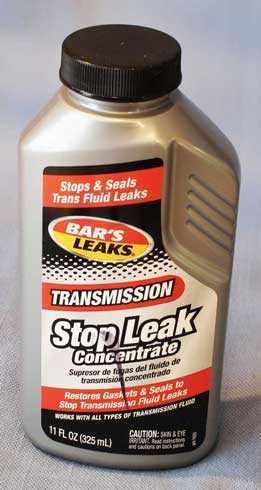 Automatic transmission stop leak works great for oiling pneumatic and CO2 airguns.
This is one I bet most of you know because I talk about it all the time. A few years ago I discovered that automatic transmission sealant works great as a sealing oil in both pneumatics and CO2 guns. I boosted my early Sheridan Supergrade to almost 700 f.p.s with it. And I have sealed dozens of CO2 guns that had slow leaks. To seal pneumatics (all three kinds) and CO2 guns this is the stuff you need!
Item 7 — Tune in a Tube
You knew Tune in a Tube had to be on my list — right? I hope so, because this stuff is amazing. It's Almagard 3752 red grease and we have learned that many other red greases work just as well. I have specifically used Red 'N' Tacky grease with success.
You spread it on the mainspring of a spring-piston airgun and the twang goes away. You can use it sparingly because a little goes a long way. And the beauty is, you often don't need to disassemble the airgun to apply it! Just put it on through the cocking slot. I use a small grease gun but a long cotton swab or a popsicle stick works, too.
Over to you
Those are seven of my top things I think airgunners should know. But there are more. Now you come up with some!