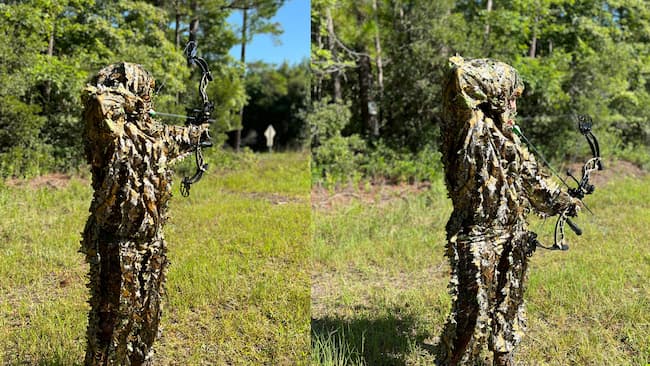 We are talking about archery here, and if you know archery, you know it is, "All in or sin". Sin is an archery term meaning to miss the mark. Nobody desires or aims to miss the mark, right? That sounds immensely ridiculous as the words pour onto this virtual paper.
There is only one type of bow you might be able to shoot with a small part of your body, can you guess the one I'm thinking about? A crossbow like the PSE Archery Fang HD. Yeah, you're right, that's not generally the case either. It really is all in. Every part of your body, from head to toe are required to work together to prevent you from missing the mark completely. Especially when shooting a compound bow like the PSE Uprising or a Recurve like the Bear Archery Grizzly because operator error is a real thing. A small miss or big miss is still a miss.
Sight Distance
The easiest shooting where you will more likely be able to avoid sin most, is at a range with the Big Shot Iron Man Range Targets set at your sight distance, (level, no angles involved) because you will repeat the same position every time. When the targets are posed at the same line of sight distance or elevation, practice will produce muscle memory of the perfect "T" stance and anchor points so you can produce the same shot placement almost every time. If you're doing your part, you should consistently hit the mark.
That's great if you're a backyard arrow slinger, but it won't produce the best results for competition or hunting, therefore practice for those particular situations is required.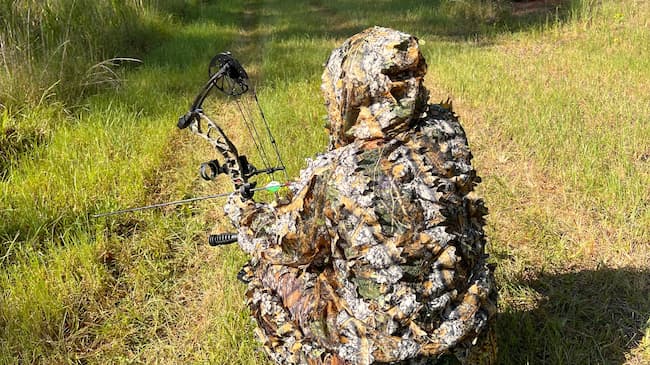 Am I reading your mind? "Bow Bully you don't know what you're talking about, slinging arrows is slinging arrows, just point the bow in the direction of the target and release!"
Simple Experiment
If that's where you stand, I have an experiment for you. Don't worry, I won't make you climb a tree and take a shot at an angle or run down a steep mountain and shoot up the mountain. After this you will see it is crucial that your entire body participate in the shot.
This will be simple, assuming your bow is set up correctly including the axis points adjusted and properly set. Those steps are crucial, an accurate reading on your Trophy Ridge 5 Pin sight's level will prevent the shooter from canting, which throws the shot in the direction of the cant.
Get to the Range
What are you still doing here? Get to the range! Take some shots with the proper form.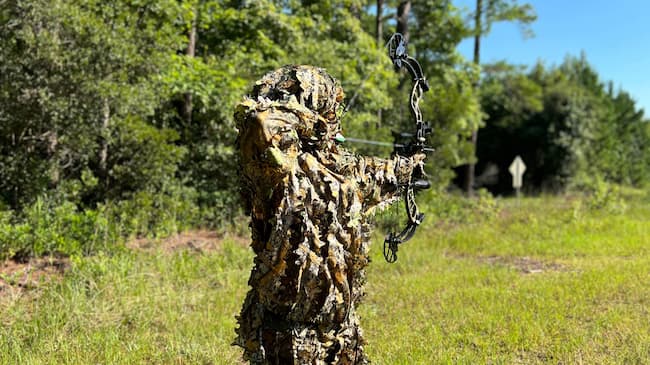 Place your feet hip width apart, (your hip width not mine!)
Place your appropriate hand on the grip.
Knock the arrow, cock feather up.
Draw with a push pull motion.
In full draw you should represent a T.
Settle into your anchor points.
Line the sights up and release.
Hit! Hit! Hit! Right? You know what it looks like when you do it right because you hit the mark. Do you ever get those shots that seem to take a path of their own? At times it may be an issue with the arrow, but sometimes shooters get lazy and digress in their form. Nah, not you! Your performance is top notch all the time! If the shot was off, it was an issue with the arrow, in addition, the wind blew on your ear and distracted you.
Get real man! You are human, you can become complacent too. Next, another part of the experiment.
Follow steps 1-4 from above.
Relax your right side and bend your knee, drop your elbow (either one), or tap your foot, etc.
Now steps six and seven.
Sin! Sin! Sin! Right? Again, if you've been an archer for any length of time, you're aware of the importance of consistency and using everything you've got to hit the mark.
Check Yourself or Get Checked
Occasionally you need to check yourself or ask a friend to check you. If you have no friends, it's okay, technology can make up the difference. First, set up a camera or a phone and film yourself taking shots (take enough shots that you forget you're on camera, we always perform better when someone is watching). Next, it's time to look at your form and follow through.
If you have a friend that knows archery, ask if they'd watch you shoot and give some corrections on your form and follow through. A man once told his son, "Screw up loud enough to get it fixed." Correction takes humility, if you're aim is to hit the mark, then aim to receive the correction first.
Aiming to hit the mark is a simple desire, a desire doesn't produce results. Hitting the mark takes these actions.
The humility to receive correction.
Practice that produces consistency.
An awareness that you too can become complacent or lazy just like anyone else.
The constant acknowledgement that it is, "All in or Sin."
Here's where you follow through and turn your desire into an action. Take up your bow because it's time to hit the mark!