This report covers:
Integrix
The test
RWS Superpoints
Air Arms Field
Why scope the rifle?
H&N Excite Econ II wadcutters
JSB Exact RS
RWS R10 Match Heavy
Trigger
The takeaway
Next
Summary
Today we look at the Diana two forty again. This time I mount a scope, so we can see how it compares the the groups I shot with open sights in Part 4.
I linked to the description of the Diana 240 because Pyramyd AIR is selling the two forty but has it listed as the 240. The Diana 240 is a German airgun that's been discontinued. The Diana two forty is made in China for Diana and isn't the same as the model 240 that's been discontinued. And the two forty is the model Pyramyd AIR is selling.
Integrix
Today's test is one I've been waiting for. I get to put a $1400 scope on a $100 air rifle. That's like putting a $2700 set of Formula One racing tires on a Smart Car. The rifle will not be more accurate because the scope costs so much. I just wanted to do it and, because I have the 2-12X36 Integrix scope for testing, I can.
I mounted the scope and shimmed the rings like I always do, but that may have been a mistake. The Integrix seems not to need shimming. Remember, the Integrix has a 34mm tube so larger rings are needed to mount it Fortunately Leapers sent a set of rings with the scope.
The groups are all to the right of the bulls and a bit high, probably because of my shimming. I left things as they were today so I could complete the test, but if I leave the Integrix on the two forty awhile I will probably correct the mounting.
The test
I shot the rifle off a sandbag rest at 10 meters, with the rifle rested directly on the bag. I used the same pellets that were used in the Part 4 test with open sights, plus I added one pellet that reader Motorman said worked best in his two forty. Well, I meant to use all the same pellets. By mistake I grabbed the JSB Exact RS pellets instead of the heavier JSB Exact Express pellets, so there was one change.
Today we get to compare groups between pellets shot using open sights in Part 4 and the same pellets (or at least three of the same pellets) using a scope. Normally I would tell you that scopes don't increase your accuracy, but the reason for today's test is I felt this time a scope would help. I will explain why in a bit. Let's see what happened.
RWS Superpoints
First to be tested were RWS Superpoints. In Part 4 using open sights the two forty put 10 Superpoints into a group that measures 0.757-inches between centers. With a scope that shrank down to 1.195-inches between centers.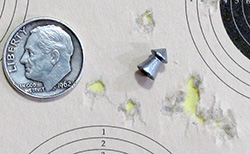 The scoped two forty put ten RWS Superpoints into a 1.195-inch group at 10 meters.
What's this? The group GREW when a scope was used? Yes it did! Now, seven of those pellets are in 0.562-inches, but the other three pellets are all legitimate shots and there were no called pulls. And yes, to answer your questions, I did check all the stock screws and the scope screws before shooting. At this point in the test I wondered what rabbit hole I was running down.
Air Arms Field
Next to be tested were Air Arms Field pellets. They come in two head sizes and I shot the ones with 4.52mm heads. In Part 4 ten made a 0.725-inches. The scoped rifle put ten in 0.385-inches at 10 meters. Now, that was what I was expecting!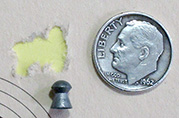 The two forty put ten Air Arms Field pellets into 0.385-inches at 10 meters.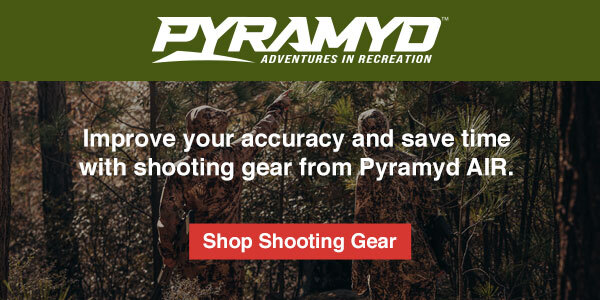 Why scope the rifle?
Now I will tell you why I thought a scope would help things with the two forty. If you look back at the groups in Part 4, most of them have a large number of pellets in the same place with a few outliers. Either my eyes were off that day or the sights on the two forty are somehow fooling me. Either way, the scope seems to have cleared it up. But there are still three more pellets to shoot, so let's get on with it.
H&N Excite Econ II wadcutters
Hoot mon! Ye canna buy a cheaper wadcutter. So dig deep into yer sporran and fetch out $5.99 for a tin of 500 H&N Excite Econ II pellets. In Part 4 ten of these pellets made a 0.869-inch group with open sights, and again there was a smaller group within the larger one that stayed together. Today ten went into 0.777-inches, which isn't that much smaller, but nine of them are in 0.365-inches. A lone flier was not a called pull. It just went there on the first shot. Oh, the temptation to Photoshop that one out! But I left it in to show you my dirty laundry.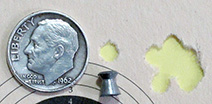 The two forty put ten Excite Econ II pellets in 0.777-inches, with nine in 0.365 inches at 10 meters.
JSB Exact RS
This is the pellet that wasn't in the last test. The two forty put ten of them in 0.533-inches at 10 meters. And the one shot that is off to the high right was the last shot. Wouldn't you figure? BB got flustered and snatched defeat from the jaws of victory.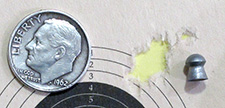 Ten JSB Exact RS pellets went onto 0.533-inches at 10 meters.
RWS R10 Match Heavy
The last pellet I tested was one reader Motorman recommended from his testing of his two forty two years ago — the RWS R10 Match Heavy wadcutter. My two forty put ten of them into a 0.643-inch group at 10 meters.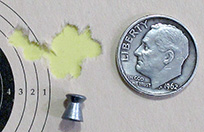 The two forty put ten RWS R10 Match Heavy pellets into a 0.643-inch group at 10 meters.
Trigger
The trigger is still quite heavy, but I'm now getting some shots where it's lighter. I do think it is wearing in.
The takeaway
The two forty I'm testing seems a little picky about which pellets it likes. But it also seems quite accurate when it shoots the pellets it likes.
I still don't know whether a scope is necessary on this rifle. I would prefer not to have to scope it and I sure won't leave a premium scope like the Integrix mounted. That was just me having a little fun.
I know you want me to shoot it at 25 yards and for that I will leave the Integrix mounted. I may adjust it so it isn't shooting so high and far to the right.
Next
I'll shoot for accuracy at 25 yards next. After that I want to take the action apart and see what's inside. I might get a chance to lighten the trigger and we will get to see what the powerplant looks like.
Summary
The two forty is still holding up well. I suppose most people will scope it, so accuracy will be pretty good. I'm having fun with it!