This report covers:
Winner
What's not to like about the MicroHunter
The RAW MicroHunter
Barrel
Description
Special sight
Summary
Today we begin our look at the Rapid Air Worx (RAW) MicroHunter precharged pneumatic (PCP) air rifle. Whew! That's a mouthful! A big name for a little airgun.
Winner
When I first saw the MicroHunter prior to this year's SHOT Show I knew RAW had a winner. This little guy has none of that fancy wood that everybody is worried about getting scratched up. You can actually take this one out of the case! And, speaking of a case — well, wait for it. And the MicroHunter is lightweight and short! What's not to like?
What's not to like about the MicroHunter
Well, it doesn't put 60 foot-pounds out the muzzle. I'm testing the .22 and can expect around 23 foot-pounds, according to the specifications. The .177 makes 16 foot-pounds and the .25 gets up to 28.4 foot-pounds. OH, NO! How ever can we kill that last squirrel? He's nearly bulletproof, says the couch commando after a refreshing afternoon hunt through the corridors of his mind.
Well, you can't shoot field target with it!
No, you probably can't. By the way, have you ever shot field target?
No, but I hear you need a heavy gun to keep from wobbling around.
That's right, this one is not for field target. It's also not for extreme benchrest. It's also probably not the best for broiling a steak. It's a Micro HUNTER!
The RAW MicroHunter
The name says it all. Hunter means it is made for hunting. Micro means it is small. RAW means it's accurate and has a superb trigger. And BB Pelletier will now tell you that this rifle comes to you in its own custom made hard carrying case.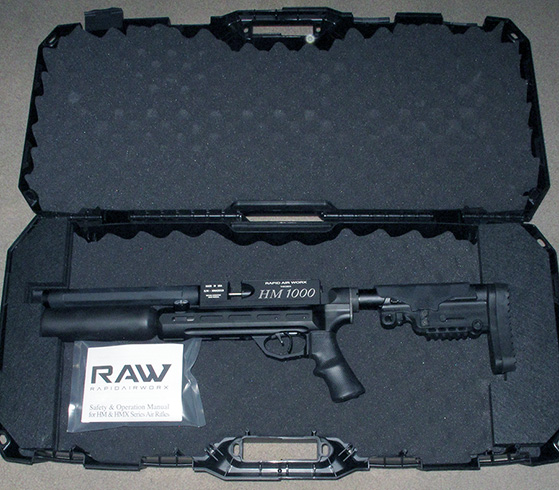 The RAW MicroHunter comes in a custom-made hard carry case. Oh, look, Mable — there's room for a small scope in the case!
"Well, what they shoulda done is …
Make it more powerful
Increase the shot count
Leave out the case and cut the price
Make it quieter
Give me one for free so I can tell all my friends about it
Barrel
The Lothar Walther barrel is 8.5-inches long. Want more power? Put on a longer barrel. Yeah, but that'll make the whole rifle longer. Yes, it will. Hence the name Micro Hunter. The hammer spring is adjustable, so there is some room to make changes, but I don't believe it's a lot. We shall see.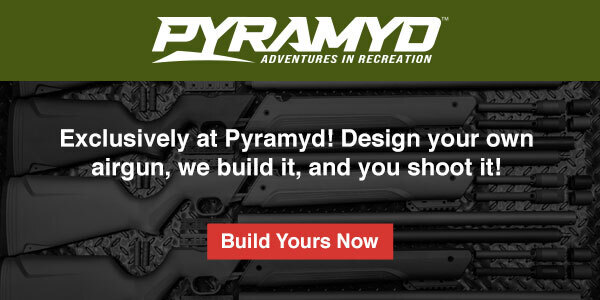 Description
The MicroHunter is 27 inches long when the 4-position adjustable stock is collapsed. It weighs 5.6 pounds. The buffer tube stock is compatible with AR stocks and the pistol grip will accommodate a standard A2 (AR-15 grip). The adjustable cheekpiece is ambidextrous. The aluminum chassis has M-LOK slots on both sides and the bottom plus Picatinny rails on the forearm and buttstock. The scope rail is an 11mm dovetail, rather than a Picatinny rail, so be prepared for that.
The 210cc air cylinder holds enough air for — well, that's what we'll find out in Part 2. What I can tell you now is:
1. The valve is regulated
2. The air intake is a male Foster fitting — yea!
3. The MicroHunter runs on 3,000 psi fills.
Tyler Patner did a great video review of the rifle. You'll find it on the description page.
This is a repeater and the .22-caliber rotary magazine that inserts on the left side of the rifle holds 12 pellets. The action cocks via a smooth sidelever. Magazines that insert on the right side of the receiver are also available if you run a sidewheel on your scope.
The HM 1000X action the MicroHunter is based on is ambidextrous, and so is the MicroHunter.
It has BOTH 1/2X20 male threads AND 3/4X16 female threads for a silencer. It also has a BarkStripper adjustable air stripper that yields an incredible degree of control over the amount of air turbulence that affects a shot. I'll have more to say about that when we start testing accuracy.
The safety is manual and the trigger is — well, this is a RAW, so the trigger is perfection.
Special sight
Remember I told you that I went to AirForce last Friday and Ton Jones walked me through the TalonBolt? Well, he let me hold his MicroHunter, too, and I liked his personal optical sight so much I bought one on the spot. It's called the Lucid Optics P8. I'll review that optic for you as well, plus I intend installing it on the MicroHunter for its tests. I'm hoping it will fit on the rifle inside the case, as I mentioned earlier.
Summary
Get ready, guys, because this report will be a long one. The longer I test it the longer I get to keep it! Nya, ha,ha!