Today reader Ian McKee whose handle is 45Bravo tells us what he did to train for the Pyramyd AIR Gunslynger event.
If you'd like to write a guest post for this blog, please email me at blogger@pyramydair.com.
Take it away, Ian
Preparing for the Gunslynger
by Ian McKee

In my last blog report, there was some interest in what goes into preparing for an event like the 2023 Pyramyd AIR Cup. This report comes with a caveat. It isn't meant to be a step-by-step way to prepare. Everyone has their own methods of doing things, gear preferences, budget and free time available to train, plus access to a shooting area or facility for practice. This is just the way I prepared for the Cup with the equipment, resources, and time I had available. Your mileage may vary.
Choosing the events
When they announced there would be a 2023 PYRAMYD AIR CUP I was excited. When the last one was held was in 2019 I was not in a position to attend.
I looked at the events, Field Target, 100 yard Bench Rest, and the Gunslynger speed silhouette event. With only 6 months to prepare, Field Target was out because I didn't feel that confident estimating range, and my little CZ 200S going up against people from around the world who live and breathe this event have specialized multi thousand dollar rifles set up just for it.
100 yard benchrest — I plink and play at 100 yards, but haven't practiced it enough to be good at it. Doping the wind (DOPE is an acronym that stands for Data On Previous Engagements) for pellets traveling 900fps at my airgun range where I normally shoot is surrounded by trees on three sides. It's almost like shooting indoors. To compete in this event I need to shoot a lot more on an open range to improve judging the wind.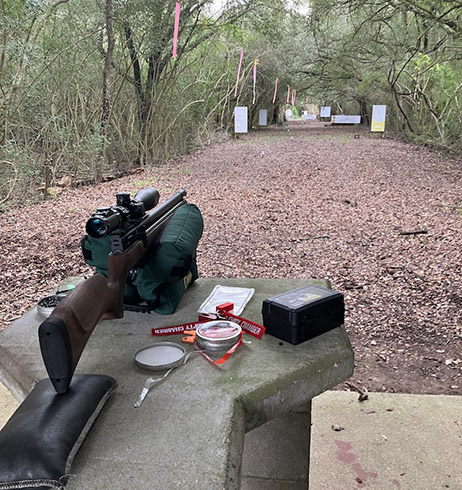 The airgun range where I normally shoot is well protected from the wind.
The Gunslynger speed silhouette — 55 yards maximum distance. There are 20 targets total, the smallest is about the size of an American quarter (25mm) and is shot at 10 yards. They get bigger from there. It's an all or nothing event — you either hit the target or you miss. There are no scoring rings, no alibis. You clean the rack or you don't. That's the type of shooting I normally do.
Also a deciding factor was the Gunslynger match was to be shot on Friday afternoon, leaving ample time to visit the vendors, test new equipment, and meet and talk to many people and competitors from all over the world.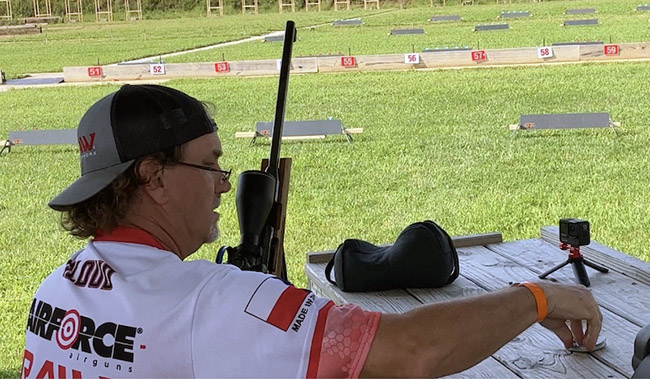 Jeff Cloud working hard with an Air Arms TX200 springer in the Gunslynger event.
Which division?
Springer? Nope, not with an AirArms Pro Sport that has a short cocking lever.
Single load PCP? Either of my .22 caliber JTS rifles are more than accurate. So is my Daystate Wolverine and my ancient Gunpower Stealth. I tried these, and  all of my PCP rifles in single-load configuration against the clock. Try as I might, I just could not get as smooth as I thought I should be to be competitive. I would invariably put a pellet in backwards or sideways and had to stop to clear the jam. No bueno.
Magazine fed PCP? That I could do. I had enough magazines for the JTS rifles to shoot the entire stage, with shots left over for when I would miss (I KNEW I was going to miss, it was just a question of how many times.)
The Daystate only has 1 magazine, and at a cost of $120 for each magazine, having extras was out of the question.
The rules
You had to use a magazine, the first mag could only have 10 pellets loaded in it, and the safety officer made sure of that. You could load as many pellets as you wanted in the rest of your magazines. 
I started practicing, and was getting smooth, and could clean the course in less than 90 seconds.
I had done some security camera work for a friend and he paid me with a semiauto .22 caliber AEA HPSS Plus that he had bought and shot a few times until he grew bored with it (and he grew tired of going through a tin of pellets as fast as a 6-year-old  goes through a bag of M&M's). For me it was just a novelty to burn ammo and have fun. Plus, I have very little invested in it.
One day I was using the AEA plinking with friends and was hammering 2×4-inch steel silhouettes out to 75 yards as fast as I could acquire the targets. I was shooting head-to-head with my friends who were shooting FX rifles, and I was leaving them in the dust.
The it dawned on me — re-read the rules. NOWHERE did it say you could NOT use a semiautomatic airgun. I messaged Tyler Patner to make sure and he said yes, it was legal to use one in the event.
I set up my Air Venturi Airgun Slynger Metal Silhouette Targets, at the competition distances, and cleaned the course with ease. I had found my event, and the perfect gun for that event.
In practicing I found the red dot I had on the rifle to be less than ideal, so I switched to a UTG 4x12x44 ACCUSHOT SWAT scope. I tinkered with my velocities of the airgun to get the greatest number of accurate shots I could get per fill which was 55 shots and the magazines I had for the rifle held 56.
The next hurdle was holdover. I zeroed the rifle for 55 yards, and found that at 10x magnification, I could hold 1 dot under the center crosshairs, and be dead on for the 10 yard bank of targets, at 25 yards I had to hold 1 dot over the crosshairs, and the same hold for 40 yards, at 55 yards it was a dead center hold. Easy peasy, one under, one over, and dead on.
The last thing was the sequence, I tried shooting far to near, but with the scope set at 10x, when I transitioned to the 10 yard targets I spent precious time searching for the tiny targets with such a high magnification. I switched tactics. I started with the crosshairs on the first target at 10 yards, as I moved to farther distances the larger field of view would make target acquisition easier and faster
In theory, at the "GO" command, I would load my first magazine which contained 10 rounds, and clean the 10 yard bank, transition to the 25 yard bank and clean them, reload to my 17 round mag, and clean the last 10 targets with seven pellets left over. 
In actuality, during the match, with the person beside you knocking the targets over like a ticking time bomb, I invariably forgot to count my shots and fired a couple blank shots after the first 10, before I remembered to change mags.
The last part of the preparation was practice. This past summer in Houston, we had many days where the actual temperature was well over 100 deg. F. (37 deg. C.) with some days hitting 108 (42 deg. C.) and higher. Heat warnings were in effect until 9pm or later so shooting outside was miserable. I had to find another way.
I had a target that could be shot at 10 meters, but had the silhouettes sized to appear as if they were at the actual distances.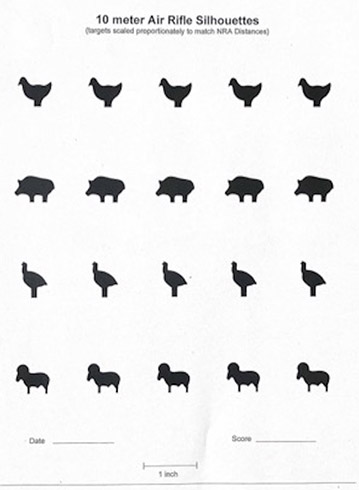 You can adjust the print size of the target to match the 1 inch scale at the bottom.
Coupled with the cost of pellets, I took a tip I had learned from the Olympic shooters — dry fire practice! Olympic shooters spend many hours daily practicing their stance, sight picture, release and follow through. But may only shoot one card per day for record.
So that's what I did in the evenings when commitments allowed, set my target in the trap, set my equipment up, and practiced sight picture, trigger pull and follow through, I would do this several times, then I would shoot one or two 20 shot targets for score.
In total, I shot about 500 rounds that way, but as the match drew nearer, I knew I had to venture out some evenings to shoot the actual distances.
That sums up the challenges I faced in deciding what event to compete in, and what equipment choices I made based on what I had at my disposal and within my budget.
Now that I know what to expect for next year and have time to prepare more, I intend to shoot the 100 yard Benchrest, probably with the new Air Venturi Avenge-X Tactical I'll also shoot the Gunslynger match with either my current semiautomatic, or possibly a newer gun if the opportunity presents itself. 
After I shot the match, judging by the interest of the employees and shooting team members of the importer of the rifle I used, I do predict there will be more semi automatic entries next year in the mag fed PCP division, especially after seeing what could be accomplished by a half blind 60 year old, with a discontinued gun, that retailed for $500 when it was sold new.
Shoot Safe, Have FUN!
Ian