Webley Mark II Service air rifle.
This report covers:
The test
Artillery hold?
RWS Hobbys
Shooting left-handed
Eley Wasps
The peep sight
One last group of Hobbys
Where to from here?
Last word
As you know, this report series is a rerun of one I did back in 2016. It is the last report I did in that series, but two years later reader RidgeRunner did two guest blogs of his own, after acquiring the rifle. The next words you will read are from 2016.
Today we start looking at the accuracy of the Webley Mark II Service air rifle. You will recall that my redneck breech seal fix got the rifle performing again. Whether or not it is up to full par is questionable, but at least it's shooting okay.
I decided to begin the test with the sporting rear sight that's attached to the barrel and then switch to the peep sight that flips up. Good thing I did, as you will learn in a bit.
The test
I shot the rifle off a rest from 10 meters. Though reader Dom warned me that the Webley is an area-fire airgun and not a precision one, I thought it would probably be on paper at this distance. Fortunately for me and the garage wall, it was!
Artillery hold?
Yes, the Webley is a spring-piston rifle and yes, it does move around when it fires. So I thought the artillery hold would have to be employed. But the shape of the rifle does not lend itself to that hold very well. There is no forearm, so I ended up with the flat metal bottom of the receiver resting on the palm of my off hand. It felt very strange, and I found I did have to pull the rifle back into my shoulder a little, but in the end I would say I got about an 80 percent artillery hold. I wasn't expecting much, so let's get going.
RWS Hobby
The first pellet I tried was the RWS Hobby. It tested well in the velocity test and Hobbys are often very accurate, so I thought I'd give them a try. The first shot landed outside the bull at 4 o'clock, and when I had fired 5 shots I had a 0.674-inch group at 10 meters. No, it's not a screamer, but it's better than I expected!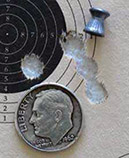 The Webley Mark II Service put 5 RWS Hobby pellets in 0.674-inches at 10 meters.
Shooting left-handed
I had to shoot left-handed because I couldn't see the front sight with my right eye. But with the left eye everything was very clear. I have to say once more that trigger breaks so cleanly that it's a real treat to use!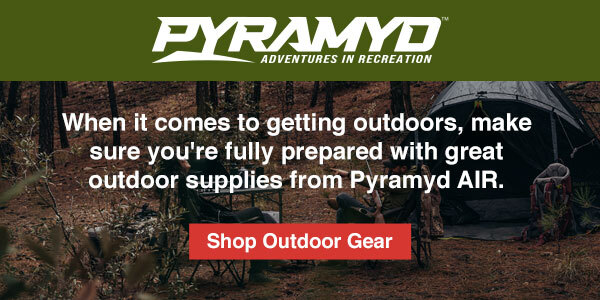 Eley Wasps
Next I tried some Eley Wasp pellets. These should shoot very well in this rifle. It was made with something like them in mind. But the group I got was not so good. Five Wasps went into 1.458-inches at 10 meters. Maybe I could do better with the peep sight, because this isn't very promising.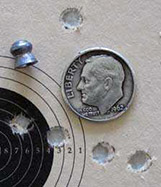 Five Eley Wasps went into in 1.458-inches at 10 meters.
The peep sight
Now it was time to try shooting with the flip-up peep sight. I shot once from 10 meters and the pellet didn't hit the paper. The sight was all the way at the top of its standard, so I moved up to 12 feet from the target and tried a second shot. The sight was set way too high! Fortunately, this sight is easy to adjust, though it doesn't have detents. The sight moves in all directions on plain threads, so I had to watch where it went and judge accordingly.
When I was about on target I looked through the peephole and discovered the sporting sight was now in the way. Of course it was! Both sights were adjusted to hit in the same place! Duh!
After chasing the pellets around the target awhile, I decided to forgo the peep sight for this test. If I want to use it, the sporting sight needs to come off the rifle.
One last group of Hobbys
I thought I would end this session with a last group of Hobbys. This time 5 pellets went into 1.001-inches at 10 meters. I do think it will get better when I shoot it with the peep sight, but according to Dom, the Mark II Service was never a tackdriver. On the other hand, three of the five pellets did manage to group in 0.27-inches. What if they would all do that?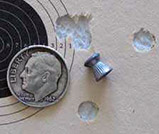 Five RWS Hobbys went into in 1.001-inches at 10 meters. Three of them are in 0.27-inches.
Where to from here?
I still want to fix the breech seal permanently, plus I want to look inside the action and possibly give it a lube tune. The rifle shoots harshly for the available power, and I'd like to smooth it out a bit. We will be seeing this rifle again sometime.
Last word
I thought I would get back to the rifle, but it didn't happen that was. Mrs. RidgeRunner bought the rifle for her husband for a Christmas present. Fortunately he did the repairs I intended doing and gives us two guest blogs in 2018.