Today Tyler Patner of Pyramyd AIR tells us about Ton Jones' world record airgun shot that he witnessed. Before we begin, a word from me. You have already read about and seen this shot. Today Tyler tells us what went on behind the curtain, which is a different story with the same happy ending.
If you'd like to write a guest post for this blog, please email me at blogger@pyramydair.com.
Take it away, Tyler
Witnessing a world record
by Tyler Patner
In May of 2023, my good friend Ton Jones called with a proposition. He asked if Pyramyd AIR would be interested in partnering with Airforce Airguns to present modern airguns to the writers and media present at the Lucid Optics Ballistic Summit.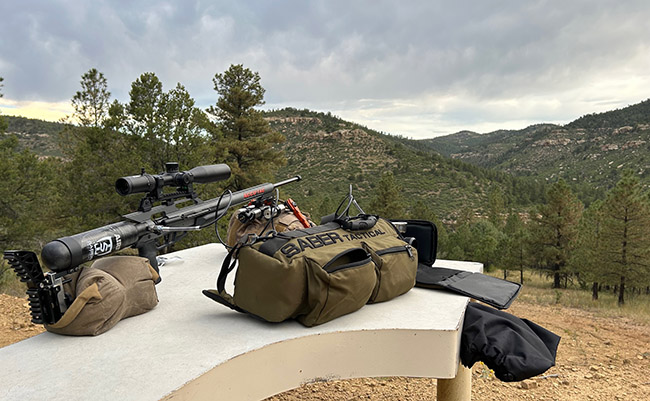 Ton Jones setup for 2058-yard airgun shot at the NRA Whittington Center.
The event is held at the Whittington Center in New Mexico, which is a massive shooting facility. After learning more about the summit from Ton, I ran the idea up the flagpole and was given the green light to attend. Although I was there to talk up airguns, I was also asked to help undertake something that I thought was a near impossibility. Ton wanted to attempt to make a World Record shot with a Texan.
I later learned later that Ton had attempted to go down the Guiness path, but was denied at every turn. Despite them awarding the record to Chris Turek (UpNorthAirgunner on Youtube) a few years prior, it seemed that the organization had no interest in continuing to track shooting records of any kind. But for Ton, this only added fuel to the fire. What better place and time to attempt such a record than with a bunch of media and industry professionals on hand to witness it, right?

The goal was to stretch a .308 Texan out to 1450 yards, and if we made contact, see how much further it could go. Ton had managed to hit 1123 yards with a .457 Texan the year prior, so 1450 actually seemed quite reasonable in my mind. Now, the gun was certainly optimized for long range to the best of our ability, but in typical Ton fashion, not 100% there on our arrival to the event. More on that in a minute, but first here are the important things to note:
1. This was a .308 Texan, but fitted with a carbon fiber bottle, allowing it to run hotter than with a standard aluminum bottle, thanks to the higher fill pressure of 3,625 psi.
2. The barrel was custom made by Shaw Barrels with a 1:14 twist rate and length of 36". I understand this is the same twist rate as a factory .308 Texan barrel, but it's slightly longer and the muzzle is threaded.
3. Ton fitted an adjustable droop compensating rail to the rifle, capable of up to 120 MOA of compensation (and he needed every bit of it!).
4. Ton did not chronograph the rifle before we left for the event, nor did we chronograph the rifle at the event. He shot 155 grain Mr. Hollowpoint solid spitzer slugs.
5. He did not have an external regulator to tether a tank to the rifle, so Ton had to fill the rifle to the same pressure for each shot manually.
We spent most of the first day at the range, sighting in a number of RAW rifles at 100 yards that the media would get to shoot later that day. They were going to compete in a mini-100 yard BR competition against Ton. To make that long story short, no one came close to topping Ton's score. Interestingly, of all of the competitive events that took place for the media over the weekend, Ton was the only Pro shooter that didn't get beat at his own event. This was all held at the Whittington Center's STAR range, where there are targets out to 600 yards. So Ton and I spent some time shooting .25 cal pellets out to about 400 yards and hitting steel with child-like excitement before we brought out the big gun.
At this point, the adjustable droop rail on the Texan was set with around 50 MOA of adjustment, and we dialed the gun in at 100 yards. We had a Lucid Optics MLX 4.5-18x scope mounted. Once doped in at 100, we stretched to 400 and quickly found our splash on the rocky hillside and walked the gun in until we finally heard that magical ring that lead hitting steel often produces. Then we stretched to 600 yards. The 600 yard steel has a lot of trees beneath it, so it took us a little bit of time to get the hold right and elevation dialed into the optic, but finally we found ourselves in the ballpark. At this point, the internal travel on the scope was maxed out and if memory serves, there was a 6 MIL hold on top of that to connect at 600. Of course, it was apparent that we needed to adjust the drooper base and max it out before we went out to 1123 yards to go after the white buffalo. So that evening, the adjustment was made, knowing we would have to restart the sight-in process somewhat from scratch (this is where my comment about the gun not being 100% there comes in).
This seems like a good opportunity to pause and share a few thoughts on things that could have been done differently to make our lives easier when we undertook this (aside from chronographing the gun, of course).
1. A prism – If you're unfamiliar with a prism device, it's an optical device that bends light at a precise angle to allow the user more elevation adjustment. Umarex makes a few under their Axeon brand called the Second Zero, and a few other companies do as well. The biggest name in this space is Tacom HQ. In a situation where you know you're going to run out of elevation adjustment, every bit of additional elevation compensation helps.
2. A lighter projectile – Ton chose the 155 grain Mr. Hollowpoint because it's what stabilized best out of the 1:14 twist barrel he had. I think we both would've preferred a lighter, faster projectile.
3. A faster twist barrel – This should allow for better stabilization of lighter weight slugs.
After the day's events had run on Saturday evening, we made our way to the silhouette range, where the white buffalo resides. Because it's a silhouette range, there were plenty of targets and flat land to help us dope in the Texan. Because of the additional droop introduced, we gained back A LOT of elevation adjustment. Ton took aim at the 547-yard Rams, splashing well in front of them. In just a few shots, he was able to get sighted in again. Once re-zeroed at 547, Ton took it out to 1123, quickly figuring out the additional elevation adjustment needed (forgive me, I don't remember what the eventual firing solution was). In just four shots, he was able to make contact with the White Buffalo, striking the target in the neck.
As a funny side note, Jason Wilson, owner of Lucid Optics, and I made our guesses at the additional hold it would target to get to 2000+ yards. At this point, we were discussing pure holdover as the elevation would need to be maxed out. We guessed an additional 16-20 MILs would be needed to get from the roughly 1400 yard zero that was now built into the set up with the scope elevation maxed, to the 2058 yard target. We were both wrong — wayyyy wrong. And it's also funny to note that because the gun hadn't been chronographed, we didn't know the actual zero of the setup was near 1400 yards until AFTER we all returned home and Ton chronographed the gun. Keep in mind, 1 MIL is 3.6" at 100 yards, so 36" at 1000 yards and 72" at 2000 yards. Meaning 20 MILs would be an additional 120 feet (1440") of holdover. Remember that for later.
We were up early the next morning to try and get up the ELR (Extreme Long Range) Range before the wind got too crazy, and upon arrival, conditions were about as still as could be expected. As we started to unload the truck with all of the gear, Ton made the executive decision to skip the 1450 yard target and jump straight to 2058. I'd tell you that the decision raised my eyebrows, but it's Ton, so it was not totally unexpected. Once Ton got squared away on the bench, spotters were in position and the target distance had been ranged and verified from the bench, everyone settled in with cameras at the ready. I should note at this point that the target locations and ranges (out to 4000+ yards) are confirmed by the Whittington Center but can vary by a few yards based on your exact location on the firing line and 2058 yards was confirmed by at least two rangefinders and is within a few yards of what Whittington told us. It's important also to know that the ELR range is around 7000-7500 ft of elevation.
The reason the elevation is important is because it 100% had an impact on the velocity of that 155 grain projectile. After we were all safely back home, Ton was able to chronograph the rifle in Fort Worth, Texas (roughly 540 ft above sea level). His readings at the full 3,625 psi were right at 1000 FPS. Now, I can only estimate, but I suspect that the gun was shooting closer to 1080 FPS at the elevation of the ELR range. I can be heard in a video or two saying that I believed the gun was somewhere in the 900 fps range, and that was my original thought based on what I knew about the platform. But I wasn't taking into account the higher bottle pressure of the carbon tank or the elevation change. Next time (if there is a next time) we will be better prepared on that front, as I myself am truly curious to know what the exact figures were.
I will let the video speak for itself in terms of what happened once Ton started shooting. If you want to see just the 2058 yard shots, skip to around the 5:30 mark.
Jason Wilson and I were able to get a rough idea of how much drop was involved in totality, because Ton doesn't do math. And this is based upon where Ton was holding, which was pointing up in the sky with only the very top of the treeline behind the target in the bottom third of his scope field of view. Since the scope was in MIL, I will convert everything to MILs for the sake of simplicity. And remember, 1 MIL is 72" at 2000 yards.
The 120 MOA base is about 34 MILs of compensation, there was another 30 MILs of elevation adjustment in the Lucid Optics MLX scope itself, and based on the closest estimate we could make after the shot based on how far Ton was holding over, it's roughly 66 MILs more of hold. In total 130 MILs is 9,360 inches or 780 feet or 260 yards or total drop. Just to benchmark that for you, the Great Pyramid of Giza is 451 feet tall today.
Some individuals have criticized Ton for the lack of "confirmation" of the impact on the 3×3' steel and that's fair. But in our defense, there is no traversable path to these target locations by truck that I am aware of. They either repaint them with a side-by-side type of vehicle, or on horse-back because there aren't paths or trails to the various locations.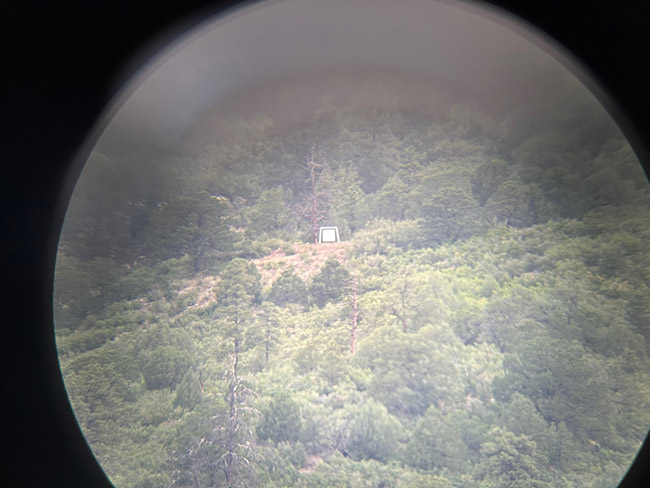 The 3-foot by 3-foot steel target at 2,058 yards.
Next time around, I will gladly haul myself out to the target (probably a good 25-30 minute hike) and make sure we get a good picture. But with that said, there were no less than 10 individuals that were able to confirm the mark on steel with the multiple spotting scopes. We could have been considerably better prepared, in more ways than one, but that wouldn't be in Ton's nature. If there is a next time, I'll be sure there is more due diligence put in beforehand and documented for all of you to see.
This was a truly incredible feat to witness. While it is completely impractical and probably not easily repeatable, it's still beyond epic. The scary part that I will let you all in on now, Ton is already planning and plotting to go farther. I will leave it up to him to figure out the how, where, and what but I fully intend to be there when it happens. I mentioned it before, but going into this, I really didn't have high expectations. Between the general lack of preparedness and the unpredictability of mother nature, it just seemed like a pipe dream. But Ton is a master of chaos and just made it happen.
Well done my friend, it was an absolute pleasure to witness….the 11-hour car ride on the other hand…less of a pleasure. Though I would definitely do it all over again. And who knows, maybe this is the beginning of some new airgun ELR event…we shall see.