The RovAir compressor is a gun-only compressor that's light, fast and inexpensive.
This report covers:
Shoebox
A long test
Gun only
Setup
Read the manual
Auto shutoff
Mistake
Brother-in-Law
Operation
That said…
Summary
Today we start looking at the The Air Venturi RovAir portable compressor. It's an affordable compressor that fills to 4500 psi.
Sometimes people ask me where I get all the ideas for the blogs. They can be hard to come up with at times, but at other times they knock me down and beat me over the head. Today is such a time.
Shoebox
Two weeks ago I invited a guy to my house to look at his Shoebox Freedom 10 compressor. I know almost nothing about the Shoebox, but I thought perhaps two heads were better than one. I prepared a supply of soapy water to look for leaks.
There were no leaks, but that Shoebox only got up to 2950 psi and the pressure stopped building. As we watched it working, the link that drives the two pistons flew off and the compressor was toast. After that, the owner detected that the post where the piston rod guides were anchored was slightly bent and that is why the link flew off. For some reason this Shoebox was working too hard and bent the post. No more Shoebox.
The Shoebox company is still in business, but they no longer deal with the public, so parts and assistance are whatever you can find online. The guy just wanted to fill his precharged air rifles. His wife said if the Shoebox wasn't fixed he had to go back to the hand pump. One of his rifles is an AirForce Texan, and I wouldn't wish that fate on anyone — pumping for 12-15 minutes for three shots!
I remembered a new small compressor I'd seen in the Pyramyd booth at this year's SHOT Show, so I went online and looked. There is was — the Air Venturi RovAir portable compressor. And it was only $500. Wow! But is it any good?
The guy went home, but I was intrigued, so I emailed Tyler Patner and asked. There are actually two compressors at this price; the other is the COMP1 from JTS. I asked about both. Tyler told me both compressors are great. He favors the AirVenturi one because of where he works, but he said both compressors are great. I remember his telling me at the SHOT Show that the RovAir filled airguns just as fast as the Nomad II compressor, and that one costs almost $300 more! I tested the Nomad II for you in the winter of 2018/2019 and found it to be fine. But my test wasn't a long one.
A long test
I need compressed air all the time. I fill my own PCPs and also PCPs for other people who live close. I have an older version of the Krypton compressor that is as solid as an anvil, but if it ever needs maintenance I'm out of luck. Why not buy a RovAir compressor and give it a really long test? So, that's what I did. I emailed the guy with the broken Shoebox to watch my reports, but at just $500 his wife saw the utility of the RovAir and told him to get one. His arrived a couple days after mine.
Gun only
These compressors are for filling airguns only, not tanks. But they operate on either household current (both can use either 110 or 220 VAC) or 12-volt car current, so they can be taken almost anywhere you need to go. And the RovAir is both small and lightweight. It weighs just 19 pounds, which is just a bit more than two gallons of water. It has a carry handle on top and it feels very portable to me. It has two air fans, so no water is needed to cool the compressor.
Setup
After watching the guy set his Shoebox compressor up, with the separate shop compressor feeding in with hoses going into and coming outta here and there, I figured the RovAir might be difficult to set up. Yeah — it's about as difficult as eating a donut! Let me show you.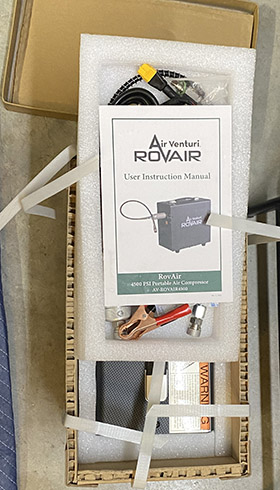 I opened the box and slid the top tray sideways to show the compressor.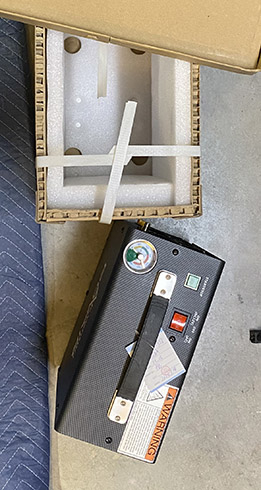 The compressor is out of the box. I'm saving this box for any shipping I need to do.
The box the compressor came in is very sturdy and is lined with foam to hold the RovAir. My neighbor, Denny, has convinced me to toss most boxes, but I'm keeping this one, just in case. It's a perfect custom fit!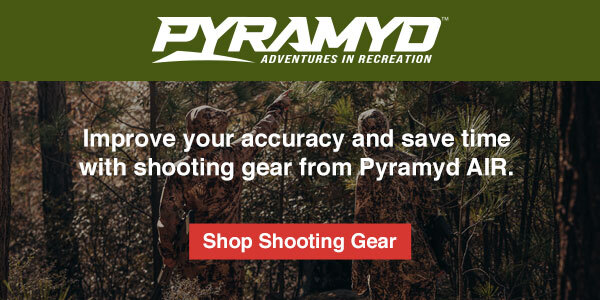 Read the manual
My next step was to read the manual. I know — it invalidates my man card for a time, but as I said before, I figured this compressor might be complex to get going.
It was extremely  complex — just like I thought! I had to attach the power cord and then the air hose. Oh, save me Miss Scarlet! I don't know nothin' about birthin' no babies!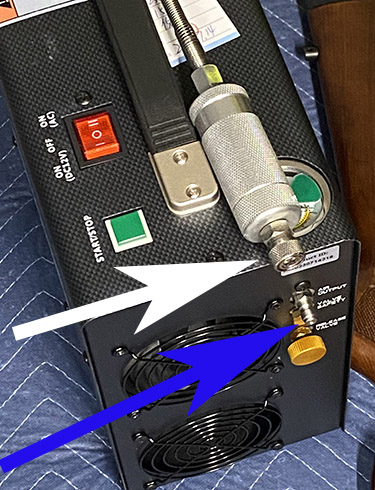 Attach the end of the fill hose (white arrow) to the male air output on the RovAir (blue arrow). Attach the power cord and you're finished.
Okay, setup was simple. Operation is where it's gonna get me — right? Yeah — connect the fill hose to your airgun, then turn the compressor on (red switch) and push the green Start button.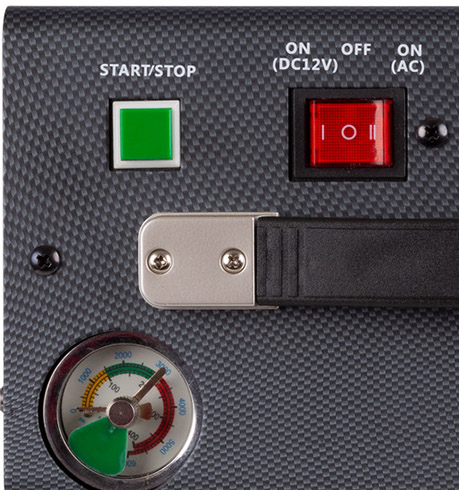 Set the dial (bottom left) to the desired fill pressure shutoff, and push two buttons. That's it!
I did that and what to my wondering eyes did appear but a working air compressor!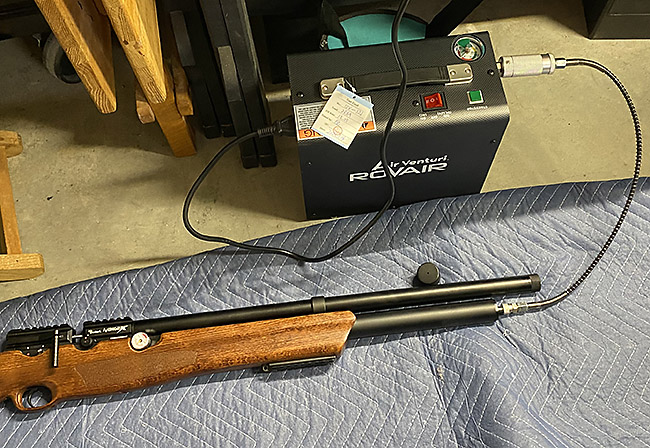 The RoveAir fills the Avenge-X. It doesn't get much simpler than this.
Auto shutoff
I read in the manual that the RovAir has an automatic shutoff, but I wasn't prepared for the blast when the compressor stopped. At the end of the fill it blew off all the air in the hose and shut off the compressor. I thought that was different. The compressor part of the unit stops but the cooling fans continue to run.
Mistake
But that wasn't the auto shutoff. That was a burst disk that blew at the EXACT fill pressure I was shooting for (4350 psi for the Avenge -X)! What are the odds? Well, it makes for a better report. I called tech support at Pyramyd Air and Pat said he thought it was a burst disk, as well. Fortunately there are three spare ones in the kit of parts and tools that come with the compressor. I unscrewed the safety valve cap, and replaced the disk in about two minutes.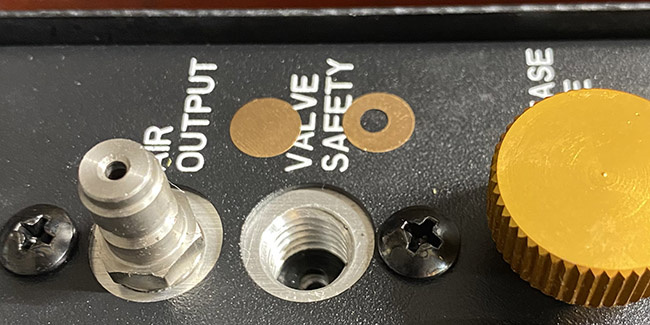 A new burst disk and the failed one. Drop the good one down the threaded hole.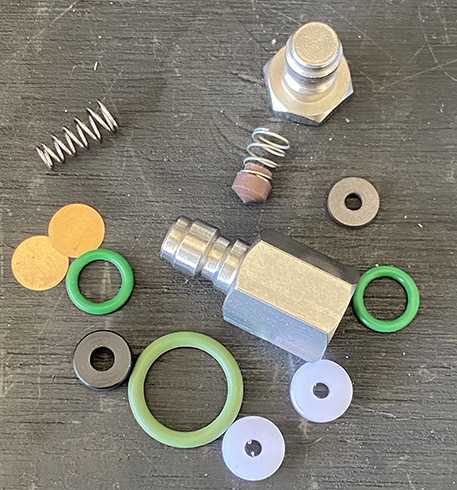 The small parts that comes with the RovAir. There are other things not shown here like moisture filters, DC battery cables, etc. It's an indication that an airgunner was involved with this compressor project.
It took me a total of two minutes to find a fresh burst disk and replace it in the RovAir. It's about as difficult as changing batteries in a flashlight. I used a dental pick to remove the old disk but a bent paper clip would work as well. The new one just drops in.
Then I filled Crosman Icon from 150 to 200 bar in 1 minute 32 seconds. This time the compressor just stopped as it should — no pop. Problem solved!
Brother-in-Law
By the way, I haven't finished my story of why this is today's report. This morning I got the following text from Bob, my brother-in-law.
"Hi Tom. I still have an interest in a PCP airgun but I have a concern about compressing the air. You can buy a large compressor and tank at Harbor freight for less than $300. I have a 3 hp compressor in the garage that I bought many years ago for air tools I use to work on my vehicles. The commercial air pumps for air guns are sometimes called "shoebox" size and are small. Has anyone ever converted or modified inexpensively one of these big compressors to fill an air gun? I realize you have to remove the moisture from the air but this would open up a lot of new people to the hobby with these inexpensive compressors that you can buy used on craigslist. Is it true that size matters???"
Bob, with compressors like the RovAir and the one from JTS you don't need a large shop compressor to be modified. Also, the big air tank on a shop compressor is made to hold perhaps 150 psi — not 4,500 psi! Save some money, skip that idea and go straight to the solution. Get one of these.
Operation
This puppy is quiet! I mean, unless you live with the princess who was bothered by the pea, you aren't going to mind the noise of the RovAir! It goes pocka-pocka-pocka like a Shoebox only slower and quieter. There is no significant noise.
The manual says nothing about letting the fans run after the compressor stops. I always do that with other compressors. I felt the air coming out of the two fan outlets and it was only slightly warm, but I still ran the fans five minutes after the compressor stopped.
The Avenge-X I was filling was at 200 bar at the start and I filled to 300 bar. It took right at 4 minutes 50 seconds. If you leave the room for something listen for near total quiet.
And did I mention that this unit is all you need? It doesn't need a separate air compressor in front of it like the Shoebox does.
That said…
I'm not telling anyone to abandon their Shoebox compressor if it's working. If it is and if you don't mind the maintenance, keep doing it your way. Even if you have one of those unsupported Chinese compressors from eBay that reader GunFun1 used to talk about and you don't mind the repairs and the five gallon cooling water bucket, don't buy one of these. But, if you want to get into the PCP game and start from scratch I can't think of a cheaper, and simpler way to go that's supported by a reputable dealer.
Is it reliable? Well, I bought this one to find out. I'm going to test the heck out of this one in the coming months and years. I will mention it in other reports so you know what's happening. And I do plan on a Part 2 where I run it off my truck battery.
Summary
Today we looked at the AirVenturi RovAir portable air compressor. If you are thinking of getting a compressor — watch this space!