Thanksgiving
This Thursday is Thanksgiving in the US. BB will be taking the day off, so Wednesday's blog will be up until Friday. BB plans to sleep in!
Today reader tomek tells us about his new Umarex Legends Cowboy lever action CO2 BB gun.
If you'd like to write a guest post for this blog, please email me at blogger@pyramydair.com.
Take it away, Tomek.
My Umarex Legends Cowboy lever action CO2 BB rifle
by tomek
This report covers:
This gun is for shooting
Motivation
The Winchester inside the airgun
The cartridges
Shooting
The test
Accuracy with pellets
Surprisingly fast
What's it like?


Legends Cowboy Rifle and all the Winchester cartridges that fit in it.
This is my first "real" blog for you. Thank you BB for what you do in the background to load this up. Thanks to the guys who motivated me to write this: CptKlotz, Roamin Greco, Decksniper.
I would like to tell you why I decided to buy the Umarex Legends CO2 Cowboy Lever Action BB gun and what my impression is, now that I've had it for few weeks. It is not just a first-time "wow"! This "wow" lasts!
This gun is for shooting
The report includes some target results and velocity measurements. It is nice to see those details and objective data — but what this airgun is really all about is the fun I have with the shooting gallery. I will tell you at the very beginning – it is something that makes you say, Oh, yeahhh!" and puts on a smile that stays with you for a long time.
Today I would like to go through this with you without too much technical content, just a relaxed sharing of my impressions. It is not a one-hole pellet-pusher. This one is made to make you feel good. And against my nature I will not push it to the very end of possible technical performance.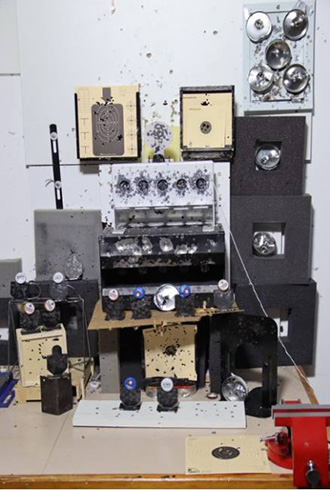 My shooting gallery, dirty as it is.
Motivation
A friend of mine bought one. He wanted a realistic looking Winchester lever action. Through him I was able to see it, to touch and to try it. I never thought I would buy an 1894 Winchester CO2 replica. But I did. And why?
The Winchester inside the airgun
This is a very good replica. It looks like a Winchester, it feels like one and it is an accurate, fun to shoot airgun. I was not aware how long the Winchester lever action firearms were in production. But I found out they were made for a long time — a very long time they were and still are being made. This model was made from 1894 to the present, so it has to be good! There is something about this lever action that addicts people.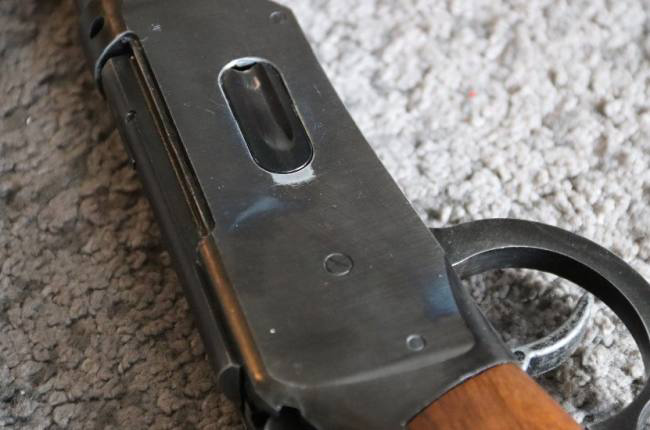 The Umarex Cowboy lever action receiver on the right side.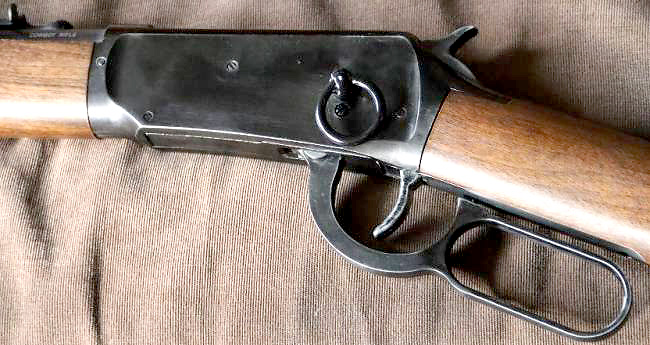 The left side of the Umarex Cowboy lever action receiver.
This old-looking finish is very nice. The surface is not as robust as the original steel – but it looks great. You can see in the picture above that after more than 500 shots the loading port tells the story. The wood is not real but it feels and looks nice.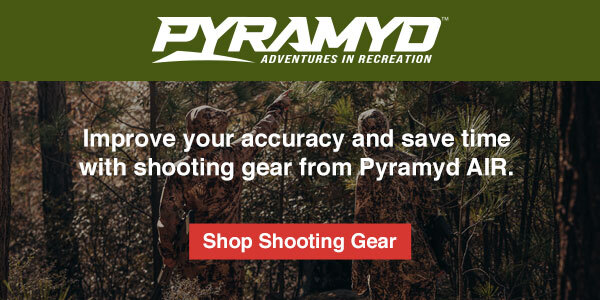 The cartridges
I never tried to get something like a "real thing". An airgun will not be the same as the real thing. That is the point of it being airgun — to not be the real thing. My first experience with a realistic-looking airgun was the Umarex Legends S25 revolver. I found its the way its cartridges load pretty clever!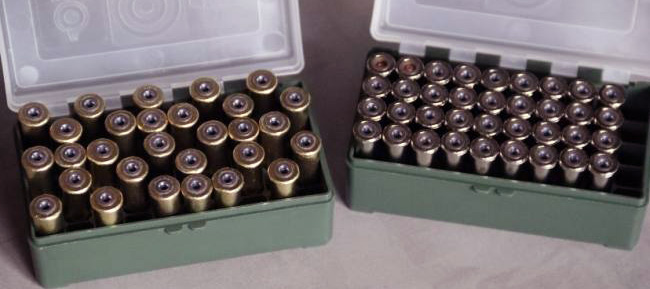 I like the realistic cartridges.
My wife does not like me to call the ammo boxes, "A box of chocolates for the mother-in-law". The golden ones are the Winchester shells, the silver ones are for the S25. You can use the S25 cartridges in the Winchester (but they need more attention to load properly) but you can't use the Winchester cartridges in the revolver. There is a small but essential difference in the size and shape.


Winchester cartridge on the left, S25 revolver cartridge on the right.
When shooting the S25 cartridges from the revolver there is no difference in the accuracy and the velocity compared to original Winchester cartridges.
Who counted the cartridges in the very first picture? Did you see 11? The tubular magazine holds 10. Does that not match? Well it does! Ten cartridges go into the magazine and to get the last one into the rifle you need to chamber a cartridge. Then load one more into the magazine and you have it. That's 11 shots without reloading. Nice!
Shooting
This airgun does the job well. Let me show you some results. Somehow I could not shoot well standing. [Editor: Welcome to my world, Tomek.] I decided to just shoot it like you normally would, without worrying about destroying the gallery. I was standing straight up and shooting offhand.
Mostly I shot 5 times per target for a quick check. I checked two types of BBs (steel and lead) and few pellet types.
The test
Distance to the target was 10 yards. The target was a 10-meter air rifle target with a black bullseye that's 30.5mm (1.2-inches) in diameter. Shooting position was offhand.
What you are about to see shows also my mistakes – but it will give you the true picture how it may perform when the target is something from the shooting gallery and not just boring numbers.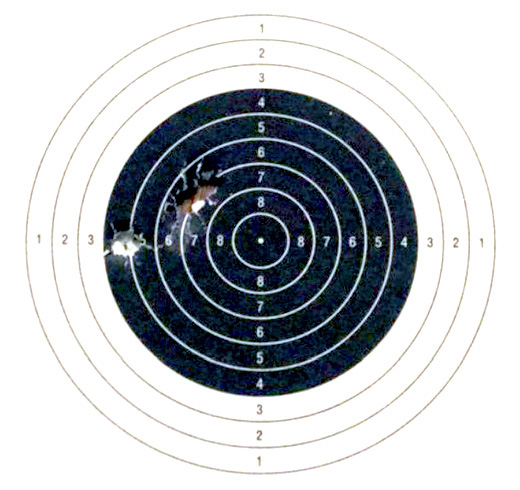 H&N Excite Smart Shot lead BB – the CO2 cartridges were about half full, 4 shots are almost in one hole. These BBs are also better than the original ones Diana supplies with the Oktoberfest rifle. Their diameter is slightly bigger.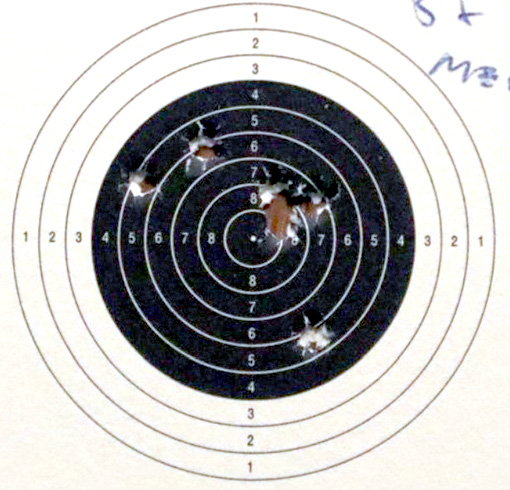 Steel BB's — not bad at all. More than 5 shots in this one. I think it was 8.
Accuracy with pellets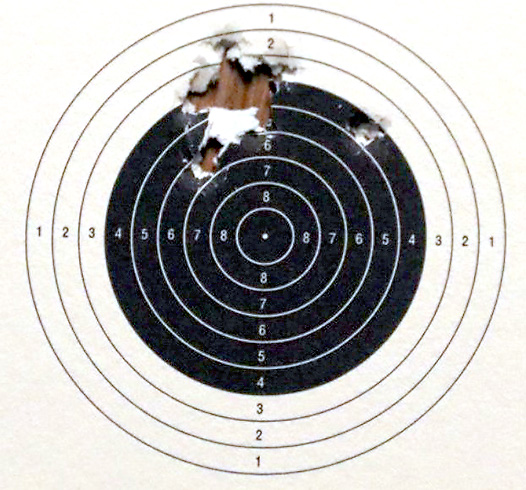 Six shots with the H&N Field Target Trophy Power. The CO2 cartridges were about half full. These are very accurate. This copper-plated pellet has a high ballistic coefficient.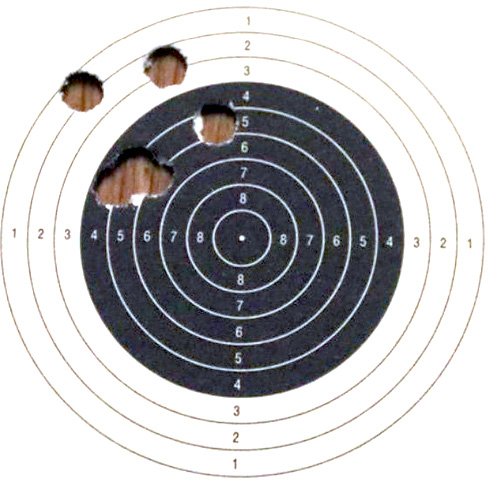 H&N Excite Econ II – full CO2 level, 7 shots. 4 Pellets in one tight group.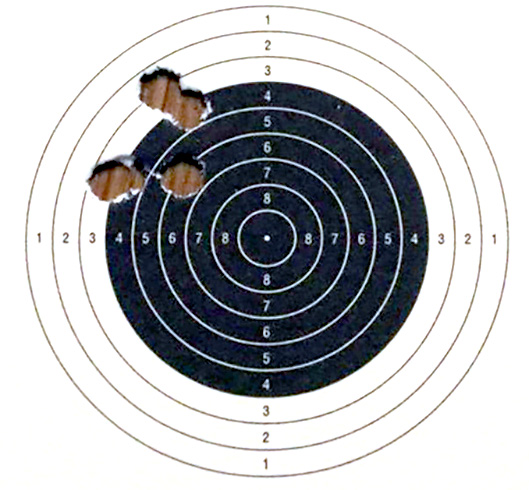 H&N Sport – a bit heavier target pellet, my HW30s likes it. The CO2 cartridges were about half full.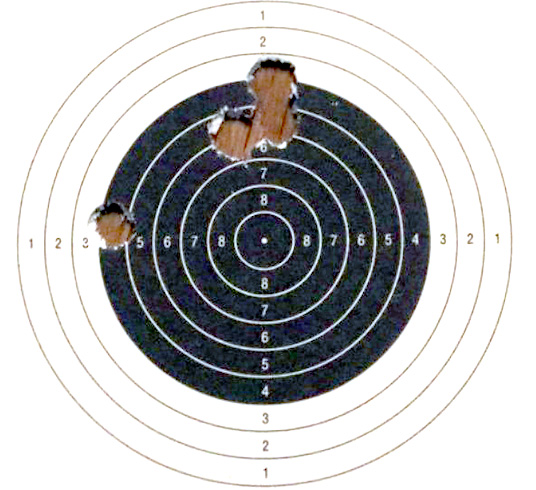 Umarex Mosquito (the old version 0.48 gram) – nice one, one of the fastest pellets. More than 8Joules energy. [Editor's note: The Umarex Mosquito pellet, both old and new, is not available un the US.]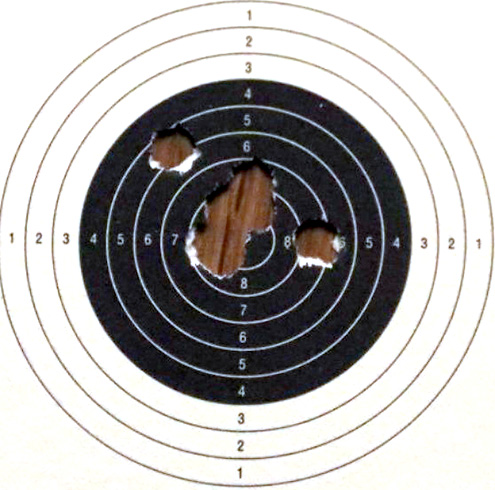 RWS Basic — nothing else I own likes this pellet, but the Winchester does like it! Seven times it does! This has to be a good one!
Surprisingly fast
I did the chrony test but to be honest only in the range high / middle CO2 level. I did not shoot until it stops – you can find many test like this which proves that there are many good shots and the repeatability is good. At some point you will see the velocity is dropping and you can decide when to put a new CO2 capsule.
Ambient temp. 20°C. Two CO2 capsules pierced. Test started after few shots (stable velocity level)
A small table I made for general energy check (approx):
Projectile………………Weight…………………..Velocity……………………..Energy
Steel BB………………..5.6gn/0.36gm…………..643 f.p.s./196 m/s………5.09  fp/6.9J
Lead BB………………..7.4 gn/0.48gm………….544 f.p.s./166 m/s ……..4.87 fp/6.6J
JSB Exact Beast……16.2gn/1.05gm…………..377 f.p.s/115m/s………..5.16 fp/7J
JSB Exact Monster..13.43gn/0.87gm…………420 f.p.s./128m/s ………5.2 fp/7.1J
H&N FTTP…………….8.8gn/0.57gm…………..538 f.p.s./164m/s ………5.68 fp/7.7J
H&N Sport……………..8.17gn/0.53gm ………..564 f.p.s./172m/s ………5.77 fp/7.9J
H&N ECON II………..7.48gn/0.48gm …………571 f.p.s./174m/s………5.38 fp/7.3J
UX Mosquito…………..7.48gn/48gm……………604 f.p.s./184m/s ……..5.97 fp/8.1J
RWS Basic………………6.94gn/0.45gm…………587 f.p.s./179m/s ……..5.31 fp/7.2J
RWS Meister……………8.18gn/0.53gm…………568 f.p.s./173m/s………5.86 fp/7.9J
What's it like?
The Umarex Cowboy is a nice airgun. It's fun to shoot. And, although it is a smoothbore, it is in good company with my other accurate airguns. Look…

On top, the king of one hole — my freshly tuned FWB300s. Next is the Umarex Cowboy, followed by the tuned Diana Oktoberfest after full tuning and "the babe" — my tuned HW30S.
The Winchester is the one that hasn't been tuned — yet. It helps to put some grease everywhere where things move, but I am still getting used to it. What do you think?