Bear Archery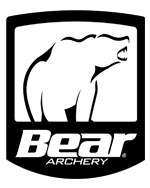 Bear Archery, established in 1933 by Fred Bear who had a passion for archery that he wanted to make accessible to everyone, designs and manufactures traditional bows, compound bows, crossbows, and accessories. Sticking to their founding principles, they make archery accessible for anyone with their affordable products with higher-end features.
Bear Archery fixed broadheads maintain sharpness, and their mechanical broadheads are designed to deploy on contact, not before. Get the deep channels you expect from a broadhead and take down your target every time.
Bear crossbows are engineered for the hunter with maximum performance in mind. Durability, ease of use, and accuracy were the top priorities in the Bear crossbow designs. Tight cocking widths allow for easy maneuverability, and light weights reduce field fatigue.
Bear compound bows are more adjustable and customizable than any other compound bows at their price point. They have listened to their customers and filled the gap between performance and affordability. Bear bows are easily adjusted to suit the shooter as they progress through their archery journey. Every technological advancement shows in their design and performance.
Pass on memories and experiences with a Bear Archery youth bow set. Help youth realize the joys and responsibilities of hunting to keep it alive for the future.
Shop Bear Archery crossbows and accessories at Pyramyd AIR.
| | | | | |
| --- | --- | --- | --- | --- |
| Sort by: | | Featured | | -19-0 of 59 Items |