Home
Manufacturers
Nielsen Specialty Ammo
Nielsen Specialty Ammo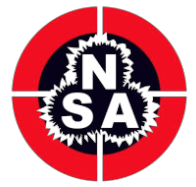 Are you looking for a high-quality slug? Look no further than Nielsen Specialty Ammo slugs. NSA slugs provide you with the best performance and accuracy available. Slugs are designed to deliver maximum accuracy and power. NSA slugs offer a range of benefits compared to traditional pellets, including superior velocity, stability in flight, and greater accuracy over distance.
Nielsen Specialty Ammo offers a wide selection of these revolutionary slugs for any level shooter. The advanced design provides superior accuracy and penetration, allowing for tight groupings at extended ranges. Nielsen slugs are designed for optimal performance in every situation, from plinking to hunting.
Nielsen Specialty Ammo slugs provide shooters with an unparalleled level of accuracy and power. You can now experience these precision-crafted airgun slugs for yourself. Buy NSA slugs from Nielsen Specialty Ammo at Pyramyd Air, the outdoor shooting experts.
| | | | | |
| --- | --- | --- | --- | --- |
| Sort by: | | Featured | | -19-0 of 120 Items |