Paintball is an exciting, fast-paced, sport that has become very popular. It's a great way to have fun and stay active, whether you're playing with friends, family, or even strangers. Whether you're a first-timer or a seasoned player, there are a few key things to know about the basics of paintball. We'll discuss everything you need to know to get started, including equipment, safety, and game types.
Paintball was first played in the woods. The concept originated as a combat simulation game but used paintballs rather than firearms. The paint indicated a hit so everyone was aware of who was hit and when. Paintball guns, or markers, were originally designed to mark trees and livestock from a distance for the forestry and agriculture industries. Over the years it has grown to become an extreme sport.
Today, paintball is a recreational sport that is used for building camaraderie, celebrating birthdays, and staying active. Most paintball games are played on outdoor fields, though there are some indoor arenas. The game's popularity birthed an industry that brought improvements in equipment, protective gear, and game organization.
Paintball Power Plants
The power plant is what drives the paintball marker, allowing it to propel the paintball across the field. The two main power plants are mechanical and electric.
Mechanical
The mechanical system has a spring-powered trigger system that fires the paintballs. They require little maintenance and can be used in most weather conditions, but will often require manual cocking for each shot. The earliest markers were mechanical.
Mechanical paintball markers come in a few options: pump, bolt action, blowback semi-auto, and blow-forward semi-auto.
Pump and bolt action guns are manually reset to charge the system with air, which is released upon the trigger pull to propel the paintball down range. The process is repeated for each shot.
Blowback and blow-forward markers cycle and reset with the trigger pull gas release ready for a follow-up shot making them semi-automatic. The trigger is pulled with each shot, but the action is automatic.
The main benefit of a mechanical marker is its reliability. With no batteries to worry about, you can trust your marker will work when you need it to. They require little maintenance, are lightweight, compact, and budget-friendly. The accuracy of mechanical markers is greatly dependent on the player's skill and experience. It requires practice to ensure consistent shots.
Electric
The electric system operates with solenoids that are triggered by the pull of the trigger. These markers are generally more accurate than mechanical models and are easy to maintain, but they require batteries to power them.
Electric markers are semi-automatic, meaning they will fire as quickly as you can pull the trigger. There is no hammer spring, so the valve is controlled by a circuit. It takes very little pressure on the trigger to actuate it. Many players hold two fingers on the trigger so they can alternate them quickly to shoot faster. Electric markers typically have adjustable settings such as the rate of fire and the force of the shot. They are also lightweight and maneuverable.
Though they are more expensive than their mechanical counterparts, they are well worth it for people who are dedicated to paintball playing because they provide good power and accuracy and allow for faster shooting. They require more technical knowledge and maintenance than other markers, so they may not be suitable for casual players.
Fill Gases
Fill gases are the air systems used to operate paintball guns. The two most common fill gases used in paintball are carbon dioxide (CO2) and high-pressure air (HPA). Each type of gas has its own advantages and disadvantages when it comes to powering your paintball gun.
CO2
Carbon dioxide (CO2) is inexpensive and widely available gas that is suitable for lower-end markers. The downside of CO2 tanks is that it's affected by temperature changes and can cause inconsistent velocity and performance.
HPA
High-pressure air is a more consistent option than CO2, as it is less affected by temperature changes. It also allows for more consistent velocity and performance, making it the preferred option for higher-end markers. However, HPA tanks are more expensive than CO2 tanks and require special regulations for proper use.
Marker Styles
When it comes to paintball, there are a variety of marker styles to choose from. Depending on the type of game you're playing and your personal preferences, you'll want to select the best marker for your game style.
Milsim Markers
Woodsball and scenario games are often played with milsim markers. Military simulation-style markers are designed to closely simulate real-world firearms. These guns usually have realistic features, such as heavy stocks, and are fed by magazines. They offer a realistic experience for those who prefer to play tactical or scenario games.
Milsim markers can be used in many different types of games, and are customizable with aftermarket parts. This helps players express personal preferences and playing styles. But make sure to stay within the regulations of your game field. Milsim markers are used for both long-distance shooting and close-quarters shooting.
Speedball Markers
Elimination games and speedball are often played with speedball markers. Speedball markers are designed for the fast-paced sport of Speedball, which is usually played on a small field with bunkers or obstacles. They are lightweight, accurate, and feature an overall lower profile than milsim markers. This allows the players to move quickly and take cover easily. Many speedball markers are capable of shooting rounds at high velocity, enabling them to reach targets quickly and accurately. They tend to have few features, but the simple design is not likely to malfunction.
Most speedball markers are powered by compressed air, giving them great accuracy and consistency. They are hopper-fed enabling players to refill quickly in the field and fire multiple shots in rapid succession.
Game Types and Rules
Paintball offers a variety of different game types to enjoy. Depending on your preferences, you can play anything from classic elimination games to speedball, particular scenarios, or woodsball. In order to ensure everyone has a good time, there are some basic rules that must be followed.
First, all players must wear protective gear at all times during the game. Masks must be worn at all times on the field. If you need to remove your mask, you should first leave the field for safety. All players should be familiar with the sound of the safety whistle and pause the game when the whistle is blown until all players are ready to resume.
Never fire on players at close range. You should only shoot at players 20 or more feet away. All paintball guns must be kept unloaded with the muzzle covered until the game marshal calls for the beginning of the game.
And all players must read and follow the field or tournament rules. Always follow the instructions of the referees and game marshals.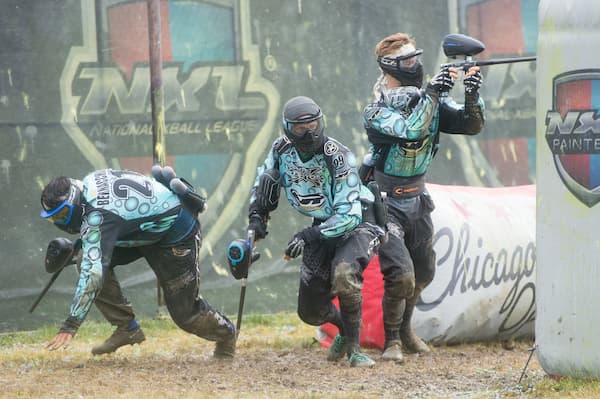 Elimination Games
Two teams compete against each other in an effort to eliminate all players from the other team. When a player is hit with a paintball that bursts, that player is "out" for that round. All eliminated players may rejoin the game in the next round.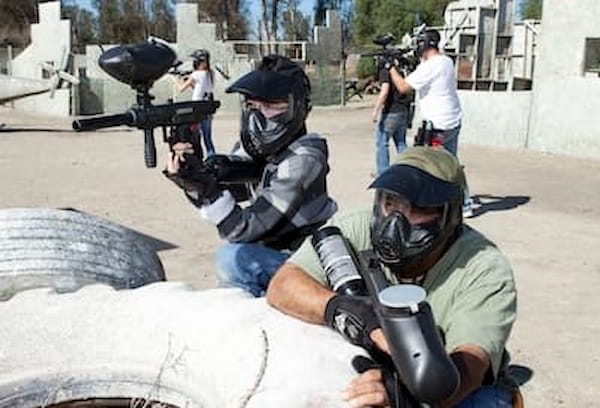 Scenario Games
This game combines paintball and role-playing. Players split up into teams with stated objectives that need to be accomplished to win the game. The objectives can range from rescuing hostages to defending a base from attackers or capturing flags. Scenario games can last several hours. It is perfect for those who prefer an immersive and realistic game experience.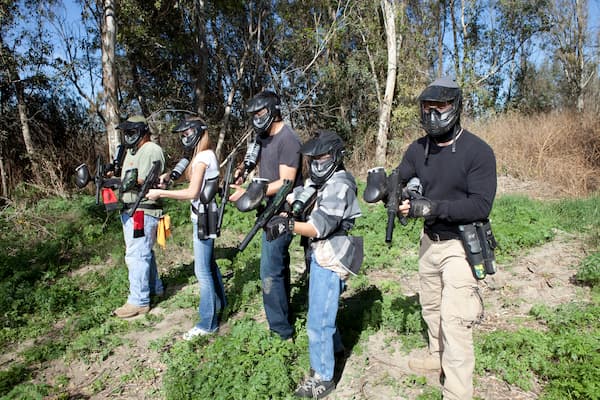 Woodsball
Often considered the most challenging game type, woodsball takes place in natural terrain or abandoned buildings. The environment is used for cover and bases. There are no limits on team size or number of teams. Woodsball matches are usually long games that require a lot of strategy and the use of the environment to the players' advantage.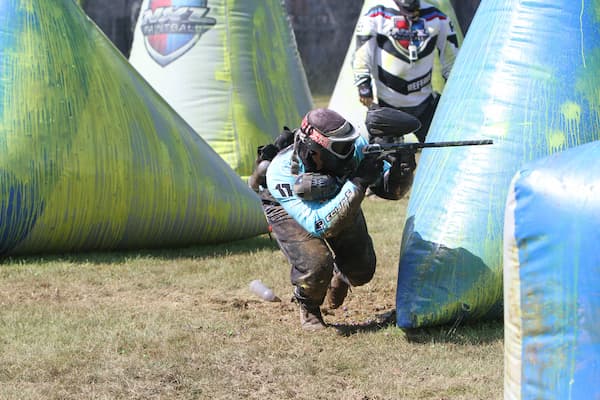 Speedball
Speedball is a fast-paced variant of a traditional elimination game. It takes place on a smaller field with obstacles and bunkers which offer cover to players. The objective is the same as elimination - to take out all members of the opposing team - but has a shorter time limit and smaller field. The combination of high-speed action and strategy makes for an adrenaline-filled game.
Protective Gear
When playing paintball, it's important to always wear protective gear to prevent injuries and accidents. Your protective gear should include a mask, pads, and gloves that are designed specifically for paintball use.
Masks
Paintball masks cover your head to protect your eyes, ears, and face from paintball impacts. Paintballs fly at several hundred feet per second and could cause injury if they hit these vital areas directly.
Pads
Paintball pads include chest protection pads (which range from padded shirts to hard plastic body armor), with knee and elbow pads to protect against falls. The chest protection vests protect your vital organs and torso from the bruising that can occur when a player is hit by a paintball at close range.
Gloves
Paintball gloves protect your hands from impact injuries. They can be full gloves or fingerless with padding and hard shells.
Tips for Playing Paintball
Paintball is a fun, adrenaline-pumping sport, but safety should always be your first priority. Wear safety gear, such as a face mask, chest protector, and gloves at all times. Follow all the rules and regulations of your field and referees.
Before heading out to the paintball field, make sure you are familiar with your gun and other equipment. Familiarize yourself with the controls, know your velocity settings, and ensure the barrel is clean and free of obstructions.
During the game, stay alert and aware of your surroundings. You should also be aware of where other players are located, so you can anticipate their movements and adjust your strategy accordingly.
Stay low when playing paintball. Not only does this keep you from getting hit, but it also provides you better cover. Take advantage of any natural cover on the field, like trees or buildings.
Paintball is a fast-paced game, so you'll want to move quickly on the field. It will help you to get into positions before other players. You'll have a better advantage when taking shots.
Keep your strategy in mind. Knowing how to use the terrain and communication with teammates to your advantage will help you win more games. Following a strategy will give you an edge over opponents.
Above all, have fun. Remember it's just a game. Taking things too seriously will ruin the fun for everyone, including you. Relax, enjoy yourself, and just have fun.
Paintball Terms
Milsim - military simulation
Woodsball - a paintball game played in natural terrains, such as the woods
Speedball - a paintball game played in an arena with inflatable bunkers
Mag-fed - magazine-fed paintball gun
Barrel sock - the muzzle cover for a paintball gun
ASA - air system adapter - attaches the air system to the gun
CO2 - carbon dioxide used for operating a paintball gun
HPA - high-pressure air used for operating a paintball gun
Hopper - the paintball holder on top of a paintball gun
Harness - harness that holds extra containers of paintballs
Game zone - the area or arena where paintball games are played
Base - the area the team is charged to defend, or the location of the flag
Bunker - inflatable or building used for cover to keep out of the line of fire and make advancement in the game zone
Cover fire - firing at opponents so team members can advance on the field
Deadbox - the area players go after they have been hit by paintballs and called "out" of that round of the game
BPS - balls per second - indicated the speed of shooting