CenterPoint Optics 4-16x40 AO Adventure Reviews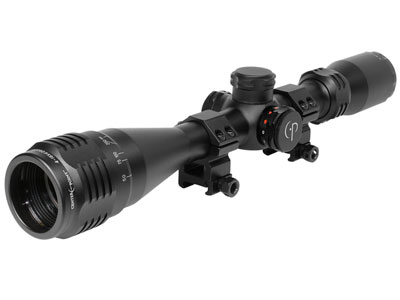 Average Customer Review
4.0
(70 reviews)
Create an online review   and share your thoughts with other customers
The most helpful favorable review
3 of 3 people found the following review helpful:
By Jake from USA on 2012-02-17 15:28:12
Things I liked:
Perfectly clear all the way up to 16x(unusual for a scope this price). Also the mounts it comes with are great, the scope has held 0 for over 500 shots. I like the mil-dot, and illiminated retical, it makes it easy to see the crosshairs on green in broad daylight and the crosshair wont fade out of sight.
Things I would have changed:
I dont like the caps on the turrets, it makes it difficult to change windage and elevation.
What others should know:
In my opinion this scope is better than the leapers scoped due to clarity and magnifacation.
The most helpful critical review
1 of 1 people found the following review helpful:
By Peeps from USA on 2015-04-12 14:54:07
Things I liked:
Looks good, great in theory. A lit testicle is cool. Nothing else so far.
Things I would have changed:
QUALITY. They did change the style of turrets. I hoped this was going to eliminate the inability of this product to hold a zero. As you'll read on you will find it didn't.
What others should know:
I am on my third in only a few weeks. I had sent the first two back and will be sending this one back as well. The first held zero for a day or so. The second never did and it had spots on the lenses. Inside the body of the scope making it hard to see through, This the third (and hopefully last) scope was never zeroed or adjusted in anyway. I shot it for one day maybe twenty times just sending pellets down range using some Kentucky windage. I put it away satisfied with clarity and that the POI seemed to be holding. I get it out today load up and look through to find my target. Easy enough...something isn't right. I see no reticle. It has come loose and it is floating around inside the scope. Completely dissatisfied with the QUALITY (or lack or any) of this product. I can see it just paying in the scope loosely. Complete failure.