UTG Airsoft Deluxe Tactical Vest Reviews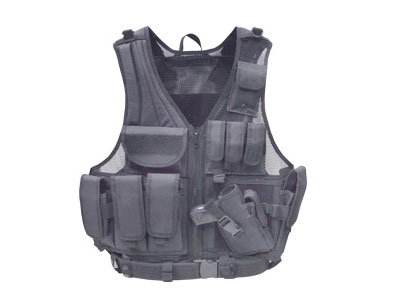 Average Customer Review
4.5
(17 reviews)
Create an online review   and share your thoughts with other customers
The most helpful favorable review
1 of 1 people found the following review helpful:
5.0 5.0
5.0 5.0
By Colin from USA on 2009-04-21 23:57:33
Things I liked:
it is an awesome vest and is awesome value. the holster and mag pouches are really useful. it is a must have for every airsofter
Things I would have changed:
make the web belt eaiser to ajust
What others should know:
the camo on other vests dosen't help you hide no matter what others say. it is acually awesome camo for night and in the shadows. If you buy this I would defently buy the helmet off of this site. Ireviewed on the helmet to and it is just as cool as this vest. they go good together, and complete the set. with them both you really look like you are on the swat team or something
The most helpful critical review
0 of 0 people found the following review helpful:
4.0 4.0
5.0 5.0
By rob from Canada on 2013-08-01 00:06:16
Things I liked:
I really like how adjustable it is. You can also have a little room for cutomizing because of the velcro on it. I would have rathered ut be full molle but its fine. The holster fints my 1911 great so most mid sized sidearms shouldnt have an issue. Dont forget about the price either, great deal.
Things I would have changed:
I wish it would have come with a dump pouch but its not like its difficult to buy one seperately. Also i would have liked all the mag pouches to hold 2 mags but thats alright. I took the holster off and using some velcro and straps i have at home i was able to attach it to the belt on the left side. This left room for a couple of mag pouches. I would have made it possible to remove the pouches on the top soni could customize it more to my liking but theyre fine so its alright. The recoil pad in the shoulder is a smart idea in a way but just makes things a little uncomfortable for use with an airsoft gun that doesnt have any recoil.
What others should know:
In the picture given it looks like a lighter colour than it actually is. This is to make the pouches and features of the vest easier to see (i assume) so if your planning on buying this its actually completely black and not grey. Overall very good vest for the money. Good purchase.