Ataman Ap16 Standard Reviews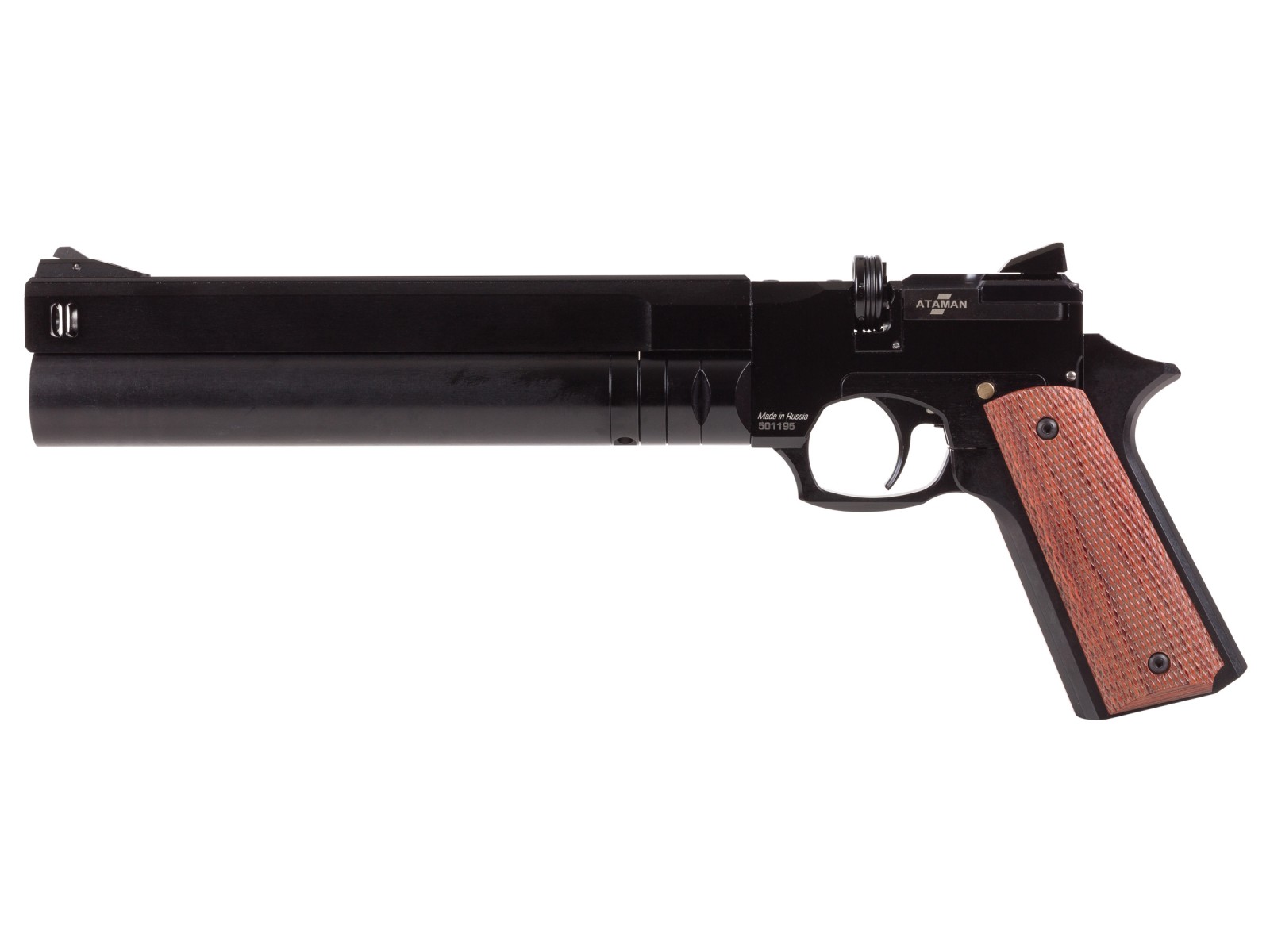 Average Customer Review
4.0
(14 reviews)
Create an online review   and share your thoughts with other customers
The most helpful favorable review
2 of 2 people found the following review helpful:
5.0 5.0
4.0 4.0
5.0 5.0
By Robert Varner on 2019-05-20 02:59:55
Things I liked:
About a year and a half ago I purchased the AP16 from Pyramid and hadn't had much of a chance to get acquainted with it until recently. I also own an FX Ranchero and have put more than a few rounds through it. What I like about the AP16 is the way this 1911 styled piece fits in the palm of my hand, better than my Ranchero. Also, with a little work on the shroud and receiver it now shoots spot on at ten yards with open sights. The light trigger is just what the doctor ordered for someone with arthritic hands.
Things I would have changed:
The one thing I'd change is the pistols manual. It definitely could be more informative.
What others should know:
After putting more than a few rounds through it with open sights it kept pulling low and to the left. I'm not bad with open sights and have taken a lot of deer with open sights. At ten yards it left me very frustrated and I started thinking it was me. So then I thought I'd I'd drop my Leapers 1.25-4x32 on it that was on my Ranchero. Popped it in my gun vice, slapped some levels on it and couldn't believe my eyes. The shroud had a twist in it opposite of the receiver. Loosened the shroud and brought it back in line with the receiver. What a difference, it's now spot on with open sights. Mounted my scope on it and its a tack driver at ten yards, confirmed. Cant wait to zero it at 25 yards. A word of advice, don't let it drop below 120 bar or it will dump what ever air is left in the air cylinder. My advise, refill it after every two Mags. It loves JSB jumbo heavy's and jumbo monsters.This is a great shooting pistol; however you need to take your time getting acquainted with it.
The most helpful critical review
0 of 0 people found the following review helpful:
1.0 1.0
1.0 1.0
By Melvin from USA on 2021-01-08 01:55:59
Things I liked:
The appearance of quality.
Things I would have changed:
A pistol that works.
What others should know:
The one I was sent had a loose rubber O-ring in the bottom of the breach when I cocked it the first time. It could only be charged to about 2.4 bar's. the first magazine functioned okay but when I put the magazine in the second time the bolt only went partially forward pushing a pellet into the chamber but not closing completely. When I pulled the cocking lever back it would not go forward at all. I returned it for a full refund of the $1,104 I paid for it after wasting the day trying to get the damn thing to work. Tech support is e-mail only and they didn't get back to me. I called customer service this morning for a refund and they sent me a return label. For $1,104 I got a piece of high priced junk. Customer service was very nice to deal with and it wasn't their fault the damn thing didn't work.