Beretta 92FS Nickel Reviews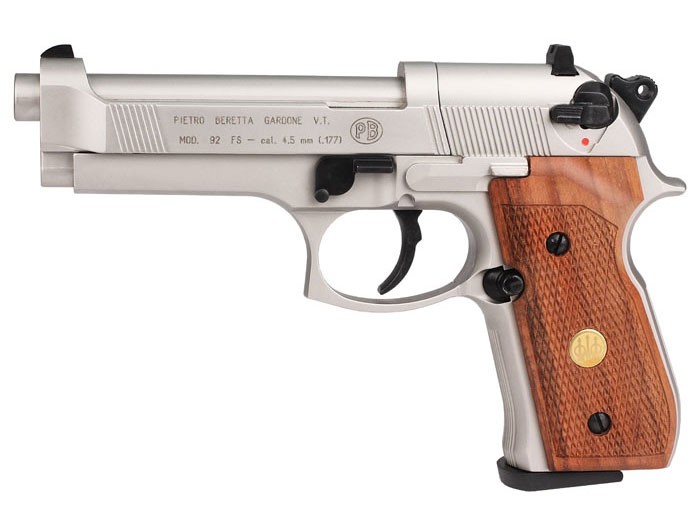 Average Customer Review
4.5
(57 reviews)
Create an online review   and share your thoughts with other customers
The most helpful favorable review
4 of 4 people found the following review helpful:
By Ryan2466 from USA on 2009-07-31 13:43:42
Things I liked:
If you get the Wood grips, there will only be one peace of plastic left on the entire pistol! Thats the Grip release button... who cares. This thing is scary accurate, i can easly pick off cans at 60ft with oppen sights, on the bend of a river where the wind is wipping. It's just amazing, i cant stop holding and shooting it lol. I usally just tell people this is a Real Beretta. The CO2 version. Then all i usally hear is, "Oooo. Very nice!"
Things I would have changed:
I Bought my wood grips seporate. Im very dissapointed in the Checkering, clearly looks like it was done with a dull blade! As a result of the dull cutting blade some of the checkers are compleetly gone!! With a $80 price tag ($30 MORE than wood grips for 9mm bretta!) i'm expecting nothing but PERFICT grips! so thies are getting RMA'd asap!
What others should know:
my gun came COMPLEETLY UNLUBRICATED! i fought with the leavers for the first 10 clips thinking it would break in.. no.. i went to radioshack picked up there Precsion Lubricator for 3 bucks, pulled the 5 screws, cracked oppen just enough lube the moving parts with the needle tip... The gun a pleasure to opperate now. Fantastic product!
The most helpful critical review
0 of 0 people found the following review helpful:
By Richard from USA on 2021-02-10 17:31:39
Things I liked:
Not too much of anything,after waiting 3 months(backordered)I was very dissapointed to get a ddefective product.
Things I would have changed:
The quality control is terrible. It had a big ugly crack in the slide,and the safety was very loose with excessive movement.I own several german made air pistols that are high quality and work flawlessly(walther cp88 competition,and a weihrauch hw45 in .22 cal.) Among them.
What others should know:
For the price,this should be near perfect,but unfortunately Quality control has really gone downhill.I returned it for a refund Unused.I'm sure it wouldn't have functioned for very long with a sloppy safety mechanism which houses the firing pin.The crack in the slide was above the lettering pietro V.T. I hope umarex gets quality control...under control.