Beretta PX4 Reviews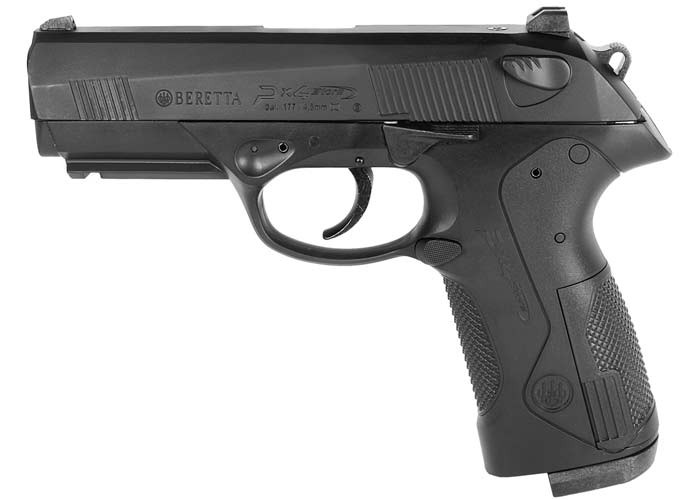 Average Customer Review
4.5
(208 reviews)
Create an online review   and share your thoughts with other customers
The most helpful favorable review
4 of 4 people found the following review helpful:
By Robert from USA on 2015-02-22 10:02:21
Things I liked:
The blowback action on this airgun is awesome, perfect for economical training purposes. The fit and finish was also very good and its also decently accurate. Using crosman wadcutters I can get 8 shots in a group the size of a quarter at 20 feet which is all the farther I've shot it so far since I've just been using my basement range.
Things I would have changed:
Nothing really maybe adjustable sights but the fixed sights hit close enough for my uses.
What others should know:
I have shot about 600 crosman wadcutters through this without a single problem but tried the rws hobbies and they kept jamming for some reason so I think I'll stick with the crosmans.
The most helpful critical review
0 of 0 people found the following review helpful:
By Tom from USA on 2020-01-19 22:52:20
Things I liked:
It looks like the real thing.
Things I would have changed:
The safety is a pain to disengage. The CO2 loading mechanism is fiddly and allows the cartridges to leak-down over a short time, which is aggravated by the additional loss of gas pressure through the non-essential "blow-back" cycling of the slide. The gun itself is heavy and inaccurate, which makes it less handy then my Russian Makarov 9x35. Basically it is an impressive paper weight, and unless you intend to use it as a bludgeon to fend off an attacker with, not even good for serious self-defense. Then it's metal slide might be effective against an assailant's nose, etc. Also, with its' accuracy issues, the idea of attaching a laser/pointer gadget is a silly expense, but with the flashlight part, at least you can use the gun for an emergency light if your power goes out. At least it won't roll off of a surface like the round ones.
What others should know:
After wasting a box of CO2 cartridges and a few pellets, I have concluded that unless you buy the attachable flashlight so it has at least one practical use, there has to be a better option out there.