Firepower .45 Reviews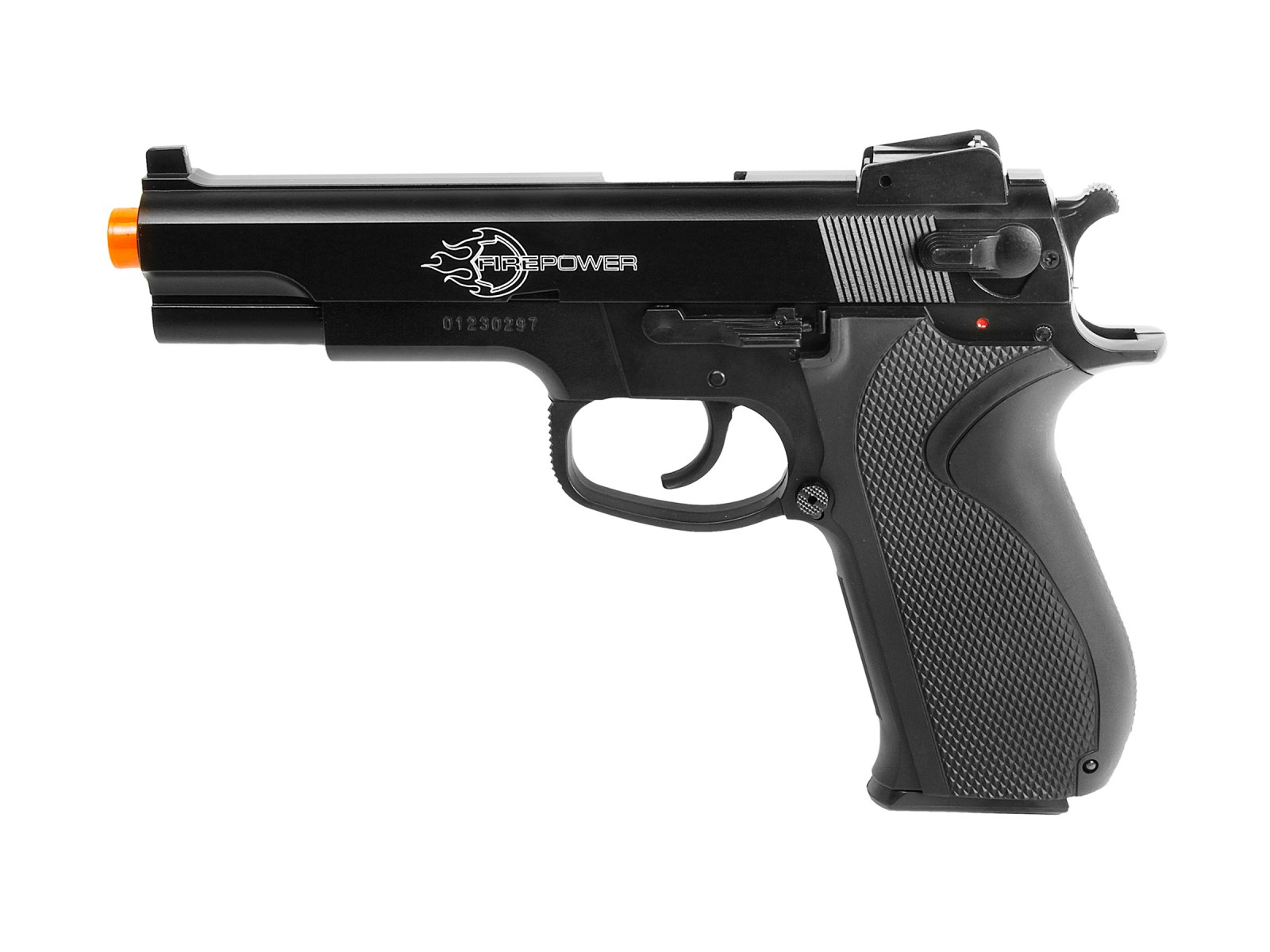 Average Customer Review
4.5
(12 reviews)
Create an online review   and share your thoughts with other customers
The most helpful favorable review
2 of 2 people found the following review helpful:
By [email protected] from USA on 2015-09-05 20:57:07
Things I liked:
I'm new to airsoft pistols. I just wanted a decent, low cost pistol that I could target shoot with in my garage. This pistol fits the bill. I was very surprised with the accuracy of the Firepower .45, as well as the 328 FPS. My targets were cassette tape jewel cases (with the cassette tape inside) and aluminum soda cans. Not only would my shots knock them down, they cracked (spider cracked) the tape cases and put some pretty impressive dents in the soda cans, more than I expected. This airsoft pistol performed as well as I hoped it would. Great buy for the money.
Things I would have changed:
Nothing.
The most helpful critical review
0 of 0 people found the following review helpful:
By William from USA on 2019-06-21 23:06:18
Things I liked:
Very good accuracy and power for the price. Fully adjustable rear sight. Pleasant feel and heft in the hand. Super pleased with it for an inexpensive springer.
Things I would have changed:
Can't reasonably complain about anything at this price point.
What others should know:
Tested .12g (TSO); .20g (Elite Force); and .25g (Airsoft Elite) BB's. The .12's were all over the place - can't recommend them. The .25's were ok, but not good accuracy nor consistency. The .20's were by far the best, but that could be me and/or the brand/quality of ammo. What would be the safety on an actual pistol, on this piece is just a decoration (i.e. non-functional). There is however a "safety", which on a real firearm would be the slide release. Not a big deal, if you're mindful. The travel on the "safety" is slight but positive, and works by disengaging the trigger. There's a right-handed thumb slide release only. The 12-shot mag is a bit quirky - there's a handy spring lock after sliding it to the bottom, but a button at the top that you need to depress to fill it. If you eject the mag, two BB's will fall out. If you then press the button, the whole mag will spew empty. That said, I'm super-pleased with it. Great at this price point. Loads of cheap casual fun. Buy it.