Hammerli 850 AirMagnum Reviews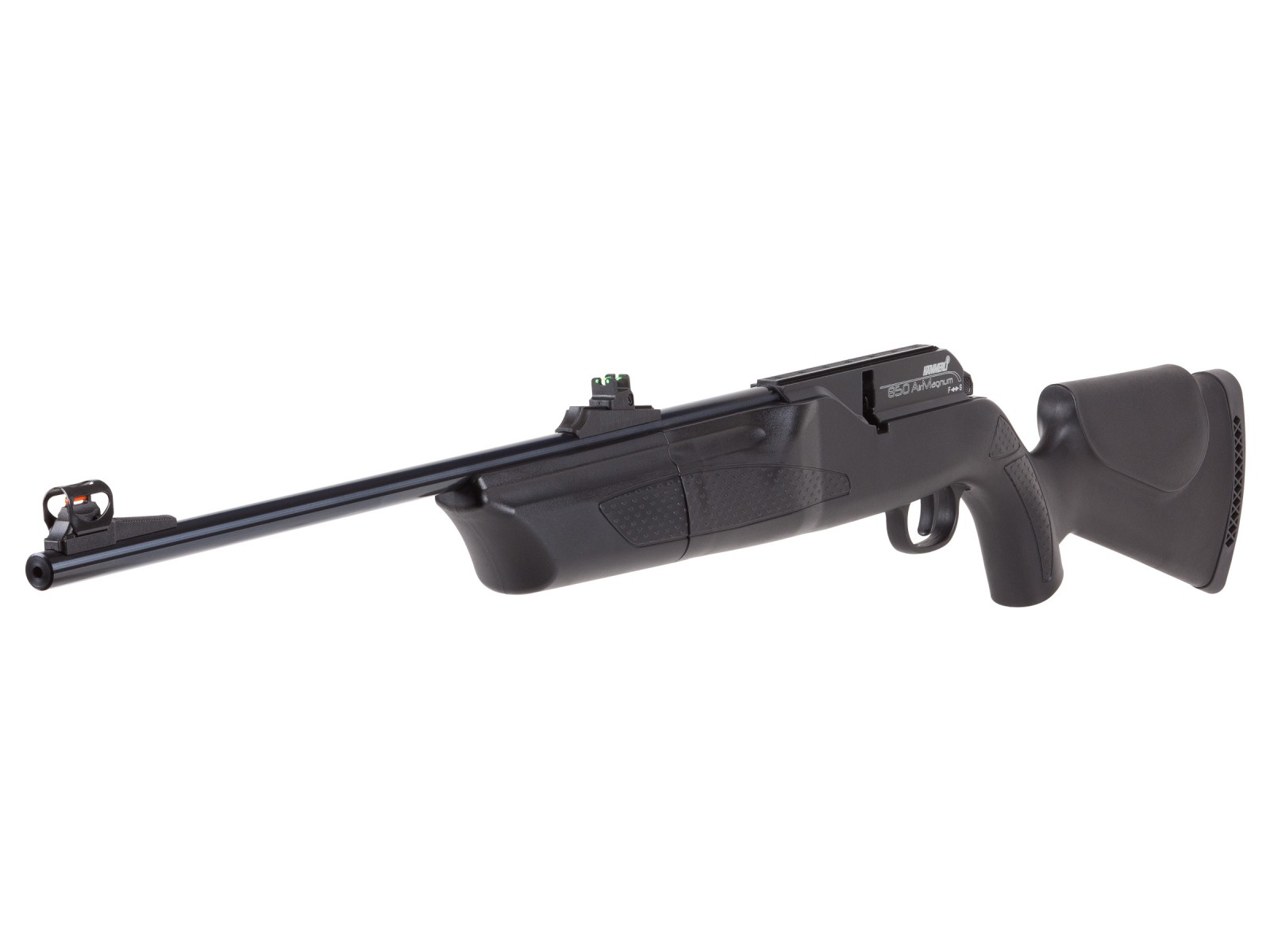 Average Customer Review
4.5
(134 reviews)
Create an online review   and share your thoughts with other customers
The most helpful favorable review
3 of 3 people found the following review helpful:
By Gary from USA on 2014-02-09 16:51:40
Things I liked:
Supreme accuracy, 8-shot repeater, CO2 optional adapter, easy loading and changing of magazine, very smooth consistent trigger pull. Wouldn't sell the 850 and the Nikon scope combination for a $1000. cause I may have gotten one in a thousand insofar as accuracy goes.
Things I would have changed:
Nothing really, guess I just got a cream puff, by the way it is .177.
What others should know:
I'm a retired engineer so am used to testing things and I am amazed at the accuracy of this rifle. But first let me say that I started out looking for an air rifle that I could shoot in my basement shooting range (9 yds) for my own amusement as well as for teaching my granddaughters to shoot. I first ordered a Chinese rifle (big mistake), sent it back the next day-poor quality, bad engineering. Then I ran across the 850 on the internet at Pyramyd. Decided to give it a try. Liked it from the beginning. I fired about 1000 rounds so far in about 1 month. The optional CO2 adapter allows you to use 1 or 2 (12 gm) cylinders when you don't want to shoot all day long using the 88 gm cylinder. In order to obtain the inherent accuracy I felt was in the rifle, I needed a high magnification scope. My first attempt was a Chinese scope (guess I didn't learn my lesson with the rifle). After trying 3 scopes I gave up and went to a Nikon 3-9X40 Prostaff Target EFR. The main reason I selected this scope was because it will actually focus at the highest mag down to 7 yds! The other scopes claimed focus down to 10 yds but didn't delivery. Next tried 12 different pellets since most airguns have a preference. After many shots I found that my rifle likes the RWS Match 10 Light 7.0 grain. Set up a target at 9 yds in a pellet trap using bench rest The target had 56 bulls the diam of the pellet. The average miss from bull center to pellet hole center was 0.32 mm! Repeat .32 mm!
The most helpful critical review
1 of 1 people found the following review helpful:
By Patrick from USA on 2018-08-09 12:55:26
Things I liked:
Great air rifle out of the box. Accurate, while it lasted.
Things I would have changed:
- Bottle O-Ring blew out after 5th CO2 bottle. - It should come standard with small CO2 cartridge adapter.
What others should know:
After about the 5th Co2 bottle, the O-Ring blew out. I tried ordering some replacements but they didn't hold (Co2 leaked out right away). I have wasted about 5 Co2 bottles trying different O-Rings. I can't even confirm what the correct O-Ring size is for these O-rings. The replacement O-Rings from Bagnell & Kirkwood (doesn't mention size) are approx $18 once shipped from the UK. I am not willing to spend that much without guarantee they would work, so this gun is trash as far as I am concerned.