Weihrauch HW 100 Walnut Reviews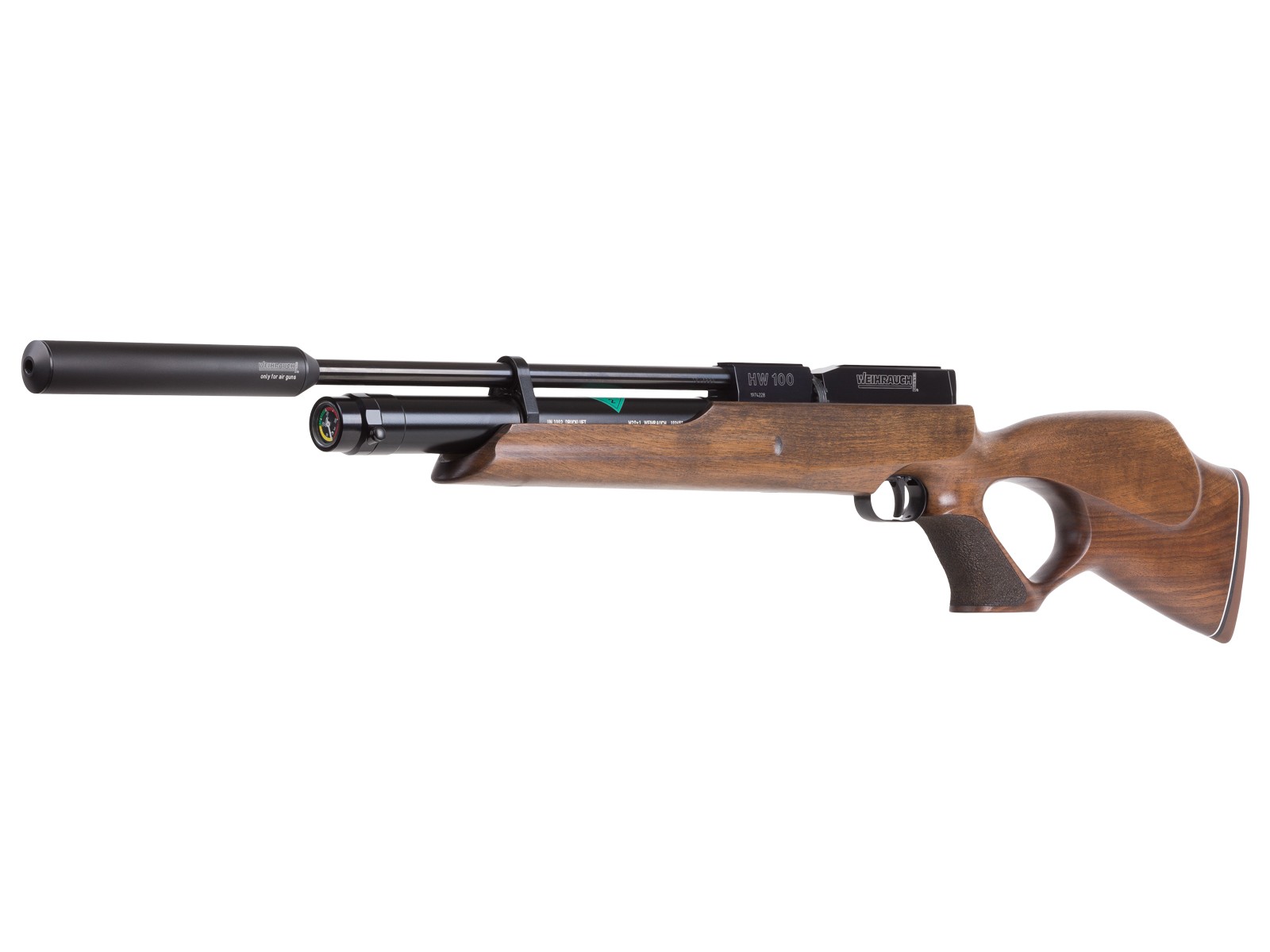 Average Customer Review
4.5
(12 reviews)
Create an online review   and share your thoughts with other customers
The most helpful favorable review
3 of 3 people found the following review helpful:
By Joe from USA on 2013-03-15 20:35:30
Things I liked:
Good craftsmanship, no surprise here. The Walnut stock looks great and feels good against my face on a cold day, as compare to a synthetic stock. This gun shoots quieter than my RWS 34 and even quieter than my FWB 601 The Trigger is a Match trigger, light and crisp. I left it the way it came. I found it very convenient not having to unscrew the air cylinder to charge it. I just insert a charging probe into the air cylinder to fill it with air. I charged the gun to 200 bars. After 45 shots, the air pressure meter in front of the air cylinder shows 120bar. The yellow zone starts at 100 bars.
Things I would have changed:
I wish the wood stock has an adjustable cheek piece, and a rail under the forend of stock so that I can mount a Hand Stop or bipod.
What others should know:
I noticed that this barrel is thinner then my old HW100 without barrel shroud, thus I was worry that this gun may not shoot well. It likes JSB Exact Heavy, 5-shot group at 25 meters is 0.15 inch. I shot another 5-shot group, but this time it measure 0.17 inch. This tells me that a heavy thick barrel is not necessary for accuracy. Which leads me to think…Does a heavy barrel guarantee high accuracy? Perhaps a reader here can answer this.
The most helpful critical review
0 of 3 people found the following review helpful:
By Doc M from USA on 2014-02-28 11:17:08
Things I liked:
HW100T FSB .177 is 5 stars. However, arrived with all the accessories but the stock was scuffed and bruised. Fingerprints all over the metal. Like it was a demo. No protection on website purchases for that. Except sellers reputation. Took 1 day sanding and 3 days for finish. Shouldn't have had to do that. When you pay this kind of money, item should be new. So value for money 3 stars. Dissatisfied experience- 1 star.