Smith & Wesson M&P 45 Reviews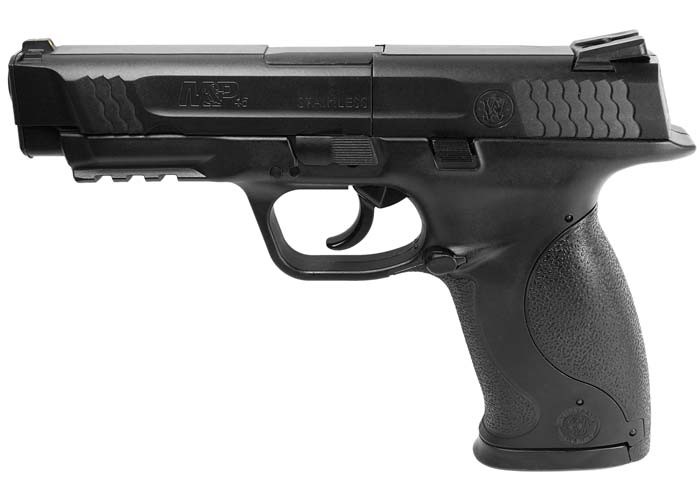 Average Customer Review
4.5
(63 reviews)
Create an online review   and share your thoughts with other customers
The most helpful favorable review
3 of 3 people found the following review helpful:
By Randy from USA on 2015-04-19 10:41:51
Things I liked:
Value-oriented gun. Hard to ding it for ANYTHING based on the price-to-quality ratio. Rifled barrel = very good accuracy at 25 feet (length of my basement range). I only use pellets -- read on another site that use of BB's in a rifled barrel will reduce life span. And yes, I do get an occasional jam, which is typically due to a loose-fitting pellet in the mag. It's a quick fix, and in my opinion doesn't warrant knocking a star -- or two -- off the rating. And I would agree that the double action pull takes some getting use to. But it's not intolerable, and when you can use single action, why worry about it? I'm slightly amused by those people that buy an air gun to try and simulate (for practice purposes) the actual weapon, and then give 1 star because it didn't do the job. C'mon, this gun can be purchased for as little as 40 bucks -- try and get a new M&P 45 ACP for under 600 bucks. Factor in the cost of operating the powder burner, and I don't know how anyone can complain.
Things I would have changed:
Thumb screw for CO2 loading could be metal.
The most helpful critical review
0 of 0 people found the following review helpful:
By Andre from USA on 2017-06-04 00:06:11
Things I liked:
Looks like an M&P
Things I would have changed:
On 2cd CO2 cartridge, can't get it to seal, CO2 leaks out in minutes. When changing to a new cartridge to try it again, backstrap fell off. Still can't get cartridge to seal. Junk.
What others should know:
Mine is junk.