Weihrauch HW 75 Reviews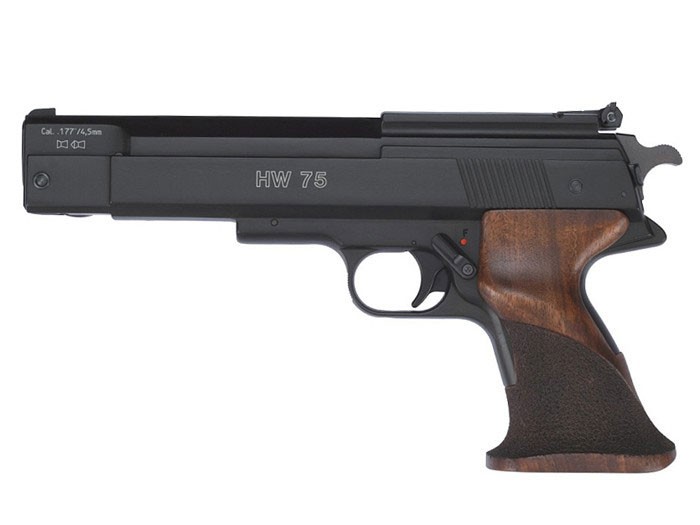 Average Customer Review
5.0
(53 reviews)
Create an online review   and share your thoughts with other customers
The most helpful favorable review
5 of 5 people found the following review helpful:
By Neil from USA on 2010-05-28 14:13:01
Things I liked:
I bought this air pistol as a trainer for my S&W Model 41 rimfire I use for Bullseye. It's about as close as I could find and possibly more accurate. I can easily shoot dime size groups resting on a hard surface at 10 meters and no doubt will do better after I find the right pellets. There is no detectable recoil and it's very quiet. I was concerned about the power but It has more power than my CO2 Colt 1911 by Umerax. In fact it has enough power to knock over my Gamo Squirrel target while my Colt does not. I shot at the bottom of an empty tuna can at 50 ft and it put a large dent but would not penetrate. It has enough power to comfortably shoot bullseye target at 50ft which is all the power I need. It's also great for plinking tin cans and metallic silhouette. It's not a hunting pistol however. The workmanship is top quality. It's also lighter than I expected. The trigger is about as good as they get. Better than my rimfire target pistol.
Things I would have changed:
The rail is a bit large for mounting red dots. I did manage to mount an 11mm red dot but I had to back out the screws a ways. The grip is not as comfortable as it looks. I would like to remove some metal from the grip under the trigger or make the grip wider to cover it up. The grip is too short for my hand. Perhaps a longer grip would solve this problem. I might make a custom grip for it.
What others should know:
This air pistol will make all your other air pistols obsolete. It's very addicting and hard to put down.
The most helpful critical review
0 of 1 people found the following review helpful:
By Tim from USA on 2016-09-12 22:11:04
Things I liked:
The gun is very accurate.
Things I would have changed:
The gun has started leaking. The gun will fire if shot quickly after pumping but the pressure will leak off in a minute or two so SHOT predictability is poor. It will need to be sent in for repairs.
What others should know:
This is an update of my previous five star review. My HW75 has started leaking. It leaks off in a minute or so. I will need to seek service. I sent an email to Weirauch and they said to contact Pyramyd, which I have not yet had the time to do.