When it comes to the world of archery, finding the right bow can make all the difference in your journey from being a novice to becoming an accomplished archer. For beginners, it's essential to start with a bow that offers both performance and accuracy, allowing them to develop their skills and improve their training. Beginner bows offer a user-friendly experience.
By investing in a quality beginner bow, aspiring archers can lay a solid foundation for their archery journey. These bows are designed to help beginners transition smoothly into more advanced levels, ensuring that they enjoy the sport while continually improving their skills.
Beginner bows are perfect for:
Learning the basics: features and adjustability for beginners to find their comfort zone
Building proper form: ergonomic designs and accessories that promote correct body posture
Progressing to advanced levels: performance and adjustability to accommodate growing strength and proficiency
Best Beginner Compound Bow: Diamond Infinite 305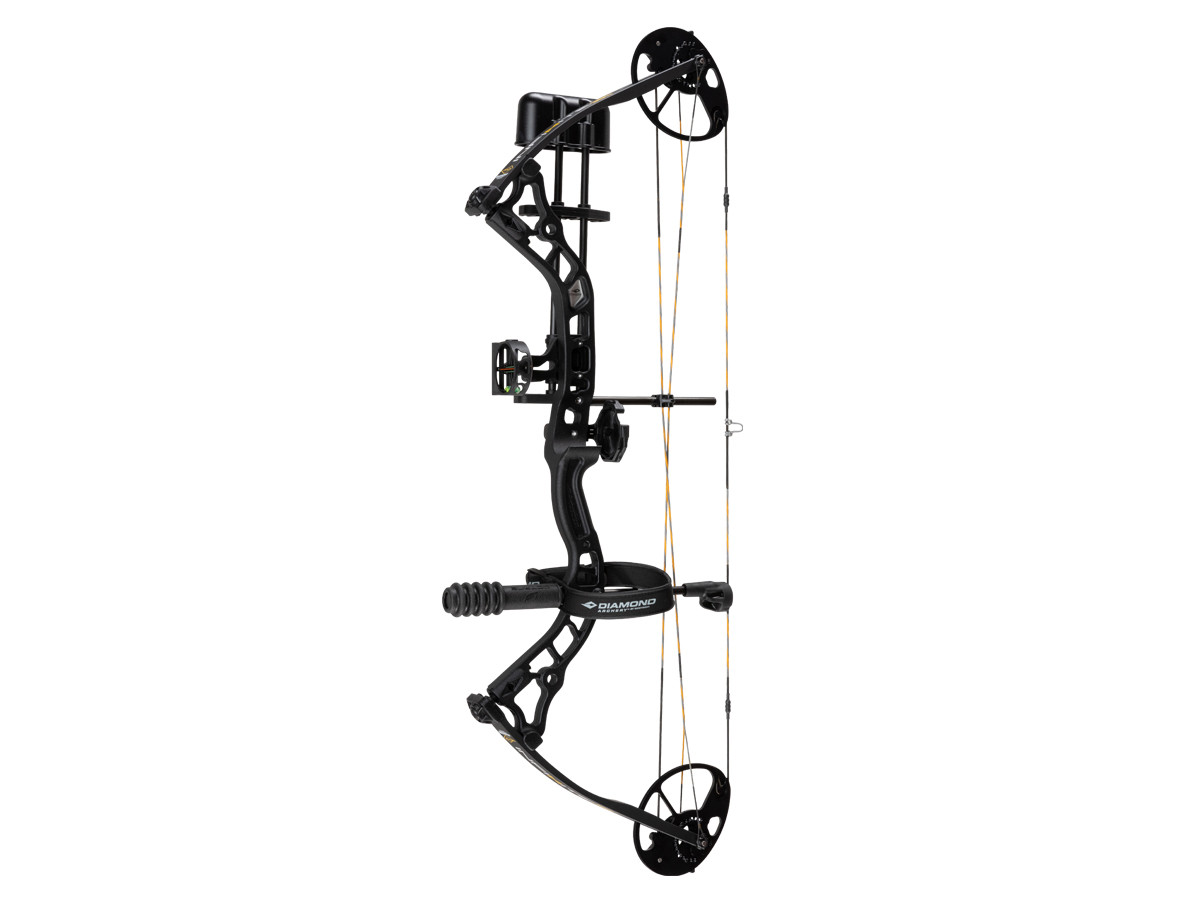 Product Details
The Diamond Infinite 305 Compound Bow offers exceptional performance and at-home adjustability, so you won't need a bow press or spend more time at the pro shop. This makes it incredibly convenient for outdoor enthusiasts who want to fine-tune their bow to their individual preferences. With this convenience, it also delivers impressive power and accuracy. You'll experience minimal strain while drawing and holding the bow. The dual cam system ensures smooth and consistent arrow release, allowing you to hit your target with precision.
Whether you're a beginner or an experienced archer on a budget, the Diamond Infinite 305 Compound Bow is a top choice for outdoor enthusiasts looking for quality performance without breaking the bank.
Why We Like It
This bow can grow with you. It has a highly adjustable draw weight (7lbs to 70lbs) and draw length (19 to 31 inches). It can be by a kid starting out or an adult hunting large game. The adjustment instructions are included and intended for beginners to be able to adjust it at home with basic tools. It comes ready to use with added arrows, and you're able to bolt on accessory upgrades if you choose. It's a lightweight and very forgiving bow with a long brace height of 7.25 inches and axle-to-axle length of 32 inches.
Things to Consider
You will need to get the peep sight tied in, add arrows, and a release. This bow shoots a max of 305 FPS, so arrows may drop when shooting. You can get around that by using the 3-pin sight to target three different distances.
Best Beginner Recurve Bow:Bear Archery Grizzly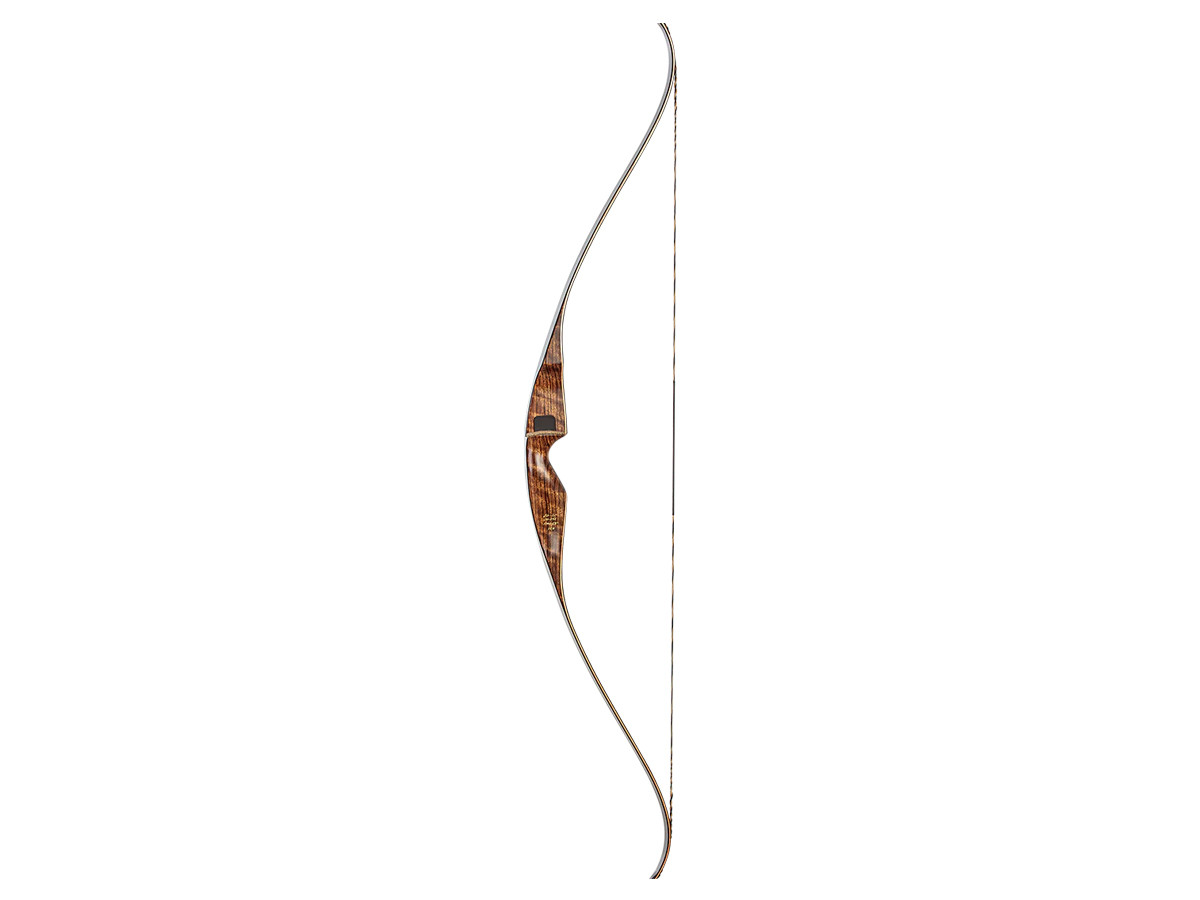 Product Details
The Bear Archery Grizzly Traditional Bow offers incredible value, providing a combination of power and accuracy that rivals more expensive models. It is a recurve bow with a classic and timeless design that archers have favored for centuries. It has a smooth and consistent draw, with durable, lightweight limbs that provide a smooth release and exceptional arrow speed.
The Grizzly is known for its accuracy with a forgiving brace height. The bow's craftsmanship makes it more forgiving of minor form errors, which makes it perfect for beginning archers. It is a reliable and consistent performer, giving you the confidence to hit your target every time.
Why We Like It
Simplicity. You can string it yourself, there is no peep, sight, rest, etc., and you don't need a shop to start and get proficient. The traditional bow gives the "feel" of archery when shooting, which hasn't been replicated yet in a compound bow. This bow model has been around since the 1950s for a good reason. You can pull the bow back as far as you are comfortable and can pull back further as you grow. The bow will naturally get faster as the archer gets stronger.
Things to Consider
It's not easy to shoot the bow well, and accuracy comes from practice because there is no sight. You learn to be accurate similarly to how you learn to throw a baseball accurately; practice. You'll need a shooting glove or tab, and arrows are different for traditional than for compounds. Check your local hunting laws for minimum draw weight. If you plan on hunting with it someday, get a draw weight heavy enough to pass the legal minimum.
Best Beginner Hunting Bow: Bear Archery Royale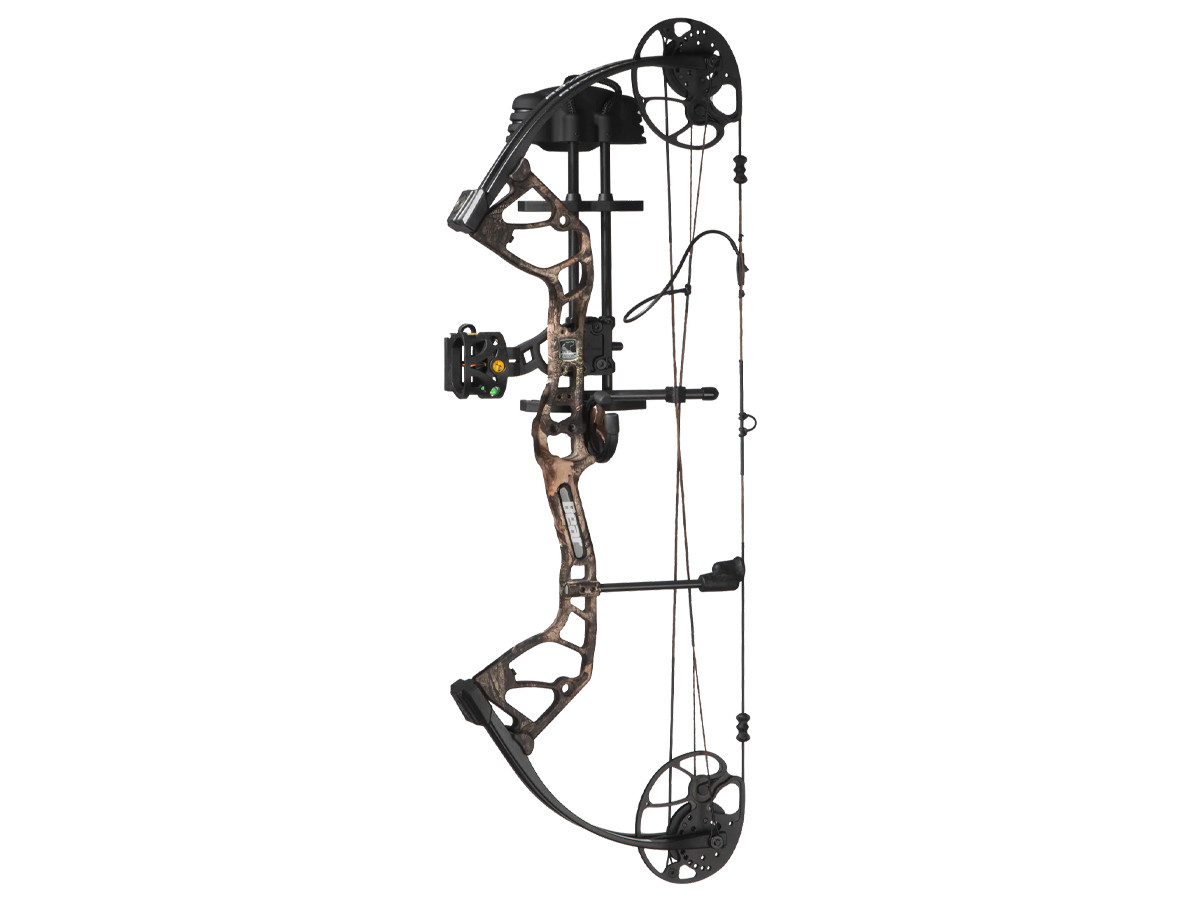 Product Details
The Bear Archery Royale Compound Bow is specifically designed to enhance your hunting experience and provide you with the power and accuracy you need to take down your target. The smooth draw and forgiving brace height make it easier for you to maintain accuracy even in challenging hunting situations. With its durable construction and lightweight design, this bow is built to withstand the rigors of the outdoors while still delivering exceptional performance.
The Royale will help you elevate your skills and make your hunting trips more successful. Gear up with the Bear Royale and experience the thrill of hitting your target with precision and power.
Why We Like It
It has the lowest cost on the list for a ready-to-hunt package. It comes with everything you need to get started. And it's a very light compound at 2.7 lbs.
Things to Consider
It adjusts from 5 to 50 lbs draw weight with a 12-inch to 27-inch draw length, which is good for beginners with smaller frames, but they may outgrow this bow later on. It needs a no-tie peep sight installed, which requires a bow press. You'll want to add a release and arrows to the package.
Common Questions
What is the best beginner bow for hunting?
When it comes to the best beginner bow for hunting, there are a few key factors to consider. You want a bow that is easy to handle, offers a smooth draw, and provides enough power to take down game effectively.
Recurve bows are popular for their simplicity and versatility but can be hard to master in short order. If you prefer traditional archery, a recurve bow can be a great bow for beginners. Just be prepared to do more practice before hitting the field.
Compound bows are great for beginning hunters who prefer modern bow techniques. The pulley system increases their speed, accuracy, and power. While they require more maintenance, they offer a greater level of precision and control. Explore our Hunting resources for more information.
What type of bow should a beginner use?
Beginners should use bows that help them learn the basics, practice good form, and help you progress to advanced skills. Many people ask whether they should choose a curve or compound bow. And the answer to this question is it depends on what your preferences and needs are.
Recurve bows have a simple design and have a traditional function. They are light, easy to maneuver, have a smooth draw, and provide consistent shooting.
Compound crossbows have a more complex design with more mechanical functions. The cam system provides a let-off that makes drawing the bow easier. This can be beneficial for beginners who struggle with holding a heavier draw weight for extended periods. Whichever you choose, the most important thing is to have fun and enjoy the journey of becoming a skilled archer. Read the How to Buy a Bow article for a detailed guide to buying your first bow.
What is a good draw weight for beginners?
For beginners, understanding draw weight is crucial for a successful archery experience. The draw weight that you choose will depend on your size, strength, and goals. One of the main factors to consider when understanding draw weight is your physical capabilities. You want a draw weight that you can comfortably pull with a bit of effort while maintaining proper form. A helpful resource is the bow chart in our How to Buy a Bow article.
Shop for Beginner Bows