From ultra-fast rigs loaded with the latest high-tech features to bare-bones bows that won't break the bank, Pyramyd AIR offers a wide variety of crossbows perfect for the field. Depending on your style of hunting, intended target, and total budget, some specs to consider include maximum speed, axle-to-axle width, total weight, and draw weight. Because you'll be getting close to game, features such as vibration dampeners and stealthy camo finishes can also be important factors to consider. Many come equipped with everything you need to hit the stand and offer simple single-bolt assembly. Like all products from Pyramyd Air, crossbows are backed by our 60-day money-back guarantee.
Best Hunting Crossbows
Fastest Reverse Draw Crossbow: Tenpoint Nitro 505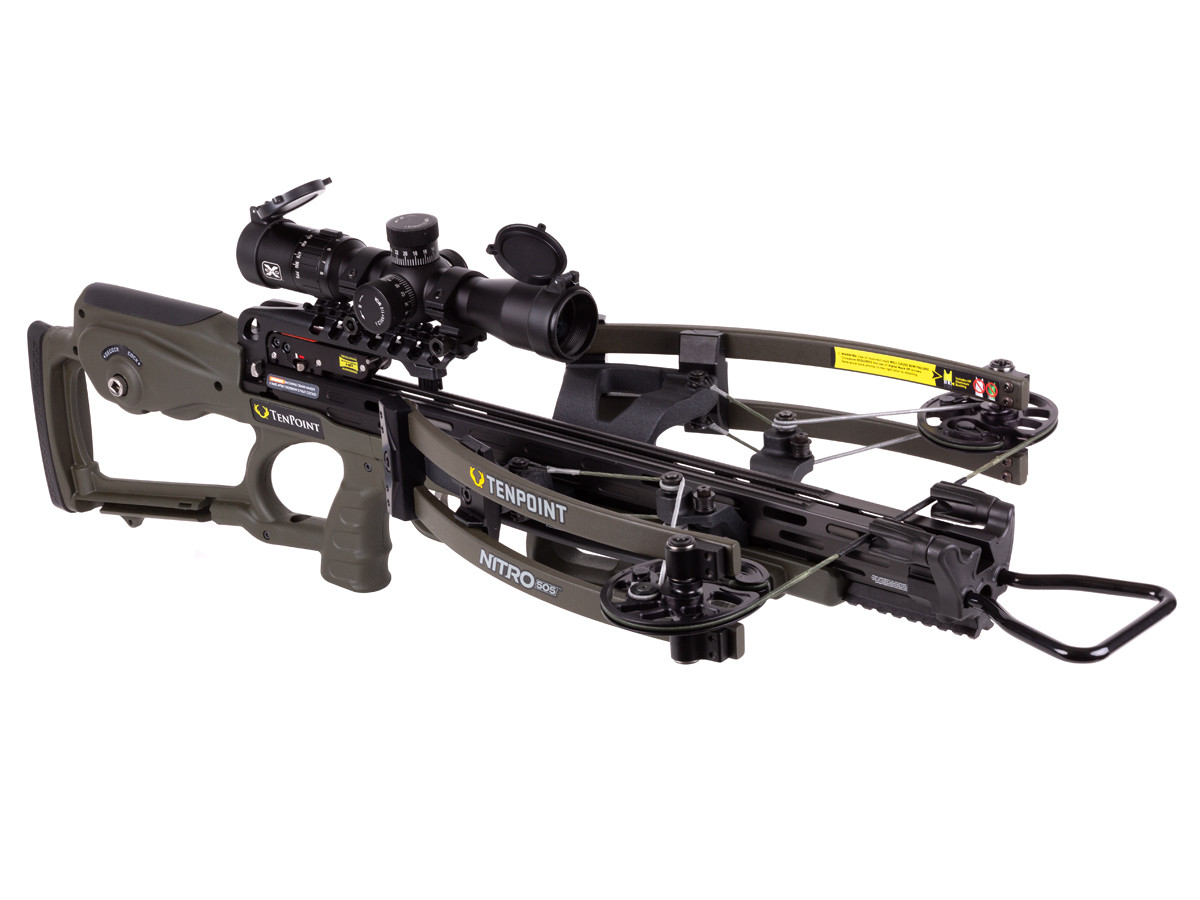 Product Details
The fastest crossbow on the market, the TenPoint Nitro 505 can reach speeds of up to 505 fps. It's incredibly easy to cock and decock, requiring just 5 pounds of force to operate. Boasting precision accuracy, the Nitro 505 is perfectly compact for running and gunning or sitting in a cramped ground blind.
Why We Like It
The Nitro 505 manages to pack all this efficiency into a rig that measures just 6.5 inches wide when fully cocked. It's equipped with TenPoint's top technologies, including the RX8 cam system, ACUslide cocking, de-cocking system, and Micro-Trac barrel. Being a reverse draw brings the weight closer to the shooter rather than out on the end, providing a better balance and easier shooting.
Things to Consider
The base package for the Nitro 505 with black stock rings is around $3,000 --- with optional scope upgrades up to $4,600 --- so it's an investment on the high end for hunting crossbows. When using mechanical broadheads, you'll need the ones that are rated for 500 fps or higher, or they could have accuracy issues or prematurely deploy in flight. You'll also want to use lighted nocks so you can see where they go, otherwise, you might never find them.
Fastest Forward Draw Crossbow: Ravin R500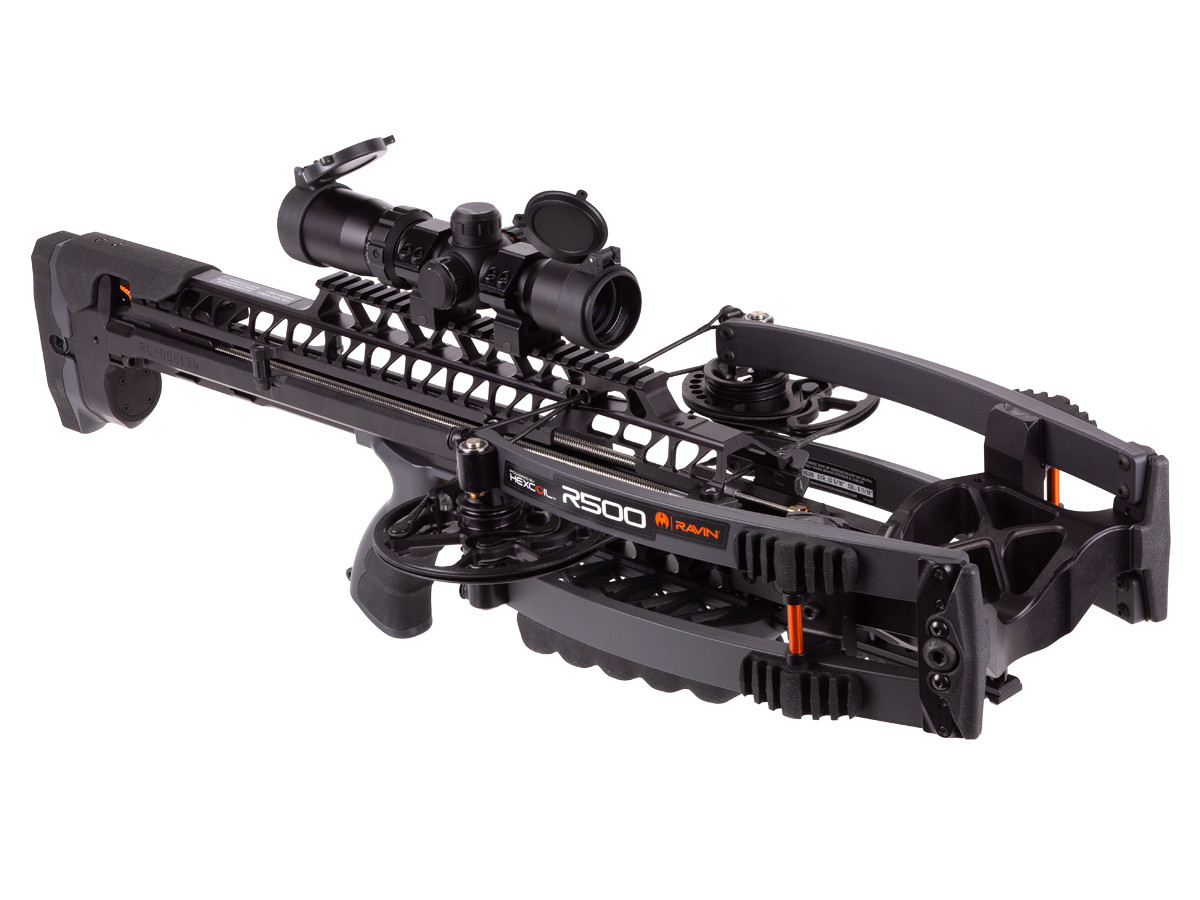 Product Details
One of the most powerful crossbows on the market. The R500 uses an integrated cocking system that draws the string inside the frame of the crossbow. This protects the string from outside interference and the shooter from accidental deployment from inadvertently hitting the string. This crossbow is more balanced than other forward-drawn crossbows since the cams are immediately in front of the scope. And the width drops from 7.6 inches to 3.6 inches when the string is drawn back making it easy to maneuver even in the densest woods.
Why We Like It
The R500 hits all the marks with speed and maneuverability. But also tops the list for safety and ease of use. A drawn crossbow string can be extremely dangerous, but the string on the R500 is fully protected by the frame, which in turn makes it safer for the user. For ease of use, the crossbow comes in an electric draw version which does the cranking for you at the touch of a button.
Things to Consider
At 500 fps, your eye won't be able to follow the bolt path, so you'll want lighted nocks on your bolts. If you use mechanical broadheads, they need to be rated for 500 fps or higher or they could have accuracy issues or deploy prematurely in flight. The string and cables will need to be replaced every year or two.
Fastest Recurve Crossbow: Excalibur Bulldog 440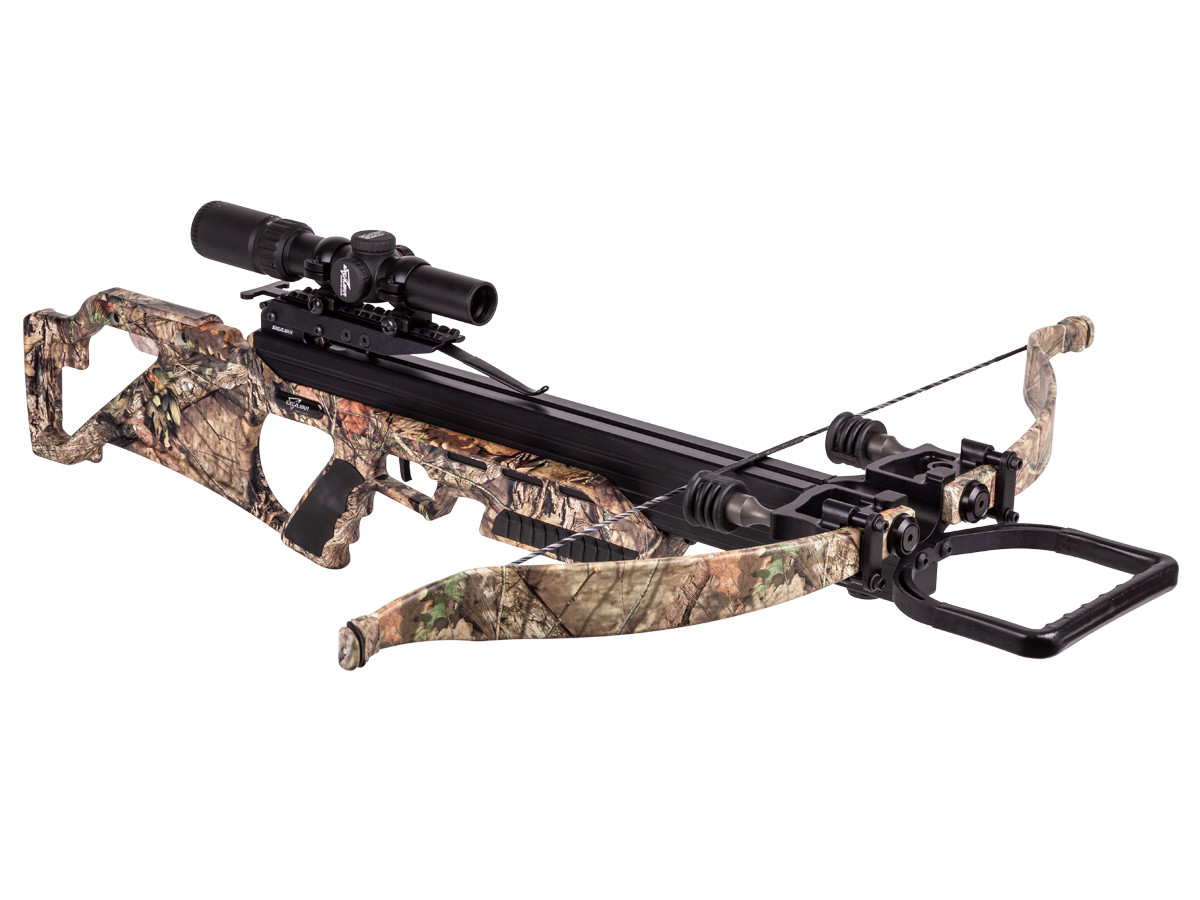 Product Details
The Bulldog 440, from the matrix line of Excaliber crossbows, is the most powerful recurve crossbow, topping the scale at 440 fps. It provides power and ease of use without the complications of a cam system. Lightweight and easily maneuvered, it shoots great from up a tree or on the ground.
Why We Like It
The simple recurve design enables the user to restring and work on the bow at home without a bow press. With minimal moving parts, there is less that can go wrong with it plus it's easy to service and maintain. Weighing in at 6.3 lbs, it can be shot freehand or from a rest. Excaliber has a top-notch warranty.
Things to Consider
It's one of the widest crossbows on the market. Sitting 30 inches end to end uncocked, it could get hung up on branches if you aren't paying attention. You'll want to have a crank on hand, the heavy draw weight is difficult to pull without one.
Cheapest Crossbow for Deer Hunting: Bear Archery Trek 380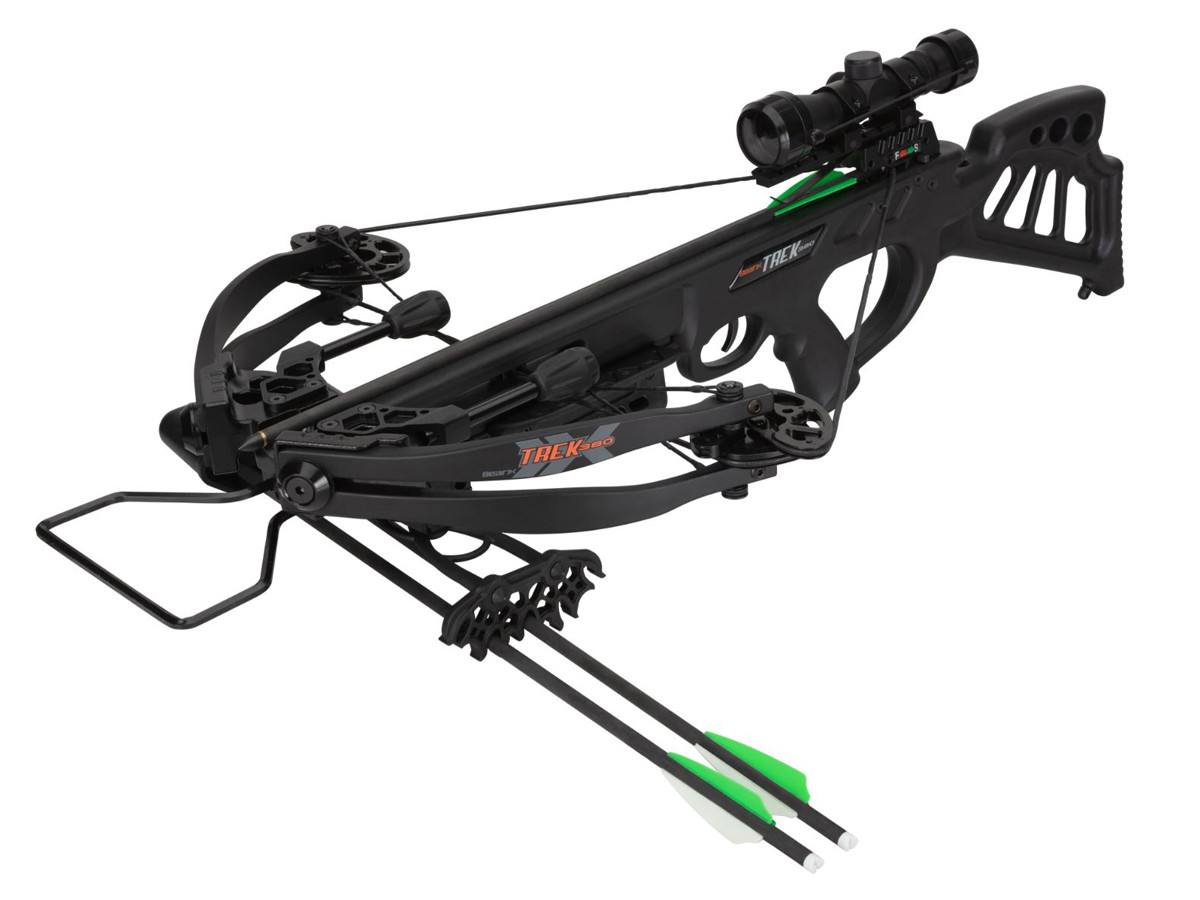 Product Details
This ready-to-hunt package offers hunters of all ages and sizes the opportunity to take their favorite prey at an affordable price. Multiple grab locations offer extra maneuverability. Built for the hunter, the Trek 380 provides speed, accuracy, and quality performance.
Why We Like It
The Trek 380 is set up and ready to hunt with scope, arrows, etc. It's a great way to test whether you like crossbow hunting without investing too much. The double-string stops help with consistent shooting and minimize vibration. It's created and backed by Bear Archery, one of the originators of the industry.
Things to Consider
It's an entry-level crossbow that will get meat in the freezer but don't expect it to do much else. It's wider than many other compound crossbows at 17.5 inches from axel to axel. The scope is a fixed power 4x nonilluminated scope which isn't suited to all hunting situations and requires a decocking bolt.
Best Budget Crossbow: CenterPoint Amped 425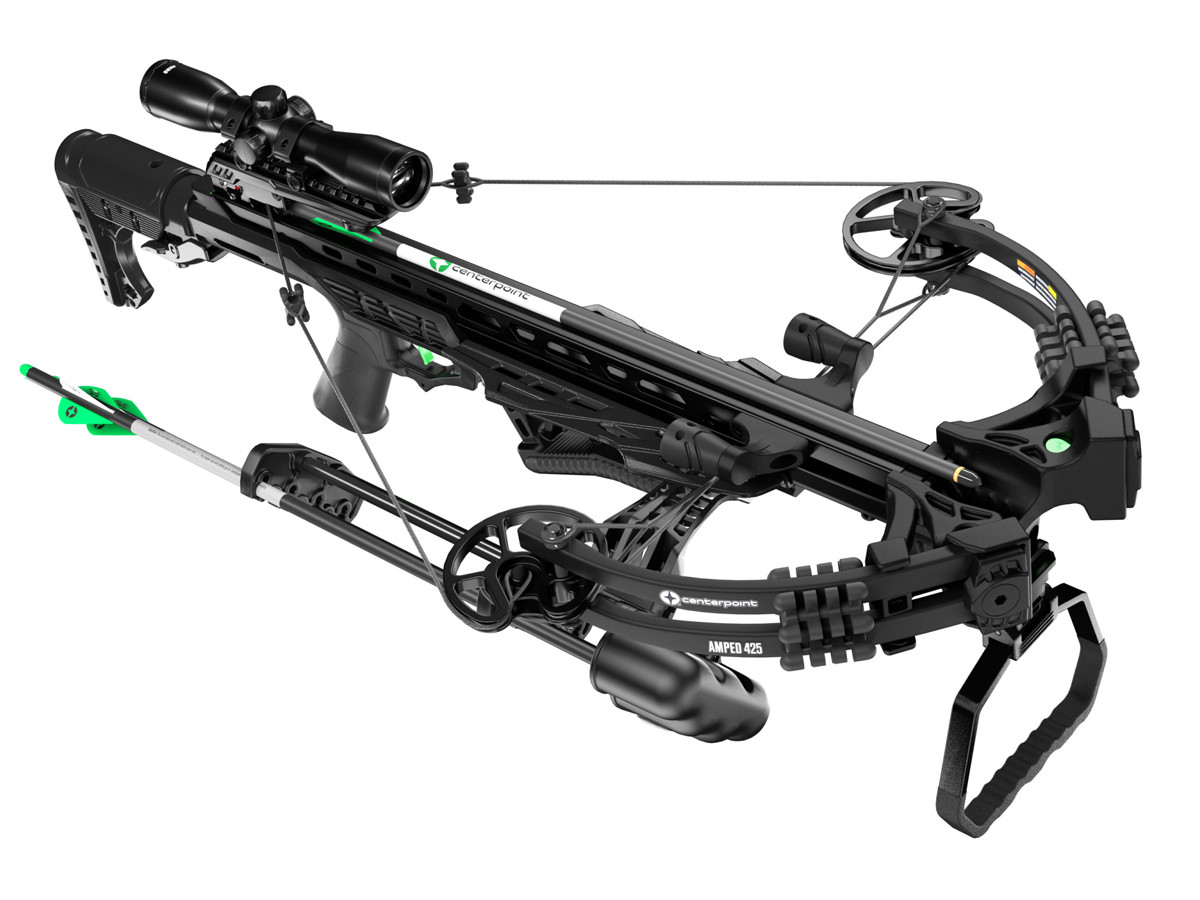 Product Details
Shooting at 425 fps, it has the power to take large game with ease. At 7.8 lbs, it's very light and easy to carry, even on long treks. And it has a silent crank that makes cocking effortless as well as quiet, so it won't scare off your target game. It has the necessary power along with the desired maneuverability.
Why We Like It
This crossbow is fast and affordable; with speeds at 425 fps for $499.99 MSRP. The silent crank is included, and it comes with an illuminated reticle scope. The ball bearing, cam, and arrow retention system minimizes vibration for smooth performance much better than other crossbows at this price point.
Things to Consider
At 36 inches, it might be hard to handle for children or smaller individuals. The cables and string will need changing about every two years and it requires a decocking bolt.
Common Questions
Crossbow vs. Bow
While vertical bows such as compounds and traditional rigs require lots of tinkering and tuning, many crossbows are ready to hunt right out of the box with a single-bolt assembly. Crossbows can now reach lightning-fast speeds surpassing the 500 fps mark, but most compounds peak around 350 fps. For hunters who don't have the strength to draw a vertical bow or can't due to a physical disability, crossbows can be a great alternative to keep them in the woods during archery season in many states. Crossbow cocking aids can cut down the effort required to draw and make operation even easier.
When was the crossbow invented?
Warriors throughout the world used early versions of the crossbow as far back as the 7th century BC, but their basic construction barely resembled the modern rigs hunters shoot today. Those historical iterations of the crossbow most closely resembled recurve rigs, without the moving parts and efficient accessories we use today. Over the last few decades, crossbows have continued to become faster, deadlier, and more compact. With speeds topping 500 fps, more maneuverable footprints, and high-tech features such as rangefinding scopes, built-in cocking devices, and adjustable elements, today's crossbows are incredibly powerful weapons for hunters chasing just about any quarry.
What is the fastest crossbow?
TenPoint's Nitro 505 is currently the fastest crossbow on the market, with devastating speeds of up to 505 fps, thanks to the RX8 Cam System, 20-inch Micro-Trac barrel, and advanced cable system. The Nitro 505 is just 6.5 inches wide when fully cocked and available with optional rangefinding scope upgrades for the most accurate shooting experience. The ACUslide cocking and de-cocking system makes this crossbow incredibly easy to draw. Not far behind, the Ravin R500 can reach speeds of up to 500 fps and measures just 3.6 inches axle to axle when fully cocked and 28 inches long.
Shop for Hunting Crossbows