Home
Best Killer Instinct Crossbows of 2022
With a versatile lineup of crossbows reaching up to 425 fps yet ringing in at a fraction of the cost of comparable rigs, Killer Instinct offers great affordable setups for new and seasoned shooters alike. From super compact crossbows that can go anywhere to customizable models that can adjust for a perfect fit, there's a Killer Instinct crossbow to match every outdoorsman and pursuit. Killer Instinct rigs are equipped with the latest in crossbow tech, including their easy-cocking Integrated Rapid Draw Crank, smooth-shooting X CAM, and ultra-accurate Accutac Barrel. Like all products available from Pyramyd Air, Killer Instinct crossbows are backed by our 60-day money-back guarantee.
Best Killer Instinct Crossbows
Best Killer Instinct Crossbow for Hunting: Fatal X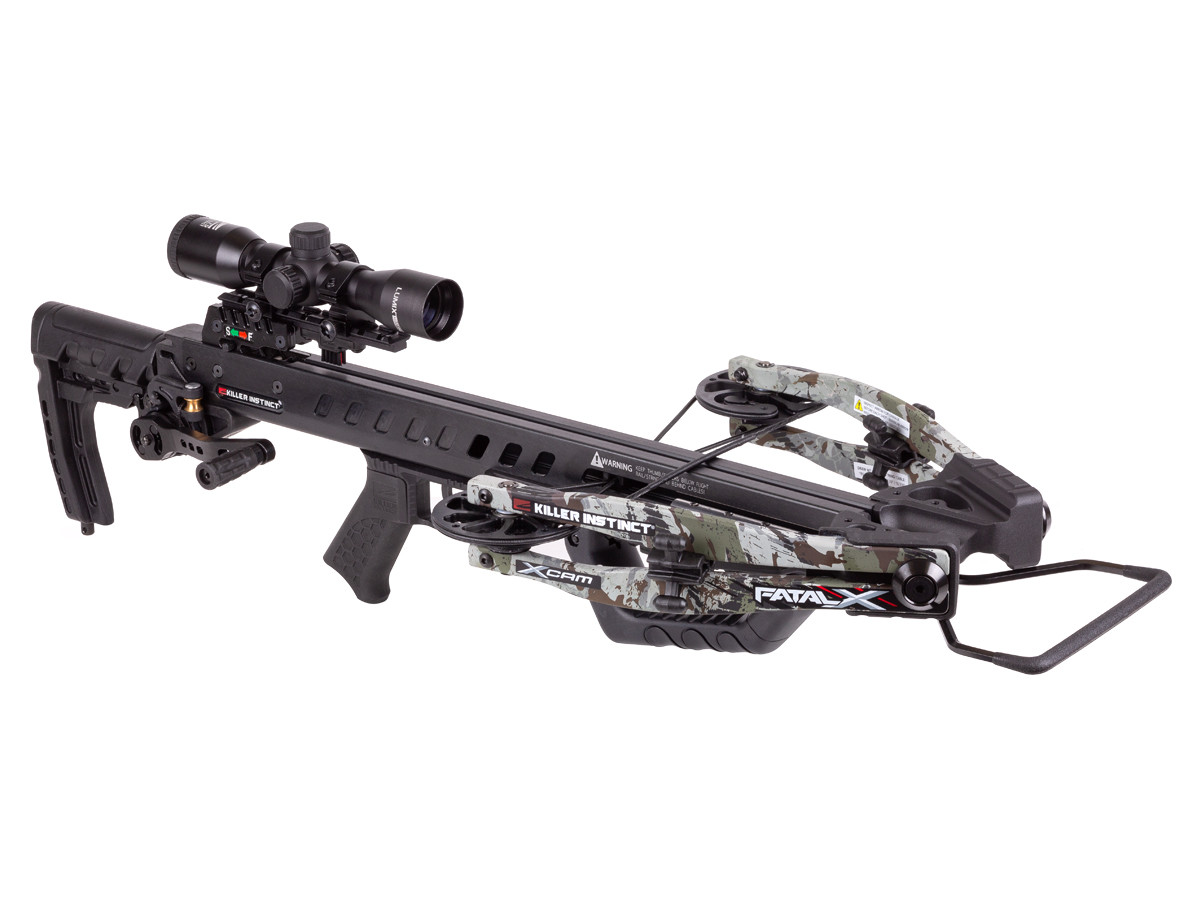 Product Details
With a streamlined design and multi-position buttstock, the Fatal X is the ultimate run-and-gun crossbow. It measures just 6.25 inches axle to axle when cocked and delivers speeds of up to 405 fps. Killer Instinct's X CAM provides 50% letoff for smooth and simple cocking, and the integrated RDC option makes drawing even quieter and easier. The Fatal X is available for just $499.99, while the upgraded RDC crank package is $599.99.
Why We Like It
The narrow profile of the Fatal X makes it easy to maneuver on the move or in a cramped ground blind. And its easy-cocking features - even on the baseline package - offer usability even for inexperienced shooters.
Things to Consider
While 405 fps is more than enough speed to take down your target, the Fatal X is not as fast as competing crossbows or other rigs in the Killer Instinct lineup. And at a still manageable 7.4 pounds, it weighs in at the high end of Killer Instinct models.
Best All-Around Killer Instinct Crossbow: Swat X1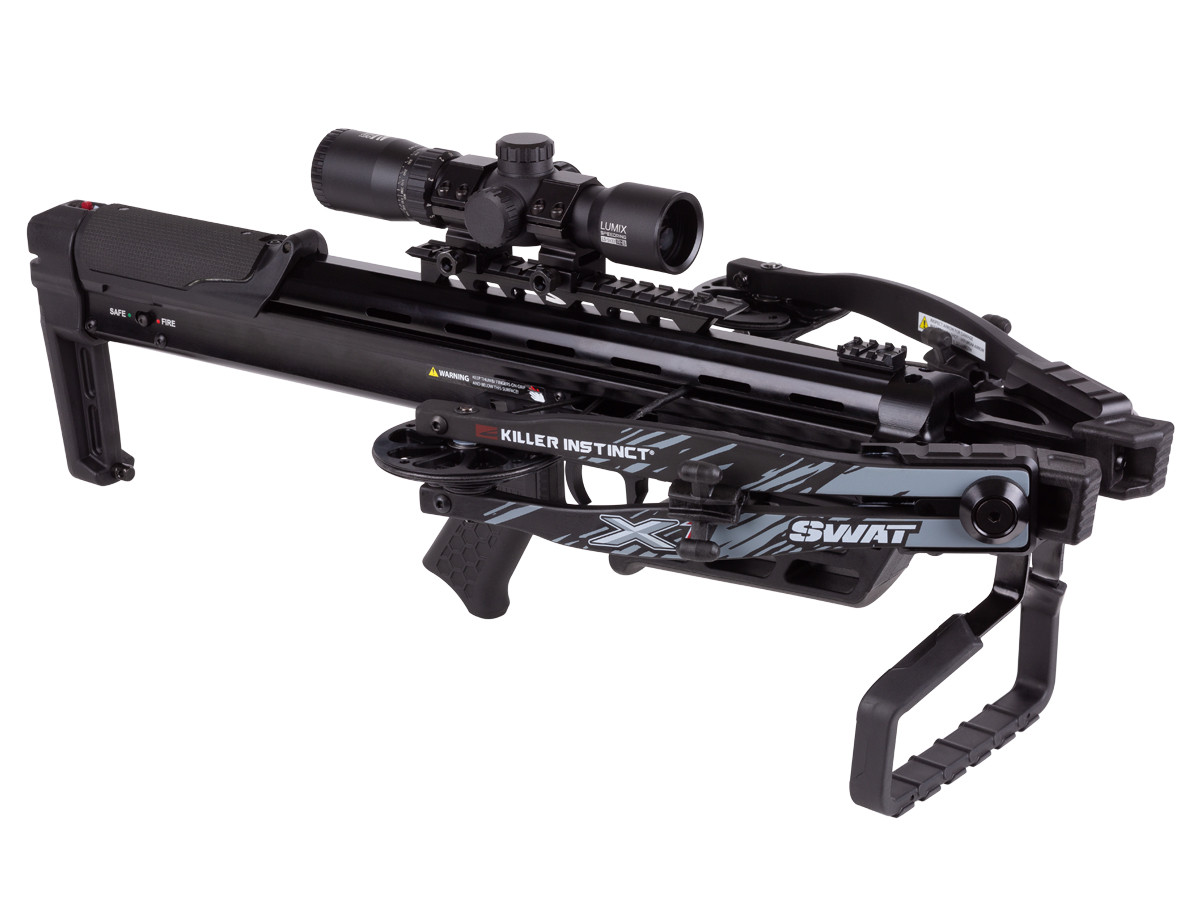 Product Details
Featuring Killer Instinct's Accutac barrel and a zero creep trigger, the SWAT X1 boasts tactical performance and precision accuracy. Capable of producing speeds up to 405 fps, it measures just 24.75 inches long and 6.25 inches wide when cocked. The SWAT X1 Elite Package - which features an HD LUMIX SPEEDRING scope - is available for $1,199.99.
Why We Like It
Even with a super-compact footprint and quiet operation, the SWAT X1 boasts the ultimate in accuracy, thanks to the lethal combination of the in-line limb pocket, X CAM, Accutac barrel, and zero creep trigger.
Things to Consider
While still an excellent value compared to crossbows with similar specs on the market, the SWAT X1 is by far Killer Instinct's most expensive model. But it's not their fastest at top speeds of 405 fps.
Most Affordable Killer Instinct Crossbow: Lethal 405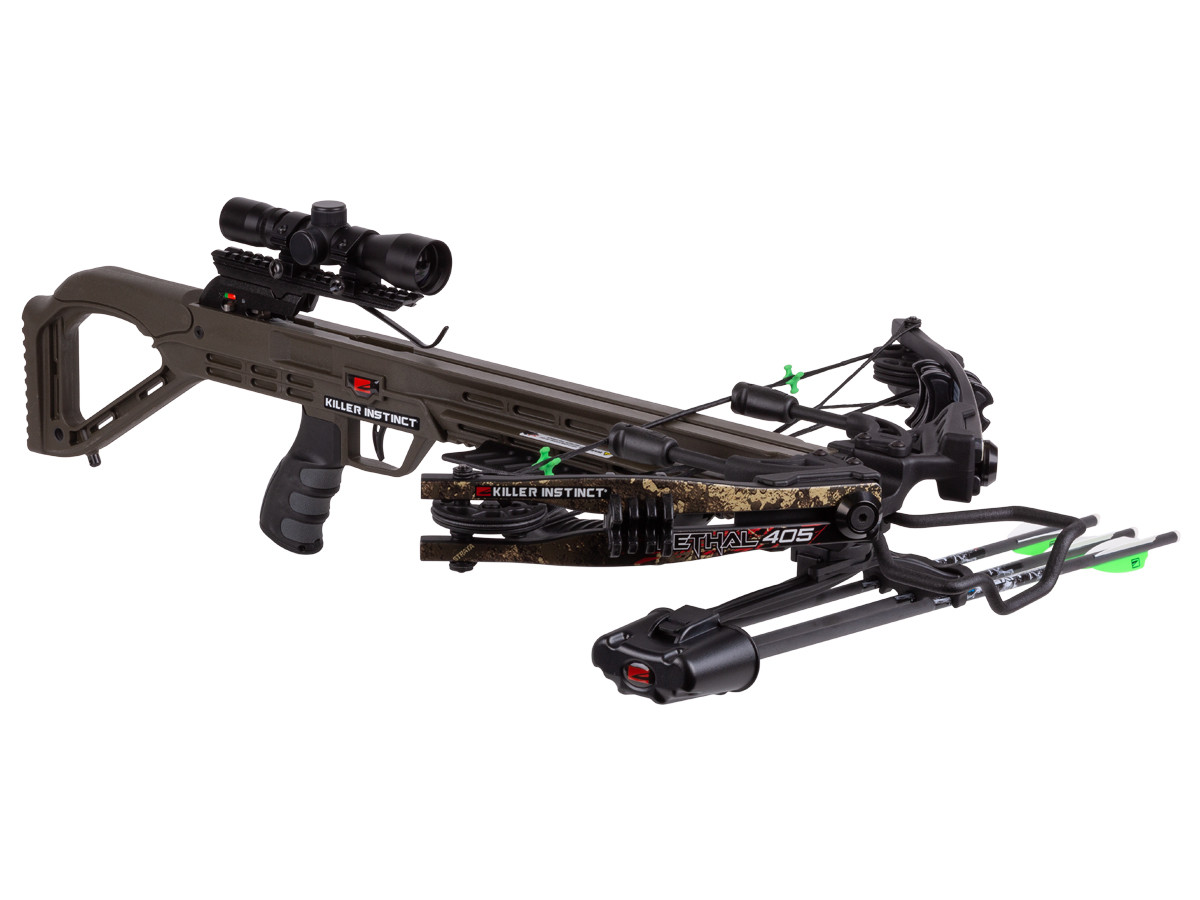 Product Details
At just $239.99 for a fully equipped, ready-to-hunt package, the Killer Instinct Lethal 405 is an incredible value. It fires the HYPR Lite bolts downrange at 405 fps and boasts impressive stealth with custom rubber shock absorbers and a True Timber Strata camo finish on the limbs.
Why We Like It
You won't find a better value in a crossbow that can reach 405 fps and weighs in around the 7-pound mark. It's also compatible with Killer Instinct's DSC Dead Silent Crank upgrade for simplified cocking.
Things to Consider
While the Lethal 405 is relatively lightweight, it has a larger footprint (14.75 inches wide when cocked and 34.5 inches long) than most other Killer Instinct models and may be difficult for some shooters to maneuver.
Common Questions
Who makes Killer Instinct crossbows?
Killer Instinct crossbows are made by the Frankenmuth, Michigan-based company of the same name. The crossbows are manufactured in Taiwan, but Killer Instinct operations are headquartered in Michigan and Minnesota offices. Killer Instinct has been cranking out affordable yet reliable crossbows for decades, and the company continues to offer impressive technology for the price. With rigs reaching up to 425 fps, compact designs for incredible maneuverability, and easy-to-cock crossbows, Killer Instinct has options for hunters and shooters of all skill levels.
Who sells Killer Instinct crossbows?
While Killer Instinct crossbows are available directly from the manufacturer and dealers throughout the country, Pyramyd Air offers the best prices on these already affordable rigs. We carry a variety of Killer Instinct crossbow models, from the best-value Lethal 405 to the high-end SWAT X1. In addition to ready-to-hunt crossbow packages, Pyramyd Air also sells a variety of Killer Instinct accessories to upgrade your hunting setup. We have options to swap out your string, update your optics, safely store your rig, and make your crossbow easier to cock. Like all purchases from Pyramyd Air, these Killer Instinct products come with our 60-day money-back guarantee.
What is Killer Instinct's crossbow warranty?
All Killer Instinct crossbows come with a limited lifetime warranty. This covers manufacturer defects for the life of the crossbow to the original registered owner. Crossbows must be registered within 30 days of purchase either on the Killer Instinct website or via mail, and users must include a copy of their original purchase receipt. Product inspections performed by a Killer Instinct dealer are required every three years in order to maintain your warranty. Be sure to read all the terms and conditions on the Killer Instinct website, as adding aftermarket parts or failing to have your crossbow serviced by an authorized dealer could void your warranty.
Shop for Killer Instinct Crossbows