Home
Best Ravin Crossbows of 2022
With a reputation for fast, compact crossbows featuring groundbreaking innovation, Ravin has been one of the leading names in the industry since its first rig took the bowhunting world by storm. HeliCoil technology paired with the Frictionless Flight System produces the ultimate downrange accuracy on these incredibly reliable rigs. The company continues to push the limits of performance with speeds surpassing the 500 fps mark and unbelievable axle-to-axle widths that can go anywhere. From rigs with electric cocking systems to ultra-accurate Sniper Packages, Pyramyd Air offers a variety of Ravin crossbow models - all backed by our 60-day money-back guarantee.
Best Ravin Crossbows of 2022
Best Ravin Crossbow for Hunting: R500E
Product Details
Capable of screaming fast speeds and boasting a cocked footprint of just 3.6 inches wide, the R500E kicks the innovation up a notch with Ravin's Electric Drive System - which allows for cocking and uncocking with the push of a button. The optional Sniper Package takes the rig tactical with an adjustable turret scope and level for dialed-in accuracy.
Why we like it
At 500 fps, this crossbow is one of the fastest on the market. Its compact size makes the R500E perfect for firing from a cramped ground blind, and the Electric Drive System offers the easiest operation of any crossbow.
Things to consider
At $3,299.99 for the Standard Package and $3,699.99 for the Sniper Package, the R500E is an investment. And although it's compact, the Electric Drive System pushes the total weight up to nearly 10 pounds.
Best All-Around Ravin Crossbow: R29X
Product Details
Incredibly stealthy and deadly fast, the R29X features Ravin's fully integrated Silent Cocking System for an easy, noiseless draw and reaches speeds of up to 450 fps. At 29 inches long, it measures just 6 inches axle to axle when cocked and tips the scales at a featherlight 6.75 pounds.
Why We Like It
With its compact, lightweight frame, the R29X is great for running and gunning, posting up in a ground blind, or hanging 20 feet up. The Silent Cocking System, HeliCoil Technology, and Frictionless Flight System create a lethal combo of stealth and precision.
Things to consider
At $2,599.99 for the Standard Package and $2,999.99 for the Sniper Package, the R29X isn't Ravin's most expensive rig but still rings in on the high end of the market. It's fast but not the fastest and compact but not the most compact.
Most Affordable Ravin Crossbow: R10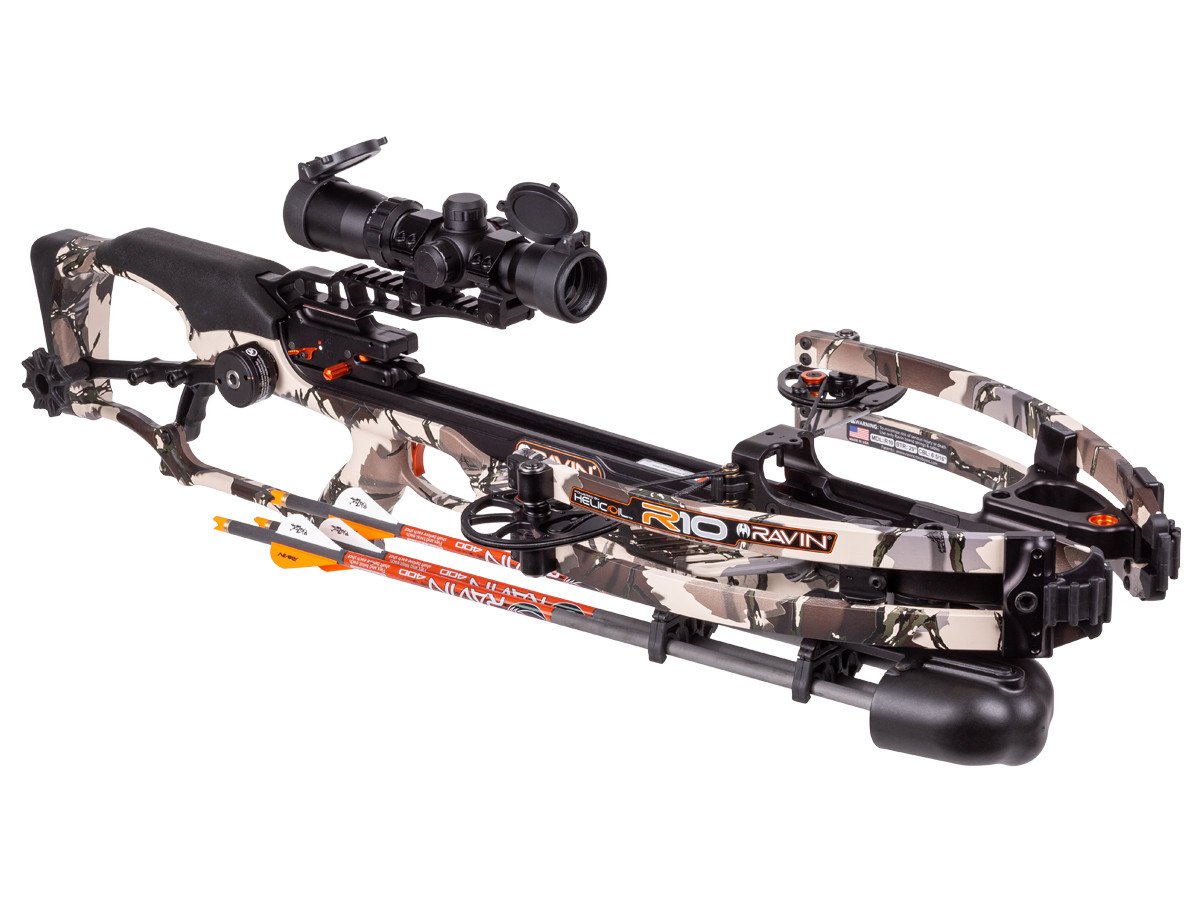 Product Details
Ringing in at a third of the cost of Ravin's priciest package, the R10 comes as a ready-to-hunt package with a 100-yard illuminated scope, removable 3-arrow quiver, 3 arrows with field points, and a built-in cocking mechanism. It boasts Ravin's signature slim profile at 6 inches axle to axle when fully cocked. The 6.8-pound rig can reach speeds of up to 400 fps at just $1,299.99.
Why we like it
It's light. It's narrow. It's fast. While the R10 might not be Ravin's best in any one category, it's a solid crossbow that's ready to hunt right out of the box at an excellent value.
Things to consider
The R10 is a bit longer than Ravin's other models at 33 inches, so it's a little more difficult to maneuver in tight spaces. And while 400 fps is plenty of speed, it's well behind the company's fastest crossbow reaching 500 fps.
Common Questions
Are Ravin crossbows worth the money?
Although Ravin rigs can be costly, they feature some of the leading innovations in the archery market and are built to last. Specs vary by model, but all Ravin crossbows boast compact footprints and impressive speeds. Ravin's revolutionary HeliCoil technology changed the crossbow game and ensures reliable downrange accuracy on any target. The company's Silent Cocking System and Electric Drive System can eliminate the challenge of loud, difficult cocking, and optional Sniper Packages allow for unmatched precision. If Ravin's top-of-the-line crossbows are a little too steep for your budget, start with one of their more affordable packages such as the R10, R18, or R26.
How far can you shoot a Ravin crossbow?
With HeliCoil technology and the Frictionless Flight System, Ravin crossbows are rated for dead-on accuracy up to an impressive 100 yards. Perfectly balanced cams rotate 340 degrees to produce precision speed, while patent-pending technology keeps the arrow and string free-floating above the rail to eliminate friction during the shot. Add in incredible speeds of up to 500 fps, and Ravin advertises rifle-like accuracy at 100 yards downrange. While the 3-inch punched bulls-eyes may be easy to replicate on foam, hunters should use discretion when shooting at game and only take ethical shots at distances they're comfortable and confident with.
How do you load a Ravin crossbow?
Ravin crossbow models vary slightly, but loading is similar across the board and should only be done once a shooter is in position and after the crossbow is cocked. Make sure the safety is in the SAFE position and the crossbow is pointing in a safe direction. With the odd color fletching facing down, carefully grab the arrow just behind the field point or broadhead and slide the Ravin Clip-on nock onto the bowstring until you hear a click. Ravin crossbows are incredibly powerful, so be sure to follow specific directions for your model to ensure safe operation and prevent injury.
Shop for Ravin