by B.B. Pelletier
Last week one of our readers described a Daisy he had as his first airgun, but he didn't remember the model. Here is the description: "The first gun I owned was a BB gun that cocked with a breaking slide underneath the barrel. The magazine was unscrewed from the barrel, and as I recall it held about 50 bb's."

The pump mechanism was a powerful force multiplier!

1930 variation of Daisy's No. 25 pump gun.
You have a good memory. Your BB gun was a Daisy No. 25 with a 50-shot forced-feed magazine that is removed from the gun to load.
No. 25 is the world's most popular BB gun!
I bet you thought the Red Ryder held the title as the world's most popular BB gun. According to Daisy, more than 20 million No. 25 pump guns sold from 1913 through 1986, making it the longest-running BB gun.
It all began in 1913
Blue Book says the gun started production in 1914, but some guns were actually sold in the latter days of 1913. The gun was developed by Fred LeFever, a gun designer and member of the famous LeFever shotgun family. He came to Daisy in 1912 to complete this model – and ended up staying 45 years!
Most powerful BB gun
The compound leverage of the long pump stroke meant Daisy could use a strong mainspring in the 25, making it the most powerful BB gun they had. Since then, it's been eclipsed by CO2 guns and pneumatics, but for many decades it out-shot every other BB gun. Blue Book claims a velocity of 450 f.p.s. I've never seen one go that fast, but I have seen 375 f.p.s. with modern steel BBs.
50-shot forced-feed magazine
The magazine has to be removed from the gun for loading. It holds 50 BBs under spring tension, so there is never a dry fire as there can sometimes be with gravity-feed. All the guns from 1913 to about 1930 had lead BB magazines for 0.175-diameter air rifle shot. When Daisy switched to steel BBs, the size was reduced to 0.171 to 0.173, and a new type of shot holder had to be installed in the magazine. I use Beeman Perfect Rounds in my old guns because, at 0.177, they fit the magazine great!
Many popular variations!
No. 25 guns exist in a wide variety of popular variations. Perhaps, the best-known and most well-liked of all is the 1936 engraved model. It was made until about 1952, when Daisy switched from wood stocks to plastic and from blued steel to electrostatic paint. Many little boys lamented this change, but used guns were – and still are – available.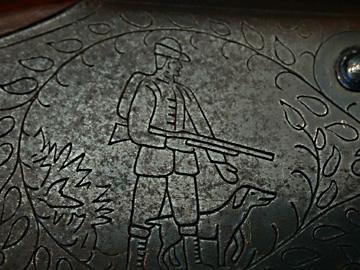 Detail of the engraving on a 1936 variation.
My 1930 No. 25
I bought my 1930 variation from a flea market vendor about 12 years ago. It still shoots steel BBs at 375 f.p.s., though I shoot only lead in the original magazine (I have several spare magazines for my 25s). With the larger Perfect Rounds, it groups about an inch at 20 feet, which I have learned is about the best you can expect from any BB gun except the super-accurate Daisy Avanti Champion 499. (Read my June 6 blog about the 499!)
A very special No. 25
To commemorate their 100th anniversary, Daisy made a very special No. 25. It resembles the original 1915 blued gun very closely, and they stocked it in walnut. This was the last No. 25 they made, though the model 225 is a variant that continued to 1993. These collectible No. 25s now bring $150 and more on the used gun market, and they will continue to increase with each passing year.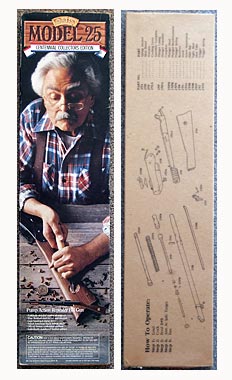 Daisy celebrated their centennial with a special No. 25!
If you ever have the opportunity to get a No. 25, it's a pretty safe investment. A good used shooter with wood stock is worth $75 today, and the engraved model in good condition now brings $80 or more. In excellent shape, a wood-stocked No. 25 fetches around $350!