by B.B. Pelletier
Before I start, let me tell you that I will be out of the office for about a week, starting today, so I won't be responding to reader comments during that time. My postings will still be made. Please spread the word to the other readers that I'll respond to questions when I return. Thanks!
In the October 10 posting, we looked at the Beeman Kodiak pellet. Today, I'd like to look at another classic projectile that's been around for decades – the RWS Hobby.

Hobby pellets are well-formed and accurate in both calibers.
The lightest pellet around!
For two decades, the RWS Hobby was the lightest pellet available in .177 caliber. Consequently, nearly everyone used it for velocity testing. On the Pyramyd AIR website, the weight is shown as 7 grains in .177, but I have weighed a good number that averaged 6.9 grains. Since most .177 pellets weigh 8 to 9.5 grains, Hobbys are very light in comparison. Now, the synthetic-skirted Skenco Hyper-Velocity pellets, which weigh just 5.7 grains, lay claim to the title for lightest weight and highest speed.
The Hobby is more than just a light pellet
Hobbys come in both .177 and .22 caliber. They were probably created to give RWS a pellet that was good for general shooting but not quite the cost (or precision) of the Meisterkugeln. In the opinion of many airgunners, they surpassed the mark, because Hobbys are often just as accurate as Meisters or any other target pellet. In a few special cases, they are the best pellet of all!
Hobbys fit tight!
Even though they are light, Hobbys are not small. In fact, they are among the larger pellets in their caliber. If you have a gun with an oversized bore, like an older Webley pistol or BSA rifle, chances are good the Hobby will fit better than some heavier pellets. This tight fit is especially important in spring guns, because it helps seal the bore so the small amount of compressed air can't slip past. That keeps the piston head from slamming into the end of the compression chamber, which can only be good. The next time you notice pellets fitting loosely in your gun, try a Hobby.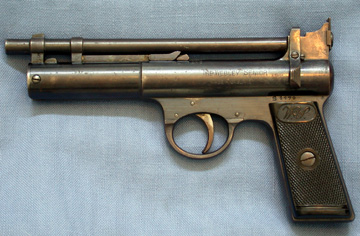 Older Webley spring pistols, like this pre-war Senior, have extra-large bores and need larger pellets to help seal the air. The Hobby is good for this.
Hobbys are a great value!
Many .20- and .22-caliber pellets come 300 and even 200 per tin to keep the price low. Hobbys come with a full 500 pellets in .22 caliber, the same as .177. The tins are deeper in .22 and they make useful containers when the pellets are gone. If you oil your pellets, a .22 Hobby tin is deep enough to put a layer of foam in the bottom to hold the oil and still put in several hundred pellets. So, don't thrown all those old tins away!
Hobbys are pure lead
Like most European pellets, Hobbys are pure lead. That means unless you shoot them at 1,000 f.p.s., you don't have to oil them to keep your bore clean. Pure lead, shot at lower velocities, makes the cleanest-shooting projectile known, and Hobbys are pure.
Whether you want to save a little money, or you want to try a classic wadcutter pellet that has a good reputation, Hobby pellets just might fit the bill. Try Hobbys in every airgun you own, and you just might find a new favorite pellet!