by B.B. Pelletier
Today's post is an answer to a question that came in last week. The reader asked, "What are the differences between Weaver, dovetail and Picatinny bases and rails?"
This is a question that a lot of airgunners and firearms shooters have and are unwilling to ask because they think everyone else knows the answer. I thought I knew and was surprised to discover a few things I didn't know. For our discussion, the terms base and rail are synonymous.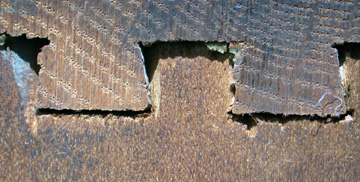 Dovetails have been used by cabinetmakers for centuries.
Dovetails look like…well, the tail of a dove!
The dovetail is centuries old and probably originated with woodworking joinery. This is not a history lesson, but we are surrounded with antique furniture that's held together by this joint. I believe the name originally came from the fact that the triangular shape of the joint resembles the tail of a dove.
The airgun dovetail is a parallel set of grooves running along the top of a receiver to which scope sight bases may be clamped. The width of the airgun dovetail is often quoted as 11mm, but in reality it varies from 9.5m to almost 14.mm! Not a lot of standardization there! However, modern airguns seem to conform to the 11mm size more than vintage guns. BSA is the notable exception.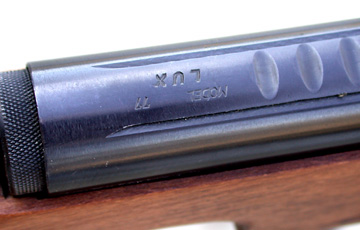 This Slavia 631 has dovetails for mounting a scope.
B-Square publishes a free brochure on airgun scope mounts. It has a chart of the sizes for most popular airgun dovetails. B-Square is also the ONLY mount maker who has attempted to do anything about the variation in airgun dovetails. They have created airgun mounts that adapt to dovetails of varying widths and angles – something all other mount manufacturers turn a blind eye to. That is the reason that I usually recommend B-Square scope mounts over all other mounts on the market!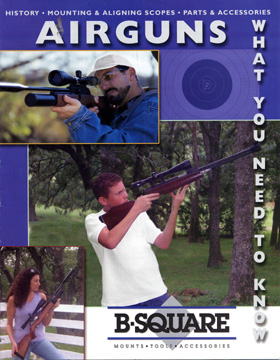 Get B-Square's airgun mount brochure free!
Don't use rimfire dovetails!
Rimfire rifles are also grooved for scope mounts. The industry settled on dovetails with a 3/8″ separation, which turns out to be surprisingly close to 11mm! But the mounts made for rimfires and sold in discount stores or gun stores are the lowest form of garbage! Never use them on an adult airgun.
Weaver mounts don't work on airguns
Weaver mounts originated just before 1950. They were the first attempt to provide standardized scope mounts for rifles. They feature an integral recoil block to keep the rings in one place. Before Weaver mounts, rifles were most often drilled and tapped for small setscrews that sometimes snapped under heavy recoil. The Weaver base has a 3.8mm cross-key slot that accepts special Weaver keys located on the bottom of all Weaver rings.

Weaver base has cross slots that accept the keys found on the bottom of Weaver rings.
Weaver bases are great for firearms but too wide for airgun rings. Also, the locations of the cross slots are not standardized, so Weaver bases work best with two-piece rings. But, there is something even better!
The Picatinny rail is the most versatile of all bases
Picatinny Arsenal in New York is an ordnance arsenal. In the 1960s, they created a new type of scope mount for heavier weapons. It resembles a Weaver base, but the notches are 5mm wide and located at precise intervals along the rail. Any manufacturer can make a mount to fit a Picatinny rail! In the 1970s, Picatinny rails migrated to small arms use, and today they are widely used by the military and law enforcement to hold not only scopes but also flashlights, lasers, rangefinders and night vision devices.

The Picatinny rail is the most recent and the best of all three base systems!
Picatinny is not the same as Weaver!
This is where I became confused, because Weaver rings easily fit into Picatinny bases. The problem is that Weaver cross slots are smaller, which allows a lot of slop, so even though they do fit, Weaver rings are not compatible with Picatinny bases!
It's academic to most airgunners
Since you won't find Weaver or Picatinny bases on an airgun, they are almost academic, as far as airguns go. However, if you want to use a set of Weaver rings on an airgun for some reason, UTG has an 11mm to Weaver adapter. In all other cases, you want 11mm airgun dovetail mounts.
Anymore questions? Let me know!