by B.B. Pelletier
When I was young, I was interested in old firearms, but all the articles written about them said I had been born 30-50 years too late. All the real deals were long gone by the 1950s. As an adult, I became interested in collectible airguns, and it looked like the same thing had happened! Then, I paid greater attention to the airgun market and, son of a gun, if things didn't get MUCH better! Today, I'll share how it works.
Starting out as a collector
Rule No. 1: Keep your eyes in your head and be realistic. That Sheridan Supergrade you want, used to cost $300 20 years ago, but now you can't touch it for less than $700. Don't fret, but also don't cash in your life insurance to get that gun. Instead, do what I do – use…
The stepping stone approach
You're probably not going to luck into a Sheridan Supergrade for $300. But it could happen. So always be prepared if it does (always have quick access to some cash) but don't hold your breath. Instead, look for targets of opportunity.
Say you have three pawn shops, two flea markets and an antique mall that you visit. One day you spot a strange-looking Daisy BB gun in one of those places. If it was a Red Ryder, it would be overpriced from the git-go, but this one is an 1894 Texas Ranger commemorative new in the box. The price tag says $100 because the gun is so nice. You know Daisy hasn't made the old-style 1894 since 1996, and some of the commemoratives are worth some cash. You dicker with the dealer and wind up with the gun for $75. You also bought some other stuff, so he was inclined to be softer on his price and you talked a good line. The other stuff sold for what you had in it, so this gun cost you $75.

My Daisy 1894 Texas Ranger commemorative BB gun was made in 1973-74, yet it's worth more than a like-new original 1940 Red Ryder!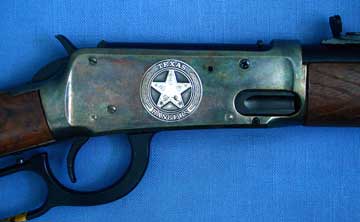 The receiver is colored to look like case hardening and has a Texas Ranger medallion.
Rushing home, you turn to the Blue Book of Airguns, 5th Edition and discover that your new/old Daisy is the rarest one ever made and worth $600! Sound impossible? Well, I did that exact thing not six months ago. I wasn't looking for that particular airgun, but I knew from the Blue Book what things should cost. Now I have $600 (or more!) toward that Supergrade, if that's what I want.
Story No. 2 – not as fast
That was a wonderful story and it did happen, but it's not what normally happens. Usually, I'll spot a Crosman 130 pistol for $20 in an antique dealer's booth. My wife actually found the one I'm referring to, and you read about it on September 19 in the posting Another oldie – Crosman 130. It cost me another $37 to get it sealed, and I could sell my $57 gun for $80 on one of the gun auction sites. Or, I could've gotten lucky and a shot of Crosman Pellgunoil might have fixed it – and I would have saved $37. If I watch my hot spots regularly, I'll find an average of one gun a month like that.
How to go broke – quickly!
Gun collectors know that there is NO money in Winchester commemoratives. They avoid them like the plague. The same is true for every commemorative airgun that has no top limit on the number produced. Beeman commemorative nickelplated rifles and RWS commemorative rifles are an example of this. They aren't worth a penny more than the same model in plain clothes. On the other hand, the Daisy Christmas Story Red Ryder that sold for about $60 in 1986 is now worth over $350!

The name of this gun is "opportunity," and it's knocking RIGHT NOW!
Here is a gun that will make you money!
Right now, on Pyramyd Air's website, there is a Crosman 760 commemorative. Crosman only produced 1,500 of these to commemorate the 40th anniversary of the 760, and Pyramyd Air has it listed for ten dollars UNDER the suggested retail! Guys – I can joke with you and I can scold you, but I can't buy your guns for you. If you want to get into airgun collecting, BUY THIS GUN RIGHT NOW! In five years, it will be worth $125. In 10 years…who knows? When you're as old and feeble as I am, you will have a treasured story about the "good old days," when you could still get incredible bargains in collectible airguns.