by B.B. Pelletier
Here is an observation expressed by a reader named Michael. "If you have to place your cheek in the same place every time [to shoot a scoped rifle accurately], what happens with [a scoped] pistol? My guess is that one would have to practice a LOT to make sure the gun was exactly the same distance, height etc. EVERY time. I wonder if it is possible to get BETTER accuracy with a scope on a pistol."
That's a good observation!
Michael has thought it through and he's right – shooting a scoped pistol is a lot harder than shooting one with open sights for exactly the reason he states. But the pistol scope is designed to help you. Unless you hold the pistol correctly, it is difficult to see the reticle or even the image in the scope. The better the scope, the harder it will be to see through it unless it's in the right position. This can be very frustrating to shooters unaccustomed to using a scoped pistol.
I'm no expert
I dislike scopes on handguns, but I have used them. I learned the necessity of holding the pistol two-handed at arm's length to acquire both the image and the reticle. Because I hate holding a handgun with two hands, this bothers me. After all – it's a HAND gun, not a HANDS gun. At least, that's my thinking.
They are more accurate
On the other hand, a scoped handgun can be more accurate than one without a scope for the same reason a scoped rifle can be more accurate. It has to do with the precision of aiming. With a scope, it's just far easier to hold exactly where you want because you see the aim point magnified in the eyepiece. There is an entire group of firearms hunters who use handguns exclusively and the majority of these are scoped. There are scoped handguns shooting centerfire rifle cartridges that can group nearly as well as a rifle!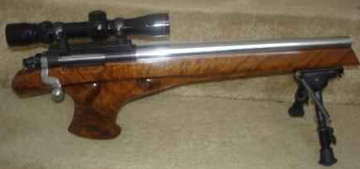 Remington XP100 is a popular hunting handgun. This one is caliber .222 Remington.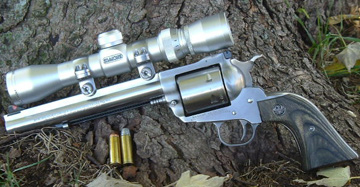 Stainless Ruger Super Blackhawk in .44 magnum is a good deer gun.
Handgun scopes are more expensive
Pyramyd Air doesn't carry a lot of pistol scopes because they don't sell that many. Pistol scopes have an extra long eye relief of about 20 inches, which makes them very different from rifle scopes. The low demand tends to keep the price a little higher than rifle scopes, which sell in far greater numbers. The only pistol scope I've found at Pyramyd is the BSA pistol scope in either black or silver finish.
Handgun scopes are lower power
A handgun scope has to be lower power because the eyepiece is so far from the eye. The field of view is very limited, and high power limits it even more, so 1x and 2x scopes are common. A 4x scope is a real monster in the handgun world, though Burris does make a variable that goes up to 12x.
Handgun scopes are gaining in popularity, even in the airgun world, so maybe we'll hear more about them in the future.