by B.B. Pelletier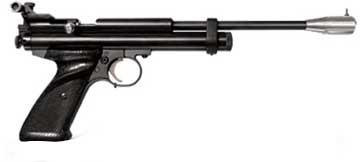 Crosman's new CO2 pistol! The 2300S is the gun that aftermarket makers have been building for years. Now, Crosman offers it straight from the factory
You can tell a lot about a company by the new products they field, and Crosman is a company that's alive with new products. Some of them, like this new Crosman 2300S target pistol, show they are listening to the serious airgun market.
What is the 2300S?
You may not know this, but Crosman doesn't offer a .177 version of the 2240 pistol. That's just the reverse of what usually happens, because .177 is so much more salable these days. Well, the 2300S is a longer-barrelled .177 version of the 2240. However, it's a lot more than just that.
Lothar Walther barrel!
Crosman gets it, don't you see? They know serious shooters want a serious barrel on their guns. Even though Crosman happens to make a heck of a nice barrel of their own, they put a Lothar Walther barrel on this gun. And, they specified a CHOKED barrel, which you know is the most accurate kind. The barrel is 10.1″ long, which gives you the double bonus of higher velocity AND a few more shots. The greater efficiency of a long barrel is best used on a CO2 gun. Crosman says you'll get 60 consistent shots from a single 12-gram powerlet. But, the good news doesn't end there.
New bolt
This pistol has a stainless steel bolt with a longer handle for better purchase and a longer probe to seat the pellet deeper into the rifling. Deeper seating should give more consistency, and that should translate to increased accuracy. Crosman gets it, again!
Special Williams receiver sight
I know Williams receiver sights, and this isn't one I've seen before. It looks like it's based on their sport aperture sight with micrometer adjustment knobs, to which an open rear notch has been added. The association of Crosman and Williams goes back to the 1960s, and I suspect Crosman requested this modification just for this pistol. Obviously, someone at the company who knows about target airguns and what makes 'em tick! Score another one for Crosman.
The new pistol meets the requirements for IHMSA Production Class silhouette pistols, and it's also a dandy target pistol. The trigger is single-stage and adjustable from 1 to 4 lbs. In this day of liability suits, Crosman engineers must have drugged the lawyers to get that one approved! The trigger also has an overtravel screw, which you want in a target pistol.
Power is adjustable from 440 to 520 f.p.s., according to Crosman literature. That's done by adjusting the hammer spring tension, which is the same way most CO2 guns with adjustable power do it. The top end is powerful enough for hunters to take a look.
All these niceties come at a price, of course. The company has to buy both the rear sight and the barrel, so the retail price has to include them, as well. I predict that serious pistol shooters are going to want one of these. I'm putting in my request to get one for testing right now. As soon as I know – you'll know.