by B.B. Pelletier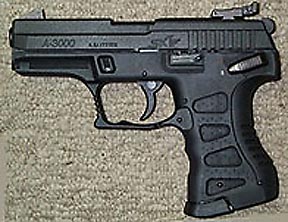 Anics Skif A3000 is an attractive CO2 pistol. Holding 28 shots, it is the high-cap leader among pellet guns!
I was asked to report on this air pistol by one of our readers. I don't think very much of the gun, and I'll try to tell you why, but for the sake of the person(s) who might like to get one, I will also try to tell all its good features.
28-shot repeater!
Right off the bat, the A3000 has the largest magazine capacity of any pellet pistol I know of, and also one of the largest BB magazine capacities. It shoots both BBs and pellets, which I will get into in a moment; but, with 28 shots on tap, it out-classes every other repeater on the market. The magazine is a transparent plastic stick affair with individual tubular pellet/BB holders running around like bumper cars on the inside. They follow an elongated track clockwise, until finally aligning with the barrel for firing. You load each chamber from the rear, then manually advance the tubes. Loading takes some time, but this is a double-action pistol that fires as fast as you can pull the trigger.