by B.B. Pelletier

B26 from BAM is an attractive copy of the Beeman R9. Scope is Leapers' 3-12×44 compact Tactical SWAT scope.
One of our readers asked for this review, and, as I happened to have access to a .22-caliber B26, I was able to test it. The B26, made by BAM, is a second-generation Chinese copy of the Beeman R9/HW95. The first-generation copy is the B20, which was, and still is, an impressive airgun for the Chinese, but not up to Gamo quality or accuracy. The R9 was in no danger from the B20. It's a tough act to follow for any airgun, and I'm cutting this one no slack. Let's see what she's got!
Appearance
The rifle is very attractive for a Chinese spring gun – heck, it's attractive for ANY rifle. Period! The bluing is even, and the metal underneath is finished nearly as nice as a Weihrauch. But the bigger story is the wood stock. First, it's a nice piece of wood – really looking like walnut with a very even medium brown stain. Second, it's shaped as well as any German stock. Third, there are no gouges or divots filled with with wood putty – the trademark of Chinese gun stocks to this time. The butt is padded with a solid black rubber pad that's fitted as well as any I've ever seen.
The only drawback is that the manufacturer shipped the gun in a single cardboard box with minimal padding and support, and a rifle stock simply cannot travel from China to America without more protection than that. As a result, the stock on my rifle has a tiny crack running with the grain in the pistol grip – the weakest spot on a rifle. Other than that flaw, the stock is wonderful.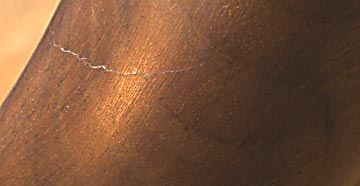 Stock was marred by the presence of a hairline crack on the font of the pistol grip. It runs along the grain of the wood at this weak point.
Physical specs
The rifle measures 42.5″ long with a 16.25″ barrel. The one I am testing is a .22, but it also comes in .177. Weight is about 7 lbs., 5 oz., but that will vary a little depending on the density of the wood used in the stock. The sights are a fiberoptic post in front and fully adjustable notch (also fiberoptic) in the rear. The front sight is in a globe with massive cutouts for light to pass. Both sights are easily removable.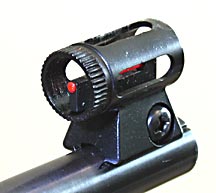 Front sight is a hooded post with a red fiberoptic bead.
Rear sight is a conventional notch with fiberoptic inserts. Windage and elevation screws bind and get loose as they adjust.
Trigger and safety
The trigger is a copy of the Rekord, a two-stage modular unit with adjustable pull weight and, if you know how to do it, adjustable letoff. As it came, it was not adjusted correctly. There was actual creep in the first stage, which, coupled with a light second stage, made a good shot nearly impossible. I intend adjusting this trigger to see how nice it can become. If it's like a Rekord, it should be pretty nice. The safety is identical to Weihrauch's safety, which goes on automatically every time you cock the gun. To reset it, you must break the barrel all the way, as though cocking the gun again. I've had some Weihrauch safeties on brand new rifles malfunction until they were cleaned, but the one on this rifle is crisp and positive.
Cocking is light and smooth
The cocking effort is an incredibly light 24-25 lbs. of effort, about 2-3 lbs. less than even the R9, which was itself a light cocker. That fact makes the B26 stand out, though all Chinese spring rifles have been easy to cock. Usually, the reason for light cocking is that the mainspring has taken a set or broken, but I don't think that is the case with this one. It has too much power. Cocking is also smooth, though the gun does honk like a goose when cocked. That's a sign of a piston seal that could used some lubrication.
Firing behavior is quick and smooth
It fires with almost no vibration and just a quick forward jump of recoil. So far, I've found it to be extremely sensitive to hold, just like an R9.But, even when it's floated on the hands, it doesn't move much upon firing.
A word about the scope
I've mounted Leapers' 3-12×44 compact Tactical SWAT scope for this test. It's sized just right for a smaller rifle, plus it gives a crystal-clear image of the target. The reticle is a bit thick for paper target shooting, but I'm not going to be shooting past 40 yards, so it shouldn't make that much difference.
First test
I've already had this rifle to the range two times. The first time I tried it at 50 yards and was disappointed with large groups. The second time, I shot at 25 yards with JSB Exact Diabolo Jumbo pellets and got groups as small as one inch. While that is not a super showing, I think the rifle deserves more testing with other pellets after I've had a look at the trigger. The JSBs weigh 15.9 grains and gave velocities ranging from 693 to 778. That kind of spread would open groups beyond 25 yards but shouldn't affect the closer shots that much. Most of the shots seemed to cluster around 750 f.p.s., which gives a muzzle energy of 19.86 foot-pounds. That is astonishing! I want to see whether the gun settles down and what can be done to the trigger to improve the situation.
Perhaps the B26 is a breakout Chinese adult air rifle.