by B.B. Pelletier
First, some news about Blogger that's affecting all of us. Blogger must have made a software change recently that has screwed up our postings. They now take a very long time to show up on the website, and so do your comments. Several of you have had comments refused by Blogger.
We have contacted Google and are working to correct this problem. Please be patient and know that we are aware of what's going on.
I tried to correct the velocity for 7 pumps with the modified gun in Part 2, but Blogger kept reporting the incorrect version of the report. The correct velocity was 563, not 663.
In this third report I will tie up the loose ends of this report on the modified Benjamin 392 and do a test for accuracy.
What about the velocity?
Loose ends first. I contacted the inventor, Bob Moss, and he tells me that he tested all the guns before modification. The .22s were doing 580 with a 14.3 grain Crosman Premiers, and the .177s were doing 660 out of the box with Crosman Premier 7.9-grain pellets. The advertised speed in .177 is 800 f.p.s. I don't have a .177 to test, but I did test my .22 with lighter pellets. Here are the results:
11.3-grain .22-caliber Skenco synthetic pellet
8 pumps………638 f.p.s.
9 pumps………670 f.p.s.
10 pumps…….682 f.p.s.
That demonstrates that the rifle can do the advertised 675 f.p.s., though not with the recommended number of pumps. I did fire the rifle following the 10 pumps and there was no air left in it, so I have a rifle that works with 10 pumps. I'm pumping this gun 10 times because I'm testing it. Neither Crosman nor Bob Moss recommends going over 8 pumps.
What happens to the warranty?
The Crosman warranty goes away with the modification, so Bob Moss gives you a written one-year money-back guaranty with your bill of sale. As I mentioned in the last report, the inside of the gun hasn't been touched, so if it lasts longer than a year, it should be repairable by any repair station down the road. In other words, except for the easy pumping, the gun remains unchanged from a stock gun.
How much?
Bob sells this gun for $265, plus shipping. His modification ends up costing around $125 more than the base rifle. Of course, when you buy from him you get a brand-new rifle that he has modified. He is really giving a lot of value for the price. If you look at the work he has to do to mount his modification – disassembly, silver-soldering the anchor patch, reassembly, testing and refinishing the gun, plus the cost of the parts, he isn't getting rich! On the consumer's side, though, this is a $265 Benjamin 392. You really have to want the lighter pumping effort for it to make sense.
And accuracy?
My 392 has it in spades! It's as good as my 1978-vintage Sheridan Blue Streak, which is very pleasing to me. I used the open sights that, once adjusted, hit right above the aim point at 10 meters.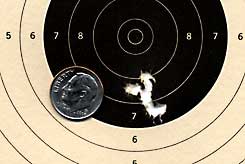 Any time this 60-year-old man can shoot a 5-shot group like this by sighting through open sights and his bifocals, the rifle is accurate. JSB Exact 15.8-grain pellets on 6 pumps.
Turtle asked me whether or not the new 392 will replace my Blue Streak as a "go-to" airgun. That's hard to say, because my wife has a 50 percent share in the decision. But now that I know where the rifle is sighted, I'll probably use it from time to time.
Where do you buy it?
Pyramyd AIR doesn't offer this modification yet. To get one, you need to go directly to the manufacturer. Bob's website is http://airchanics.com/. Follow the instructions found there.
I may do a follow-up on this rifle down the road, just to let you know how it holds up. If I seem to forget to do that, one of you should remind me.