by Tom Gaylord
Initial testing
I received two prototypes of the Benjamin Discovery for testing in July 2007…one in .177 and the other in .22. When you finally have a prototype rifle to test, every project gets scary, because you don't know what the gun is going to do. If these rifles shot groups the size of Oreo cookies at 25 yards, we would be in trouble. But they didn't!
I could test only the .177 at that time because the .22 had a fast leak at the manometer. I fixed it the same day after the shooting was over, so the first test was with the .177 only. The first test was in the backyard at 21 yards and the groups…well, just look at them.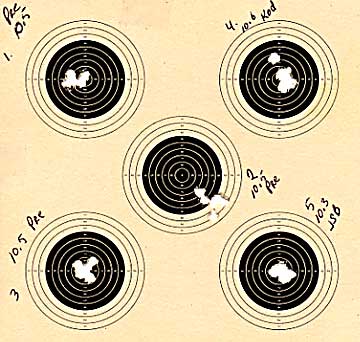 Not bad groups for 21 yards. We're off to a good start.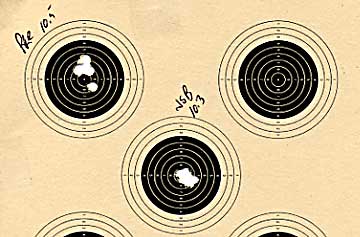 Look at that group of JSBs in the center. Still 21 yards with the .177.
Not a lot of time was spent at this close range, because I could see the gun was going to shoot. And, if the .177 shot well, the .22 probably would, as well, so I shifted focus to sealing the leak on the .22 and getting them both ready to take to my rifle range.
At the range
The club I belong to has 25-yard, 50-yard and 100/200-yard ranges. I started on the 25-yard range, just to give the .22 a chance to show its stuff. The scope I used was a Leapers 8-32×56, because I knew this rifle was going to appeal to long-range shooters and those who want to get into field target. Yes, to answer one question, the .177 Discovery will be fine for starting out in field target. To answer another, the two-stage trigger breaks at 3 lbs., 12 ozs., which many will say is heavy, but I think it's right for a sporter. It's non-adjustable and not much can be done to lighten it, but a shooter who can't shoot a trigger of this weight needs to practice!
25 yards
The groups at 25 yards were okay, and one .177 group of JSBs was astonishing. It measured 0.234″ for five 10.2-grain JSB Exacts. The average group of .177s was more in the 0.375″ range. In .22, the smallest group was also shot with JSB 15.8-grain Exacts and measured 0.354″. On average, .22 groups would enlarge to 0.60″, so I was ready for one-inch groups at 50 yards. They happened, but were the exception.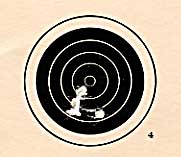 At 25 yards, the .22 caliber rifle proved it could shoot, too.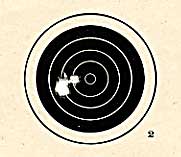 This one group of .177 JSBs at 25 yards was quite astounding, measuring 0.234″.
Then 50 yards
The average group size at 50 yards in both .177 and .22 hovered between 0.75″ and 1.0″, though there were several groups under a half-inch.
The best group of the session was a .22 caliber group of JSBs that measured 0.374″.
For some reason,
Crosman 10.5-grain Premiers
took over from JSBs and produced the best .177 groups…0.458″.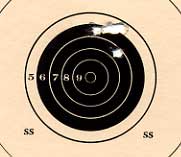 Best .177 group of 10.5-grain Crosman Premiers at 50 yards measures 0.458″.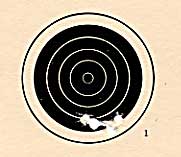 This is the best 50-yard group of the session. Five 15.8-grain JSBs in a 0.374″ cluster.
Under ideal conditions,
the Discovery is fully capable of half-inch groups at 50 yards.
Now and again, it does better. But a puff of wind or a pellet that doesn't weigh the same as the others and the groups open up. This is way better than I would have guessed, especially since I was transferring the scope and mounts between the two rifles on the two different ranges.
Yes, you can shoot field target with it, and, yes, it'll make a wonderful hunter. I've told you where the trigger breaks and some will break even heavier. But, it's crisp and positive, without creep. The scope rail is 9″ long to accept the largest astronomical observatory telescope your money can buy. And speaking of money, the Discovery left some in your pocket, didn't it?
It looks like Pyramyd AIR sells the kit for a little less than Crosman; so when they list the gun by itself, we might see some savings there, too.