by B.B. Pelletier
I'll have more SHOT Show reports for you soon. I see that a lot of you are interested in the new models that are coming out. I can tell you now that Umarex USA, RWS USA and Crosman have some exciting new models. Beeman is also loaded with new airguns for the US market. I went to the Gamo booth several times, but no one was available to show me the new models. It appears that they have reskinned several guns with new names, and they have a new CO2 rifle. They were unable to give us a print catalog or technical specifications. As you know, Gamo was recently sold, and I think the company is still in a transition time.
More history
In the last report, I gave you a condensed history of the Zimmerstutzen rifle. The Golden Age was from about 1900 to 1914. During this time, all of the finest improvements were made. My rifle was made in Munich, but it features a Stiegele action. Stiegele was, perhaps, the most progressive of all makers during the Golden Age.

My Zimmerstutzen was made around 1910 and is not entirely a classic-style rifle. Mine has a Bavarian butt that drops lower than a traditional Swiss butt, and the cheekpiece is not as high and cupped. My rear sight has 8 different apertures to adjust for varying light conditions.
Zimmerstutzens today
WW I halted the production of the Zimmerstutzen rifle. After the war, a few more rifles were undoubtedly assembled from existing parts, but the manufacture of Zimmerstutzens changed at that time.
Instead of finely crafted and virtually handmade actions, the zimmers were made on single-shot rifle actions. The Flobert was popular but so was the bolt-action Mauser.
The product of zimmers continued past WWII and, in fact, is still active today. Even handguns have been created in 4mm caliber.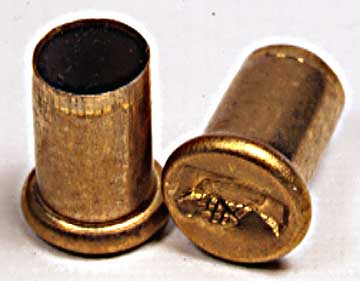 Two fired cartridges from my Zimmerstutzen. Note the scraping near the mouth of the cartridge on the left. My gun was chambered for 4.3mm short fixed ammo, but I had only 4.3mm longs, initially. Also, note the large impression of the firing pin. Since the cartridge is powered by the primer, it's mandatory that the ignition be positive.
In the 1960s, target air rifles began challenging zimmers as accurate shooters. By the time the FWB 150 came out, the Zimmerstutzen could no longer compete. My own rifle was capable of placing 5 shots in a group about 0.10″ at 10 meters. That's good, but not up to today's standard, which is about 0.04″ t0 0.06″ at that distance.
Zimmerstutzens are not dead, however. Shooting them is now a sport of collectors and history buffs. RWS has continued the manufacture of Zimmerstuzen ammo, and shooters all over the world rely on them to keep their old rifles running. Sadly, here in America many zimmers have been converted to fire .22 short ammo. This was probably done because the owner was unaware that 4mm ammo was available.
Do you want one?
Several of you indicated that you would like to buy a vintage zimmer. When I started writing about them in the late 1990s, zimmers were available for $500-800. There has been a surge of interest that has raised the price up to the level of $1200-2000. But, they're still under-valued in my opinion. The only way to find a zimmer is to start looking. I've turned down 3 or 4 in the past 3 years, but people sought me out because they knew I was interested in them.
Do you want more?
I've written lengthy articles about Zimmerstutzens, but I don't know if they're anything that most airgunners want to read. I can cover most of their aspects or answer questions; but, because this is an airgun blog, I really want to hear from the readers before I do more on this subject. Remember, the purpose of this report was just to show you the predecessor to the 10-meter rifle.