by B.B. Pelletier
Those who follow this blog on a regular basis know that I am always on the lookout for an airgun suitable for young shooters. "Kids' guns" we used to call them. As I've reviewed them over the past several years, some basic facts have stuck in my mind. To be a success, a kid's gun has to be cheap. There is no way around it. People simply will not pay a lot of money for something they think a kid might grow out of. So, cost will always be a major factor with these guns, and the main reason why the Beeman R7, while suited to shooters of smaller stature, can never be considered a kid's gun.
Kid's guns have to be light, and easy to cock. They should have safety features that actually work to keep the shooter safe, and while a safety is, by name, such a device, it doesn't do what the name implies unless there is a solid foundation of gun safety training to go with it. The Recon's safety is manual, which most gun handlers prefer. The gun should not have a trigger that's too light, because nervous inattentive fingers can cause a disaster if the trigger releases at the wrong time.
The final feature I want to see on a kid's gun is a good set of adjustable open sights, because if we don't train the new shooter how to sight the gun, we have done him or her a gross disservice. Scopes are nothing but aids for greater sighting precision.
Gamo Recon is a dressy kid's airgun with modern styling.
The Gamo Recon has met most of the requirements listed here, lacking only one. It has no open sights, so a scope or dot sight is mandatory. The price is under $90 for the rifle with scope. That puts it on the high end of the price spectrum. A velocity of 525 f.p.s. pits it against Crosman's 795 breakbarrel that does have open sights but no scope and gets an advertised 600 f.p.s.
A look at the rifle
The Recon comes in a black synthetic stock that has a tactical profile. The butt has been skeletonized and has a thumbhole cutout, as well. A high rollover cheekpiece makes the rifle 100 percent ambidextrous. Contrary to many synthetic stocks these days, most of the butt feels solid rather than hollow. Only the pistol grip is hollow, and you can actually see up into it from underneath. The forearm is sculpted for an offhand shooter's hand to grasp, and I found it fit me rather well in the offhand position. The length of pull (distance from the center of the butt to the trigger) is just under 12-3/4″, making the rifle suited to smaller shooters but not uncomfortable to adults of average size. The stock surface is textured but slick to the touch. The buttpad is a thick, black ventilated pad.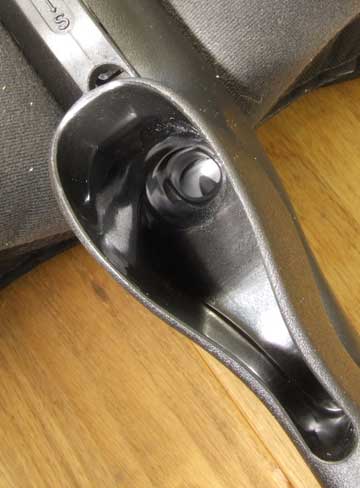 Pistol grip is hollow.
The receiver is metal, as are the trigger and safety blades. The barrel is a thin steel liner encased in a synthetic sheath. The outer surface of the barrel is fluted for a very technical look. It also makes the barrel fatter, which provides a better grip when cocking. Cocking effort on the test gun is just 16 lbs. – a full 3 lbs. lower than what's advertised. Light cocking is important on kids' guns, and this one is well into the range where younger shooters will be able to handle it. The weight of just over 4.5 lbs. makes it well-suited for kids, but also for adults who want a plinking rifle that won't weigh them down.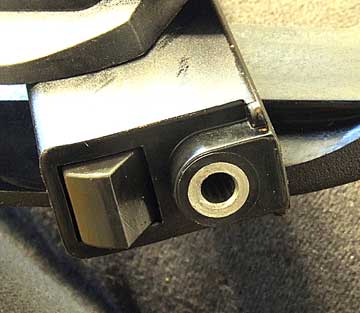 Barrel is a thin steel tube encased in synthetic material.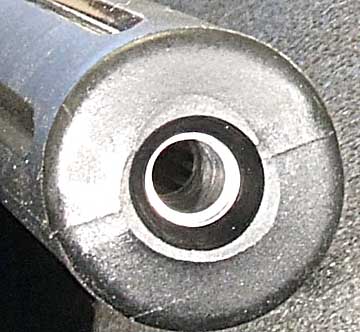 Muzzle is recessed inside outer plastic sheath.
The trigger is rated to break at 3 lbs., and I'll test that when I test velocity. It has a fairly smooth second stage, but of course the GRT-III trigger from Charlie da Tuna will fit perfectly and should lower the pull weight substantially.
I'll also report on the firing behavior when I do the velocity test. However, with just the few shots so far I can say there's some spring buzz when the rifle fires.